All you need to know about the DELF A2
In this article, you're going to learn what the DELF A2 exam is, what the format of the exam is like and what it assesses. Also, we're going to let you know what we can do for you to prepare for the DELF A2 exam at GlobalExam. Along the way, you'll find out what DELF means and what CEFR stands for and what the A2 level actually describes. It's good to know since you may see them used quite often.
You might be thinking that reading about an exam is pointless, but that's not true. Knowing what an exam candidate is assessed on, how the scoring works and suggestions on how to prepare are the first steps is attaining your language exam goals. So, read on and learn.
Take some time and check out the category Get A Good Score At The DELF Exam On All Levels we have written for you.
What exactly is the DELF A2?
DELF stands for the Diplôme d'études en langue française. The DELF diploma is awarded by the French Ministry of Education to successful test candidates to prove the French-language skills of non-French persons. There are six diplomas, corresponding to six different exams (four for DELF and two for DALF). The diplomas correspond, respectively, to the six levels of the Council of Europe Common European Framework of Reference for Languages levels A1, B1,A2, B2, C1, C2 (CEFR). A1 and A2 are the beginner and elementary levels. The DELF A2 level exam assesses a candidate's ability to use French at the elementary level as described below:
A2 Elementary: At this level, a person can understand and express simple, everyday information (ordering food, talking about weather) and can express common feelings (hungry, tired, angry, happy).
This level of the DELF exams recognizes elementary knowledge of a language. At this stage, the person can interact in a simple way with French speakers.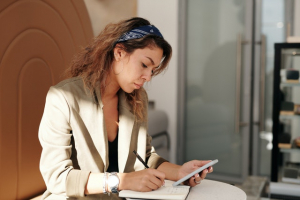 DELF A2 test format
The DELF A2 exam recognizes the linguistic competency of a basic user as a social actor. The candidate can communicate in simple and routine tasks requiring the most common polite phrases and exchanges of information. Four areas of language use are addressed: listening, speaking, reading and writing.
Listening Section
This section consists of comprehension questions, dealing with three or four short recordings on everyday life that are played twice for the exam candidates. The maximum duration of a recording is 5 minutes. The whole section lasts for about 25 minutes.
Reading Section
This section of the exam consists of comprehension questions, dealing with three or four short written texts, relating to everyday life. This section lasts for about 30 minutes.
Writing Section
There are two short pieces of writing that a candidate needs to write: letter to a friend or a message. You need to describe an event or personal experience and write something such as an invitation, thank-you, say sorry, ask for something, give information, congratulate a person in writing, etc. This part of the DELF A2 exam lasts for about 45 minutes.
Speaking Section
There are three parts to this section of the exam:
guided conversation
exchanging information
role-play
DELF examiners will guide the speaking section and more than one exam candidate will be present. Each person has 10 minutes to get ready and then the actual tasks take about 6-8 minutes in total.
Scoring and duration
The total duration of the DELF A2 exam is 1 hour and 40 minutes. The score is out of 100 points with each section being equal (25 points each). A candidate needs to attain a score of 50 points overall with no section having a score of less than 5 points in order to be awarded a diploma.
Getting ready with Global Exam
GlobalExam is a test preparation expert; we are online, allowing you easy access to our materials and services day and night throughout the year. We offer flexibility, convenience and cost effectiveness along with top notch materials and staff.
We offer some things for free: 5 typical exercises and 200 Study sheets. Our free stuff is a great way to sample what we have to offer and see if you like it.
If you want your exam preparation for DELF A2 to really help, then you can try out our premium package from €29.90. It offers the following:
2200 Corrected questions- this is a big help since it allows you to see what you have done wrong and improve
200 Study sheets- lots of worksheets to practice with and see what types of things you will find on the DELF A2 exam
11 Mock exams- get the feel of the DELF A2 exam with simulated testing conditions.
60 Training hours- a real benefit for your preparation
3 Personalized study paths- you select the path that fits you
Access statistics- tracking your progress with statistics is a terrific way to let you see where you are and plan on where you want to be with your exam preparation
Also, we have a great team ready and able to assist you. With GlobalExam, you will get the chance to improve your score and get the results you want on the DELF A2 exam.