All you need to know about the DELF B2 exam
What you'll read here is a brief explanation of what the DELF B2 exam is and what an exam candidate will encounter at this level of DELF. Also, we'll take a quick look at the scoring and time limits of the exam. These are handy things to know if you plan on sitting for the exam since the better informed you are, the better your test performance is likely to be. Beyond the contents of the exam, we'll also talk to you about what it is we do at GlobalExam, and how we can get you read for the DELF B2 level exam effectively, conveniently and at an affordable price.
Take some time and check out the category Get A Good Score At The DELF Exam On All Levels we have written for you.
What is the DELF B2?
DELF (Diplôme d'Etudes en Langue) has four exams that assess a candidate's ability to use and understand the French language. DELF is intended for non-native French speakers, and the exam is widely available around the world; moreover, DELF is recognized and controlled by the French ministry of education, so it is a well-regarded and widely accepted language exam. The B2 level exam is designed to test the B2 CEFR level
What is the B2 CEFR level?
The CEFR is the Common European Framework of Reference for Languages; it is a well-designed, authoritative set of standards that most contemporary textbooks, universities and employers use in Europe and around the globe. A brief description of the B2 level is below:
B2 Upper intermediate level: This candidate would be able to satisfy most goals and discuss a wide range of issues and topics. Academic materials, and specialized materials can cause trouble, but common situations are handled without problem. B2 users have a degree of independence, allowing them to construct arguments to support opinions, explain views and negotiate. At this level, candidates have fluency and spontaneity in regular interactions.
After reading the above description, you should be getting the idea that the DELF B2 level exam is demanding. You will need to prepare well.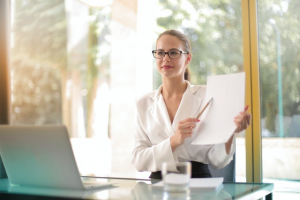 Structure of the DELF B2 Level Exam
Basically, DELF (Diplôme d'Etudes en Langue), which has four exams, is designed to test  A1, B1,A2, B2, C1, C2 (CEFR).The DELF B2 exam has four areas in which it assesses each candidate: listening, reading, writing and speaking. Below is an outline of what a candidate can expect to encounter during an exam.
Listening
There are comprehension questions on three recordings. Areas covered are
An interview, news bulletin, etc. (played once)
A presentation, lecture, speech, documentary, radio or television program (played twice).
The maximum time for a recording is eight minutes. That will seem very long during the actual exam. The listening section in its entirety lasts approximately 30 minutes.
Reading
There are comprehension questions on two written documents. The documents may be
A text of an informational nature, regarding France or the French-speaking world
A text of an argumentative nature
Expect to encounter a wide variety of vocabulary and sentence structures in the readings. This section lasts approximately one hour.
Writing
You will have to write and assume a personal position that contributes to a debate, formal letter, or review of a film/book. This section will last an hour.
You are expected to write logically, coherently and support your views properly. Additionally, you must use the appropriate expressions of formality for academic writing in French. A very good range of vocabulary with a variety of sentence structures are expected as is the ability to minimize grammatical and spelling errors.
Speaking
Each candidate will state and defend an opinion, based on a short document that is designed to elicit a reaction from you. A candidate's opinions must be academically stated i.e. use formal terms and the candidate must provide clear, well-organized verbal support for the stance. This section will last approximately 20 minutes with 30 minutes to prepare (reading and organizing your response).
Scoring and overall time
The DELF B2 exam will take a candidate two and a half hours to do. That will feel like a very long time since it's not in your native tongue. Each section of the exam has an equal value of 25 points with 100 points being the total. To pass, an exam candidate must score at least 50 points overall with no less than 5 points for a section.
GlobalExam and You
Cramming a few days prior to the DELF B2 level exam is not a good plan. If you want to get the chance to learn all about the DELF  grading system and improve your score, you need to prepare in advance and not last minute. But do not worry there is help.
GlobalExam is a language exam preparation specialist. It's what we do, and we're really good at it. We have current, relevant, well-organized materials to aid you in your exam endeavor.
We're online, so our materials are there for you any time of day or night at any location that suits you. You will not have to board a crowded subway or bus and traipse across town to a DELF test prep class. Our system is flexible and convenient and affordable. If you're not sure then try our free materials:
5 Typical exercises
200 Study sheets
The free materials give you a taste of what we offer and what we can do at GlobalExam.
Better yet, try our premium package from €29.90.
60 hours of training for practice and success
3 study paths to choose from, so what you do is personalized.
11 exams conducted under mock exam conditions to simulate the DELF B2 level for you.
2200 questions with answers and corrections so that you will know how to improve.
Statistics that you can access and track your progress; a valuable feature that lets you know where you are, and what you need to work on.
Then there is our top notch staff, who are passionate about exam preparation and know what each level of the DELF is about.
What are you waiting for? Get started today on the path to success for the DELF B2 exam.