In this post, we explain everything you need to know about taking the DELF in Edmonton.
Here we look at:
What the DELF is  and how to register
Specific information on taking the DELF in Edmonton
How GlobalExam can help you to prepare
If you're thinking about taking a DELF exam, this is the place for a full rundown of what the test includes, how to prepare, and registering for the exam in Edmonton.
Let's get started!
What is the DELF?
The DELF is a certification in French as a foreign language issued by the French Ministry of Education. It stands for Diplôme d'études en langue française and is internationally recognized as an official certification of your comprehension and communication skills in French as a second language.
The classic DELF exam is the DELF "tout public", aimed at adults and catering for French speakers from level A1 to B2, according to the CEFR for language levels.
This exam certificate offers official proof of your French level and is often sought out by French universities and employers.
What is the CEFR?
The Common European Framework of References for Languages (CEFR) is an international system for measuring language levels. The advantage of earning a qualification with a common grading system is that employers and universities around the world can gauge your language level without knowing the language themselves: a B1 certificate in French, Italian or Russian corresponds to the same level of communication and comprehension, for example.
The CEFR begins with A1, for beginners, and goes up to C2, for proficient speakers. There are six language levels, divided into three tiers for beginners, intermediate, and advanced speakers.
Beginner: A1, A2
Intermediate: B1, B2
Advanced: C1, C2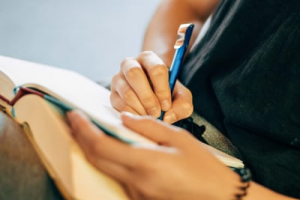 How to register
Anyone can take a DELF exam and it is possible to register anywhere in the world like in Canada and cities such as Montreal, Vancouver, Toronto and Ottawa. as long as you can get to an accredited examination center. This could be a school, college, university or education academy, for example, and you can often find one near you by doing a simple online search.
Once you've found it, you need to contact your local exam center directly in order to find out how to register.
There are usually three examination sessions per year, in March, June and November, and registration takes place a few months before. Your chosen examination center will be able to guide you through the registration process, which involves completing a simple form and paying a fee.
DELF Edmonton examination centers
There are several places in Edmonton where you can register to take the exam. Luckily, we've done some of the hard work for you and have listed a few of the examination centers available for the DELF Edmonton below:
| | | |
| --- | --- | --- |
| DELF Edmonton examination center | Address | Contract |
| Edmonton Catholic Schools | 9807-106 Street, AB T5K 1C2 | Diane Beaudry ([email protected]) |
| Edmonton Public Schools | Several locations in Edmonton | Stephanie Jackson-Basuyaux ([email protected]) |
| Alliance Française d'Edmonton | 10424-123 Street NW, AB T5N 1N7 | Anne-Carole Dimier ([email protected]) |
| Campus Saint-Jean, University of Alberta | 8406 rue Marie-Anne-Gaboury, AB T6C 3N1 | Suping Song ([email protected]) |
Once you've located a DELF Edmonton examination center, contact them to ask about taking a DELF test. Some centers only host exams for students already studying with them, whereas other institutions, such as Alliance Française, are open to external candidates.
Each examination center has its own procedures for registering, although the DELF exam dates are the same everywhere.
How much does it cost?
The prices for the adult DELF exams ("tout public") are generally the same across all Canadian examination centers each year, with a small variation depending on the level you are taking. You can use the following as a guide, but make sure to check with your examination center upon registering:
A1 and A2 levels: $125 CAD
B1 and B2 levels: $195 CAD
If you're looking into another type of DELF exam, such as DELF Scolaire or DELF Pro, the prices will be different.
What happens if I don't pass the exam?
If the test doesn't go as planned, it's not the end of the world.
Candidates can take the same level exam as many times as necessary in subsequent sessions in order to obtain a pass. If you do obtain a DELF certificate, however, you cannot retake the same level test again in order to improve your scores.
When it comes to choosing your test level, it's worth noting that if you take the B2 test, for example, and fail by a few marks, you will not be awarded a B1 certificate instead.
Preparing for the DELF with GlobalExam
Whoever said that preparation is the key to success was not wrong. Luckily, preparing for a DELF exam couldn't be easier than with GlobalExam
You can simply create a free account to access a huge library of learning resources, specifically tailored to the language, exam and level of your choice.
With a free subscription, you can use an assessment test to assess your current language level, then begin studying across the different learning modes:
Training mode (eight corrected exercises included)
Study sheets and revision (266 sheets with exercises)
What's included with a paid subscription?
If you want to take your preparation a little more seriously, the Premium subscription unlocks a huge range of content, from a personalized learning plan to statistics and corrections.
GlobalExam is a sophisticated e-learning platform that uses audio clips, videos, texts and questions to put you through your paces in preparation for the test. With a Premium account, you'll also have the opportunity to take up to 100 graded mock exams so that there are no surprises on the real exam day.
If you still haven't made your mind up about the DELF, why not check out our DELF-related learning materials with a free account to see if it's the right exam for you? Take a look and see!