If you're thinking about registering for a DELF exam in Toronto, you've found the right article.
Here, we talk about the following:
What the DELF is and how to register for the test
How to find a DELF Toronto examination center and registration fees
How GlobalExam can help
Ready? Let's dive right in.
What is the DELF?
The DELF is a certification in French as a foreign language issued by the French Ministry of Education. It stands for Diplôme d'études en langue française and is internationally recognized as an official certification of your comprehension and communication skills in French as a second language.
The DELF "tout public" is an exam designed for adults and available from level A1 to B2, corresponding to the Common European Framework of Reference (CEFR) for language levels. The exam is designed to test your French level across four key skills: listening, reading, writing, and speaking.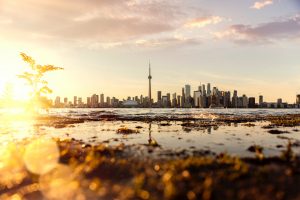 Should I take the DELF or the DELF Scolaire?
If you're a younger language learner, you may have heard of the DELF Scolaire. This is a version of the same exam, orientated specifically towards learners from age 11 to 18. The structure of the DELF Scolaire exam is the same as for the standard certificate and the exam is available across the same levels, from A1 to B2.
The only difference is the content of the exam itself, which is designed to appeal to school-age students, with exercises, vocabulary and topics covering themes such as school, sports, and pastimes.
The certification awarded for both tests is exactly the same, so it is up to each individual learner to decide which test might be more interesting to take.
How to register for the DELF
Once you've decided to register for the DELF, you then have to locate an accredited examination center where you can take the test. Schools, colleges, universities and other types of learning institutions, for example, are often registered test centers. There are examination centers in every province in Canada and cities such as Edmonton, Vancouver, Toronto and Ottawa.
In order to register, you'll need to contact your local exam center directly. In most cases, it's a simple process involving a form and a fee.
There are usually three examination sessions per year, in March, June and November, and registration takes place some time before. Make sure to note the registration deadline in your calendar so that you don't miss your window of opportunity!
DELF Toronto examination centers
To find an examination center for the DELF Toronto, you can begin by searching online or asking for pointers at your local school, university or library. We've listed one possibility for the DELF Toronto below to get the ball rolling:
Alliance Française de Toronto
Address: 95 Sheppard Avenue West, North York, ON M2N 1M4
Contact: Benjamin Leroux ([email protected])
Once you've identified the most convenient examination center for you, get in touch with them to ask about taking a DELF test. It's important to explain whether you want to enroll in a course or simply register for the exam as an external candidate, as different institutions will have different policies.
How much does it cost to take the DELF?
Taking the DELF isn't free and involves a one-off registration cost, paid to your chosen examination center. The registration fee for DELF exams are more or less consistent across all Canadian examination centers each year, with some variations depending on the level.
You can use the following as a guide, but make sure to check with your examination center upon registering:
A1 and A2 levels: $125 CAD
B1 and B2 levels: $195 CAD
Preparing for the test with GlobalExam
Once you've registered for the exam, it's time to start preparing! Whatever level you're aiming for, preparation for the DELF is key to ensuring a pass.
All DELF exams test the four key communication skills (reading, writing, listening, and speaking), and the test follows a set structure. This means that if you prepare carefully using DELF-related study materials, there can be no big surprises on exam day.
You can prepare for any DELF exam on GlobalExam by working on each communication skill with revision materials and exercises specifically designed to resemble the DELF test.
With a free subscription, you can access a wide selection of revision sheets covering the vocabulary, grammar and themes required for the exam, then test your knowledge with related exercises.
What's included with a paid subscription?
GlobalExam's free e-learning materials provide a great start for your exam preparation. By simply creating an account, you can access several different learning features:
Training Mode (including eight corrected exercises)
Revision materials (266 study sheets and exercises)
Assessment test
If you would like to take your preparation to the next level with a wider selection of materials and a more personalized approach to learning, GlobalExam's paid subscription is for you.
By upgrading to a Premium account, you can unlock more advanced learning tools, such as:
Custom Study Plans
Statistics and Corrections
Exam Mode (including five graded practice tests)
Learning with a personalized study plan
Learning with our free study materials is a great place to start, but structuring the revision process around your specific skills, learning objectives and timeline can take things to the next level.
That's why GlobalExam offers personalized study plans, in order for you to break down your revision plan into sections and set yourself achievable goals as you study.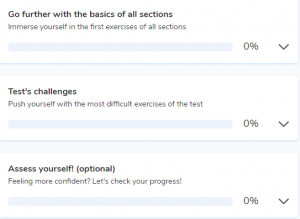 It's possible to create and follow several study plans at once. If you're studying more than one language or preparing for several tests at the same time, this means that you can keep your scores separate and manage your learning in a way that suits you.
If you've made your mind up about taking the DELF, it's time to register for the exam and get studying!