This article is all about taking the DELF and how to go about registering for the exam in Ottawa.
Here, we talk about the following:
What the DELF is and how to register for the test
How to find a DELF Ottawa examination center
How to prepare for the test with GlobalExam
If you're thinking about registering for a DELF exam in Ottawa, this is the article for you!
Let's dive right in.
What is the DELF?
The DELF (Diplôme d'études en langue française) certifies a person's level in French. Issued by the French Ministry of Education, it is internationally recognized as an official certification of your comprehension and communication skills in French as a second language.
The DELF exam "tout public" is aimed at adults and is available from level A1 to B2, corresponding to the Common European Framework of Reference (CEFR) for language levels. The exam is designed to test your French level across four key skills: listening, reading, writing, and speaking.
Where is this certification recognized?
The DELF certificate is recognized worldwide. With more and more students taking these exams every year, the certificate has increasing value with employers, administrators and educational institutions all around the world. This includes Canada and cities such as Edmonton, Vancouver, Toronto and Montreal, where over 65,000 people take the DELF exam each year.
Once you take the exam and pass, your certificate is valid for life. Whether you have a specific goal in mind or not, an official certification of your French level can prove useful in many circumstances. For example, the minimum level for studying at a Francophone university is usually B2. Or, if you consider applying for French nationality down the road, you'll need to prove you have B1.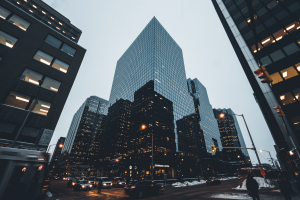 How to register
The first thing you need to do is identify an accredited examination center. This could be a school, college, university or any educational institution, for example, and you can find one near you by searching online.
You'll need to contact your local exam center directly in order to find out exactly how to register, but the usual registration process involves completing a simple form and paying a fee.
There are usually three examination sessions per year, in March, June and November, and registration takes place a few months before.
DELF Ottawa examination centers
If you've made the decision to take the DELF, begin by contacting an examination center for the DELF Ottawa. You can do this by searching online, but we've already listed a few of the examination centers available for the DELF Ottawa below:
| | | |
| --- | --- | --- |
| DELF Ottawa examination center | Address | Contact |
| Ottawa-Carleton District School Board | Several locations in Ottawa | Antonia Cetin ([email protected]) |
| Alliance Française d'Ottawa | 352 MacLaren Street, ON K2P 0M6 | Julie Lanez ([email protected]) |
| Official Languages and Bilingualism Institute, University of Ottawa | 70 Laurier Avenue East, Room 130, ON K1N 6N5 | Mary-Ruth Endicott ([email protected]) |
Once you've located the most convenient examination center for you, contact them to ask about taking the test. Some centers only host exams for students already studying with them, whereas other institutions, such as Alliance Française, are usually open to external candidates.
How much does it cost?
The registration costs for the DELF exams are generally the same across all Canadian examination centers each year, with some variations depending on the level. You can use the following as a guide, but make sure to check with your examination center upon registering:
A1 and A2 levels: $125 CAD
B1 and B2 levels: $195 CAD
What about the C1 and C2 levels?
The DELF only offers certificates for A1, A2, B1 and B2 levels. If you're looking to obtain a certification for the highest levels, C1 and C2, you will have to take the DALF (Diplôme approfondi de langue française), which has been designed specifically for advanced language users.
The DALF is structured in the same way as the DELF and represents a natural evolution from B2 level, but it is administered slightly differently, and the test can have a slightly higher registration fee.
Designed to test more advanced French comprehension and communication skills, the DALF diplomas are highly respected by Francophone universities and employers. That being said, the DELF B2 diploma is still considered sufficient for enrolling in a French university.
On GlobalExam, we have learning resources to help you prepare for all levels of the DELF, as well as the DALF C1.
Preparing for the test with GlobalExam
If you've decided that this is the right certification for you, the good news is that preparing for the exam couldn't be easier. On GlobalExam you can prepare for the DELF at any level, from start to finish. Whether you're starting out at A1 or looking to fine tune your skills for B2, there are learning resources and training exercises to suit every level.
Use our free study sheets and revision materials to familiarize yourself with grammar concepts and vocabulary, then check out GlobalExam's Training Mode to test your knowledge in graded exercises.
What's included with a Premium account?
By upgrading to a Premium subscription, you can take your exam preparation to the next level. Not only can you unlock more revision materials and exercises, but you can also test yourself under real conditions in Exam Mode.
Each mock exam tests the four key communication skills using interactive exercises. The exams are designed to mirror the DELF test in content and style so that you can feel fully prepared when test day arrives.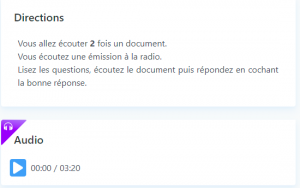 As you study and test yourself, you won't only see your grades change, but you can track your progress in detail using our Statistics and Corrections feature. Identify your weak skills, consult the corrections, and never make the same mistake twice.
So, is the DELF the exam for you? Start learning today and get ready for test day!