For information on registering for a DELF exam in Vancouver, look no further.
In this article, we go through the following points:
What the DELF is and how to register for the test
How to find a DELF Vancouver examination center and registration fees
How GlobalExam can help
Ready? Let's dive right in.
What is the DELF?
The DELF is a certification in French as a foreign language issued by the French Ministry of Education. It stands for Diplôme d'études en langue française and is internationally recognized as an official certification of your comprehension and communication skills in French as a second language.
The DELF "tout public" is an exam designed for adults and available from level A1 to B2, corresponding to the Common European Framework of Reference (CEFR) for language levels. Each candidate can choose the test level they register for, but prospective applicants to Francophone universities usually aim for B2, the minimum requirement for entry.
The DELF is designed to test your French level across four key skills: listening, reading, writing, and speaking.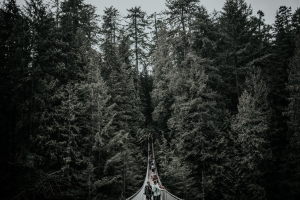 What advantages are there to taking the DELF?
If you're learning French as a second language, there are several reasons to consider transforming your language skills into an official certification such as this one.
An official certification demonstrates to future employers what you can do in French in meaningful terms, and can be a plus for your professional advancement.
If it's postsecondary education you're considering, the DELF is internationally recognized as a valuable certificate demonstrating your proficiency in French. It can even open doors to higher education francophone institutes and universities, including in Canada.
What does the DELF B2 exam include?
Designed for upper intermediate French speakers, B2 is the highest level DELF test available before crossing over to DALF, which covers levels C1 and C2.
The B2 examination lasts for two-and-a-half hours, consisting of a 30-minute listening test, a one-hour reading test, and a one-hour writing test, followed by an individual 20-minute speaking test.
For the listening and reading tests, you will be required to read and listen to a series of short texts, then answer multiple-choice and short-answer questions to demonstrate your comprehension.
The writing test involves writing a 250-word response to a question or statement, and the speaking test requires you to explain and defend your opinion on a topic. The quality of your expression in both cases will be judged according to the breadth and accuracy of your vocabulary, spelling and grammar, as well as the clarity and quality of your argument.
How to register for the DELF
If the DELF is the right exam for you and you've established which level you're aiming for, it's time to think about registering.
First, you have to locate an accredited examination center where you can take the test. There are examination centers in every province in Canada and cities such as Edmonton, Montreal, Toronto and Ottawa.Second, contact your local center directly to find out about their registration process. In most cases, it's a simple process involving a form and a fee.
DELF Vancouver examination centers
To find an examination center for the DELF Vancouver, you can begin by searching online or asking for pointers at your local school, university or library. We've listed a few of the examination centers available for the DELF Vancouver below as a starting point:
DELF Vancouver examination center
Address

Contact
Alliance Française de Vancouver
6161 Cambie Street, BC V5Z 3B2
Valentin Morin ([email protected])
Simon Fraser University
198-8960 University High Street
Burnaby, BC V5A 4Y6

Hélène Lalancette ([email protected]
University of Vancouver
University of Victoria, Clearihue Building, 3800 Finnerty Road, BC V8p 5C2
Catherine Caws ([email protected])
Once you've chosen an examination center, get in touch with them to ask about taking a test. It's important to explain whether you wish to enroll in a preparation course or simply register for the exam as an external candidate, as different institutions will have different policies.
How much does it cost to take the DELF?
Taking the DELF isn't free and involves paying a one-off registration cost to your chosen examination center. The registration fees are generally consistent across all Canadian examination centers each year, although the price varies a little depending on the level.
You can use the following as a guide, but make sure to check with your examination center:
A1 and A2 levels: $125 CAD
B1 and B2 levels: $195 CAD
Preparing for the test with GlobalExam
Whatever level you're currently at in French, you can find appropriate learning materials to help consolidate your skills and move to the next level on GlobalExam.
Our e-learning platform caters to multiple languages and exams. After creating a free account, you simply tell us which language, exam and level you're studying for, and you'll find a whole range of study materials and learning exercises waiting for you.
You can access over 200 study sheets covering the vocabulary, grammar and discussion topics required to pass the DELF. Using our sophisticated search function, you can quickly sort through all our materials to find the specific materials to help you progress.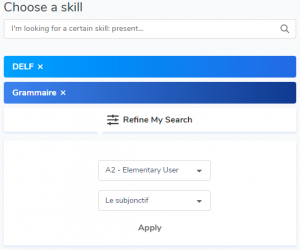 Tailoring your learning to you
The GlobalExam platform is all about learning in a way that suits your skills, goals and timeline.
With a free account, you can complete our Assessment test in order to evaluate your language level and identify which level you should be aiming for next. This simple 20-minute test is a great way to start your learning journey and make sure that you're beginning in the right place.
With a paid subscription, you can create a personalized study plan that allows you to tackle your learning in a structured way. Move through revision topics in an order that makes sense to you, and set and complete goals as a way of tracking your progress.
So, is DELF the exam for you? Start learning today and make sure you're ready for test day!