The best places to learn German in Germany, Austria, and Switzerland can be quite difficult to define — there are countless amazing cities, towns, and villages in each country, all filled with native German speakers and great language schools for international students. How can we possibly choose "the best ones" among them? The truth is that any German-speaking setting can be an excellent place for students to learn German, but we can't possibly list them all here, so we've selected a few of our favorites. In this guide, we will explore:
Why learn German and how to do it in Germany, Austria or Switzerland;
Learning German in Berlin, Germany;
Learning German in Vienna, Austria;
Learning German in St. Gallen, Switzerland;
Learning German in Frankfurt, Germany;
Learning German in Zurich, Switzerland;
Learning German in Munich, Germany;
Learning German online with Global General.
If you'd like to find out more about the best places to learn German in a German-speaking country, this guide is for you.
Let's jump right in.
Why You Should Study German in Germany, Austria or Switzerland
No matter in which school or city you're learning German, the classroom experience can be extremely similar. Your course will present new German vocabulary, introduce grammar concepts, provide you with opportunities to practice speaking and using German, and offer some kind of certification or validation of your acquired language skills. You should take a look at our article on the best local language courses in German.
But what about when the course is over? Imagine being able to leave the classroom, or log off your computer, and say goodbye to the receptionist on your way out in German. Then head to the grocery store, where you practice your German food vocabulary, and interact with the cashier in German. Then ask a stranger for directions in German, just to practice and review the last lesson you had in your German course. And so on, and so forth, throughout the entire city.
This is exactly what studying German in Germany, Austria, or Switzerland can provide you: these seemingly small but invaluable opportunities to practice your German at literally every turn. The quality of the German course you're taking is important, but the end goal is always to be able to use the language in real-life situations outside of the school, and you will only have unlimited access to them in German-speaking countries. This is why travelling to Germany is perfect for learning German for beginners.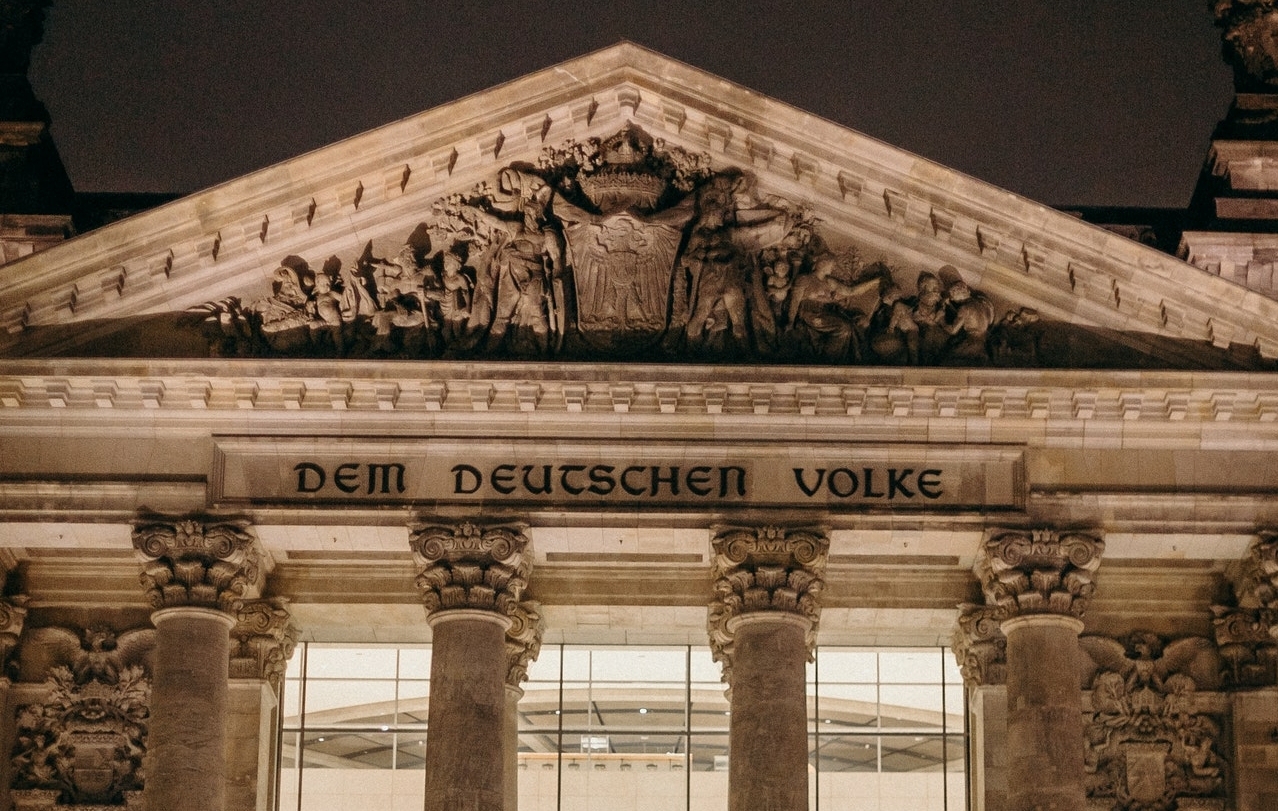 Top Reasons to Learn and Study German in Berlin, Germany
Berlin is probably the most widely known German city around the world, and it's no surprise it's one of the absolute best places to learn German in Germany. If you're wondering how long does it take to learn German, then Berlin is the best place to do it fast. With its abundance of museums and historic sights, you'll have ample opportunity to learn about Germany's rich history and culture in Berlin — there's the Brandenburg Gate, the Berlin Wall, Checkpoint Charlie, the Holocaust Memorial, and the Television Tower, to name just a few. As the capital of Germany, Berlin is extremely well connected to countless other cities and areas with buses, trains, and flights, so you'll easily be able to explore both German cities and the surrounding countries. A truly metropolitan city, Berlin offers tons of festivals, events, and activities that are sure to please any type of student or traveler — so no matter what your interests are, you will surely find something to do in this city that you can enjoy while practicing your German. Even party-lovers won't be disappointed, with dozens of bars and clubs with world-renowned beer, a vibrant atmosphere, and no closing times scattered. And perhaps most importantly of all, Berlin is considered one of the cheapest capital cities in Western Europe, allowing you to enjoy your stay and boost your German without busting your bank account.
Best Reasons to Learn and Study German in Vienna, Austria
Vienna is practically bursting with history, landmarks, and art. Though many monuments were destroyed during World War II and rebuilt, a sizable portion of the city has been conserved for centuries, including the City Hall, the gothic St. Stephen's Cathedral, and the baroque Schonbrunn Palace. The city has a dazzling array of architectural styles, and practically every street has an interesting story — Vienna was once home to many famous artists and composers, including Beethoven and Mozart, and many of them are now open to the public as museums. Like Berlin, Vienna is extremely well connected to many other beautiful European destinations, including Salzburg in Austria, Brno in Czech Republic, and Bratislava in Slovakia. Foodies will also find a lot to excite their palates, with a booming coffee culture and mouth watering Viennese desserts like the chocolate Sachertorte, Apfelstrudel, or Kaiserschmarrn (a kind of fluffy, shredded pancake). With charming Christmas markets, Viennese balls, classical music concerts at every corner, stunning lookout points, and hundreds of clubs, groups, and activities, Vienna offers something for any student ready to practice their German through local schools, traveling, hobbies, and daily life scenarios.
Learn and Practice German in St. Gallen, Switzerland
St. Gallen is a truly excellent place to learn German in Switzerland. With just about 75,000 inhabitants, St. Gallen is much smaller compared to the giant capitals of Berlin and Vienna, but students will still find plenty of opportunities to learn and practice their German. This city is home to several UNESCO-listed sites, including the Abbey, the library, and the Cathedral of St. Gallen. Most of the Old Town in the historic center has been transformed into a charming pedestrian area, giving it a more relaxed atmosphere with lively sidewalk cafes and no disturbance from cars passing by. St. Gallen is surrounded by lush nature, nested between Lake Constance and the Alpstein mountains, making it an excellent base for nature-lovers to take day trips and reconnect with nature. It also offers a one-of-a-kind gastronomic experience, with local delicacies such as Olmabratwurst sausages, cheese fondu, Chäschüechli (savory cheese tarts), and and Biberli (honey-spice cookies filled with marzipan). Visitors love to experience the "Erststockbeizli" (first floor restaurants) that St. Gallen is well known for. If you're looking for a calmer atmosphere for learning German while still having access to quality language schools and wonderful travel, hiking, and cultural discovery opportunities, St. Gallen is the destination for you.
Top Reasons for Learning German in Frankfurt, Germany
Another popular destination, Frankfurt is also on our list of the best places to learn German in Germany. With its own stunning range of architecture, it's no surprise that Frankfurt even has its own Museum of Architecture. Walking around the city will be a mesmerizing experience of geometric patterns in glass and steel, and towering skyscrapers that make a truly breathtaking skyline. You can gaze at it from the top of the Main Tower, or admire it from below by taking a cruise down the river Main. Frankfurt also has a fascinating history, which you can explore through the Imperial Cathedral, the Goethe House, and the Städel Museum. Whether you enjoy the old or the new, Frankfurt is a city that gives you both, with countless opportunities to meet German locals, engage in real-life German conversations, and learn German in a fun and dynamic environment, both in language schools or anywhere else in the city.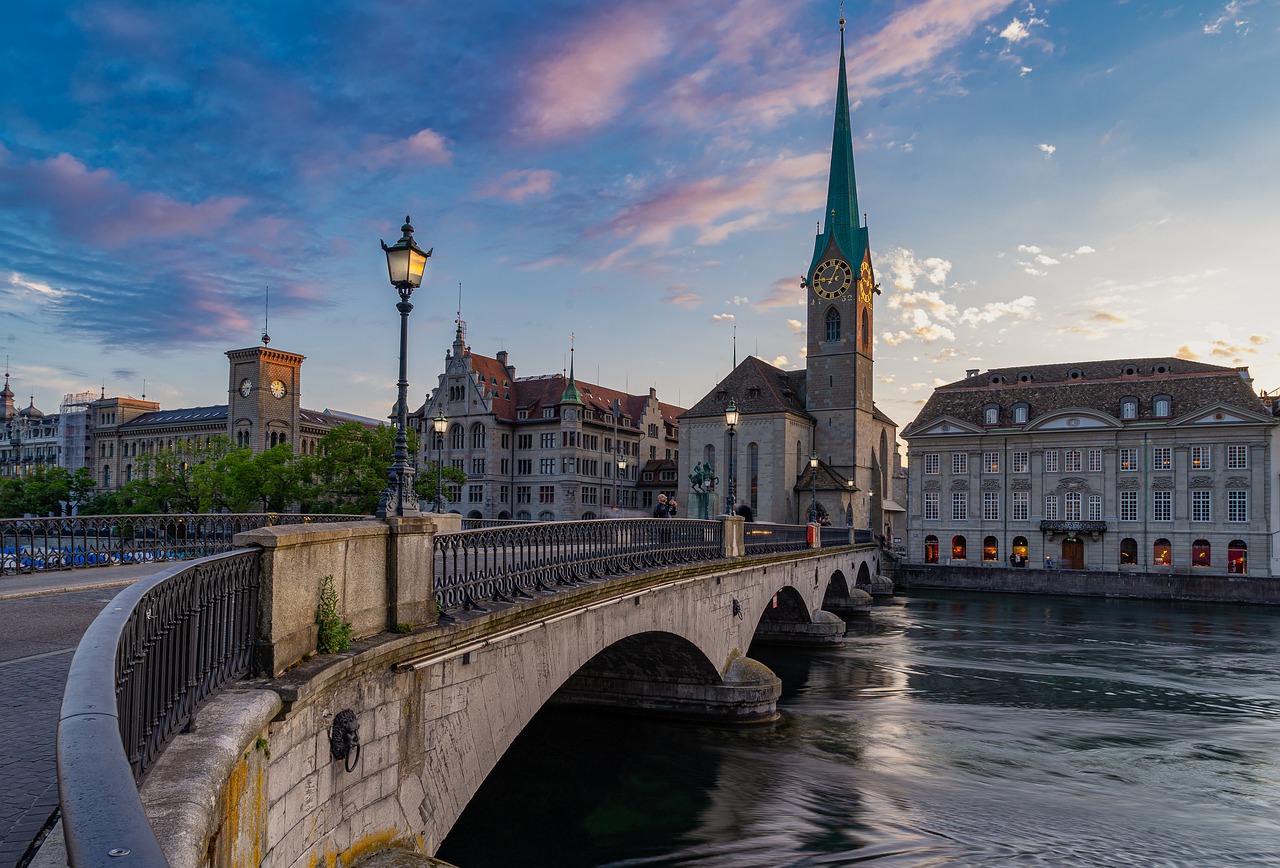 Why Learning German in Zurich, Switzerland Is a Good Idea
Though one of the more expensive cities in Europe, Zurich's vibrant culture and lush nature still make it one of the best places to learn German in Switzerland. The Old Town is arguably one of the most beautiful neighborhoods in Europe, with the winding streets lined with Medieval-style houses, cafes, restaurants, and shops. Lake Zurich is definitely a must-see, and probably a place where you'll end up going back again and again, whether it's to take a refreshing dip, go pedal-boating, or simply lounge at one of the many parks or bars surrounding the lake with a drink in your hand. But don't let this mental image paint a picture of a quiet, boring city — Zurich has one of the highest concentration of clubs in all of Switzerland, with popular areas being Niederdorf in Old Town, Zurich West, and Langstrasse, which is also called the street that never sleeps. To show off its vibrant history and culture, Zurich has more than 50 museums to fascinate students and visitors, from the Swiss National Museum and the FIFA World Football Museum, to more eclectic choices such as the earthquake simulator and the Cabaret Voltaire. In addition, Zurich is an ideal base from which to explore central Switzerland — the Rhine Falls, the city of Lucerne, and the beautiful Mount Titlis are all great day trip options. If you're hoping to brush up on your Swiss German in a local school and practice the language with soothing relaxation, buzzing nightlight, and an awe-inspiring cultural scene all in the same place, Zurich should be at the top of your list. You could even teach your kids German if you bring them with you.
Learn and Practice Your German Level in Munich, Germany
Last but not least, Munich is yet another great place to learn German in Germany. If you like to explore the dark side of history, Munich can teach a lot about the history of the Nazi party, being the place where they rose to power. You can take walking tours around the Nazi headquarters, the site of the Beer Hall Putsch, and a concentration camp. On a more positive note, Munich also offers unique opportunities to go river surfing at the Eisbach, and explore gorgeous palaces and castles such as La Residenz and Schloss Nymphenburg. The Alte Pinakothek gallery has beautiful works of classic art by Rembrandt, Leonard and Titian, but it's the contemporary art that really demands your attention in Munich — the galleries Pinakothek der Moderne and Neue Pinakothek show off such artists as Bacon, Klee and Picasso. Munich also has its fair share of events, including the incredibly charming Christmas market and the ever-so-popular Oktoberfest, attracting over 6 million beer-lovers from around the globe. And the beer doesn't have to stop with the festival — Munich is famous around the world for its enormous beer halls where the party atmosphere never stops. These unique opportunities are all available to you in the city of Munich, where you can practice your German while having the experience of a lifetime.
Sign Up on Global General and Take Your German to the Next Level
As you can see, there's a myriad of places where you can travel to learn German in Germany, Switzerland, and Austria, all with their own particular advantages and unique experiences. But if you're not quite ready or aren't yet able to buy a plane ticket and pack your bags, don't worry — you can still learn German with the best free and paid resources online. For instance you can have the same seamless and practical experience from the comfort of your own couch with Global General!
Global General is an e-learning program developed by our team at GlobalExam. It's dedicated to beginners and intermediate students who would like to learn either English, Spanish, French, Italian, or of course, German. Each language is divided into levels following the CEFR standards, and requires at least 12 study hours to complete (except for English, which requires 25). You can study any of these languages and then if you're not sure, find out how to choose between French or German for instance.
Global General is 100% student-oriented and we make sure our language learners have all the resources at their disposal for an efficient and enjoyable language learning experience. Here is what our program can offer you:
Dozens of flashcards to review German vocabulary and activate your memory;
Simulations to apply your German skills to real-world situations, using all four skills: reading, listening, speaking, and writing;
"Did you know" sections with cool tips and facts to help you familiarize yourself with the German language, history, and culture;
5000 detailed corrections to ensure your studies are accurate;
Personalised feedback from our dedicated language teachers;
Validation of your acquired competencies after every 5 simulations;
150 hours of unique content;
500 audio tracks.
Here's Why Global General is the Best Way to learn German Online
The problem with many language courses is that students can become very good at using German in the classroom — but struggle to apply it in the real world once class-time is over. Not Global General. Our real-life simulations at the end of each lesson will make sure you know how and when the German skills you're acquiring will be useful, and practice using them until you're confident. We may not be able to bring Germany to you, but we can help you practice dealing with situations related to vacation, shopping, talking on the phone, asking for help, and many other scenarios you'll be faced with once you are able to travel — and all this will be accessible to you from wherever you like, be it on your phone, tablet, or computer.
Discover the best way to prepare for traveling abroad to Germany — sign up for Global General with GlobalExam today!