What's the best way to learn Spanish? It's difficult to say that there's a method which is better than all the others, since we are all different and we all learn in different ways. Anyhow, there's an objective fact: living abroad is a great way to learn the language! In this article we'll tell you why learning Spanish abroad is a great idea and where you should go to live an amazing experience. Here's what we'll talk about:
Why you should live abroad to learn Spanish;
Learning Spanish in Mexico;
Learning Spanish in Spain;
Learning Spanish in Argentina;
Learning Spanish in Peru;
Learning Spanish in Cuba;
Boost your level of Spanish with General Español by GlobalExam.
Read on to find out where to go to learn Spanish!
Why you should live abroad to learn Spanish
Whether you are starting from a beginning level of Spanish, an intermediate level, or an advanced level, whether you are learning Spanish as a child or an adult, get comfortable because we are going to present the most effective method of learning the language, even more than the best online resources.
Although it is not easy to estimate how long it takes to learn Spanish and how hard it is to learn this language, by leaving for a Spanish-speaking country, you will quickly learn to speak, read, understand and write in Spanish correctly. Why? That's simple, because that's the only way to guarantee you a full immersion in the language (and culture)!
There you'll have to use Spanish all the time: this will certainly help you improve! Whatever you do once you're there, you'll have to do it in Spanish: writing your shopping list, listening to the news, watching movies on TV, listening to the radio, speaking with people you meet, and so on. You will have the opportunity to learn slang and idioms you wouldn't learn in grammar books, and what's best, you'll learn them directly through your own experience! This is definitely the best way to memorize things! Native people are very nice and friendly and they will for sure help you: they will teach you new words and expressions, correct your mistakes and teach you interesting facts about their country and culture. You will have the opportunity to taste local food, buy local clothes and listen to traditional music.  You'll listen to the Spanish accent and pronunciation all the time: a great opportunity to become fluent by copying native speakers! That's why you should go to a Spanish-speaking country to improve your skills.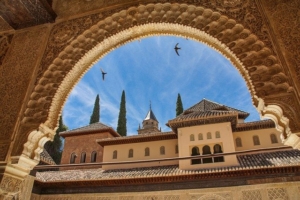 Learning Spanish in Mexico
If you are a Mexico enthusiast, you should definitely spend some time in this beautiful country. Here are three cities you should consider:
Guadalajara
Guadalajara is the third more populated city of Mexico. It's in the western part of the country and has a long and rich history and culture. The city center is full of beautiful plazas, each with the most architecturally delightful structures in the city, including the Cathedral to Teatro Degollado. You can shop at the indoor market, and in the evening enjoy the nightlife. Around a two-hour bus journey from Guadalajara, you can visit some ruins: Guachimontones.
If you want to learn Spanish and get a great Mexican accent, you should consider living in Guadalajara for a while: people are super friendly and the city offers many cultural and entertaining activities!
Oaxaca
If you are looking for a genuine Mexican experience, Oaxaca is your best option.
This UNESCO World Heritage Site offers many cultural activities: you should go there and visit Monte Alban pyramids, Cuilapam Convent, the typical local markets such as Benito Juarez Market (in the city center), or choose activities in the nature like a trip to the Árbol del Tule or Hierve el Agua cascades.
Tulum
If you like the sea, Tulum is the place to be. This small city is a popular Mexican Caribbean destination that offers countless activities and adventures.
If you want to learn Spanish while relaxing and staying in nature, you should definitely go there and dive into the Gran Cenote, swim in the Caribbean sea …but don't forget culture: visit the Tulum Mayan ruins.
Learning Spanish in Spain
If you live in Europe maybe Mexico is a bit too far. What's the closest destination to learn Spanish? Obviously it's Spain! Let's see the top 3 cities to learn Spanish in Spain:
Barcelona
Barcelona is one of the most fascinating cities of Spain. If you want to learn Spanish an exciting, cultural and artistic environment, that's where you need to go. Visit the Sagrada Familia, stroll around Las Ramblas and Park Güell, visit the Barcelona City History Museum and meet loads of new Spanish friends!
Madrid
Madrid, the capital of Spain, is an amazing city full of life and culture. You can walk around Retiro Park, meet your friends in Puerta del Sol square, go shopping in Gran Vía and buy fresh products at Mercado San Miguel. You can learn Spanish in a stimulating atmosphere, visit important museums like the El Prado, and much more!
Sevilla
The perfect destination for young people is Sevilla: the university of Sevilla, founded in 1505, attracts a lot of students and makes Sevilla a young and dynamic city. A perfect place to learn Spanish! Visit the Seville Cathedral and the UNESCO-listed palace Real Alcázar, walk on the riverside and chill with friends at Maria Luisa Park.
Learning Spanish in Argentina
Do you like Argentina? Do you dream of living there? Why don't you make this dream come true? Take a plane and fly to Argentina to improve your Spanish!
Buenos Aires
The capital of Argentina is an amazing place to learn Spanish: you can hang out with your friends in some amazing places like Plaza Serrano, La Boca neighbourhood or Plaza de Mayo, eat some tasty dulce de leche, relax in the Botanical Gardens and much more!
Córdoba
Córdoba is the second-largest country in Argentina. It is a perfect mix of new and old, with 17th-century Jesuit ruins alongside modern art galleries, and a huge student population that makes the city fun and dynamic. Its outskirts provide plenty of adventurous activities like parasailing and horseback riding. If you are looking for a relaxed place to learn Spanish in Argentina, Córdoba is the place to be.
Learning Spanish in Peru
If you are in love with Peru, you should consider living there for a while: you'll have the opportunity to know this amazing country better and to improve your Spanish! We suggest you these two amazing cities:
Lima
The capital of Peru will conquer your heart: walk around the Plaza Mayor, visit the Saint Francis Monastery and the 18th century Larco Museum, walk along the Malecón de Miraflores, paraglide over the coast and chill on the beach with your new friends! This city is the perfect place to improve your Spanish and learn more about Peruvian culture and history!
Cuzco
Looking for a city rich in culture? Fly to Cusco, in the Peruvian Andes! The city is famous especially for Machu Picchu, the Lost City of the Incas, where you can see the ruins of stone-walled Inca temples, tombs and palaces in a jungle setting. But the city of Cusco itself also offers many attractions: Plaza de Armas, San Pedro Market, the Sun Temple (Korikancha) and the artisan neighborhood of San Blas.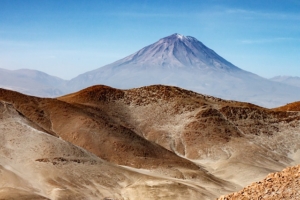 Learning Spanish in Cuba
Cuba is an amazing country: it is considered to be a Caribbean paradise and it's full of history and culture. Do you want to learn Spanish in Cuba? Here are two cities you should consider!
La Havana
The Old City of Havana is filled with plazas (squares) and is a UNESCO World Heritage Site: you can meet your friends in the Plaza Vieja and walk around the city. You will love Plaza de la Revolución, where Fidel Castro made many of his long-winded speeches to the people. If you are passionate about history, you should definitely live in La Havana for a while!
Santa Clara
This small town in central Cuba is known for its Cuban revolutionary history, landmarks and all things related to Che Guevara. If you are a fan of this part of history, that's the place for you! The city is full of museums, statues and references to Che Guevara, but it also offers amazing views and attractions.
How to practice online with Global General
As you learnt in this article, the best way to learn Spanish is to go to a Spanish-speaking country. Anyway, if you need to practice a little bit more to feel more confident before leaving, here's the perfect solution for you: Global General! This is an e-learning method developed by GlobalExam to help beginners and intermediate students learn Spanish (along with other four languages: English, Spanish, French, Italian and German) completely online. Every level of every language is developed according to the CEFR standards, from A1 to B2 level. Why is Global General the best choice for you? Take a look at our incredible offer:
Flashcards to help you train your memory and learn new vocabulary in a funny and dynamic way
Simulations to let you to practice your language skills in real context, for all the competencies
A "did you know" section with tips and fun facts to deepen your knowledge of the language
Validation of the acquired competences every 5 simulations
5000 detailed corrections
Personalised feedback from our language coaches
150 hours of unique content
500 audio tracks
Sign up now and start learning Spanish with Global General by GlobalExam!