You are learning Spanish, you have the basics of grammar, good vocabulary and you are working hard on your pronunciation. You consider yourself an intermediate learner but now you want to improve to get to the next level. How can you do that? There are 5 basic things you can do to improve your Spanish at an intermediate level. Here's what you'll find out in this article:
So, if you are an intermediate learner looking to bring your Spanish to the next level, keep reading the article to find out how!
Why you should improve your Spanish and how
Regardless of how long it takes to learn the language and how difficult is to learn it, speaking Spanish can be really useful for many important reasons. First of all, learning a new language is a great way to train your brain, memory and logic, while allowing you to get to know a new culture (and everything that comes with it, like music, art, history, etc.) and to meet a lot of new people! From a more practical point of view, speaking Spanish would be very useful for your career, especially if you want to work in an international context: Spanish is the second most spoken language in the world by number of native speakers and it's spoken not only in Spain, but also in all of Latin America. This means that it's a very important language in the business world and being fluent could give you extra points during a job interview for an international position.
If you are still a student, learning Spanish can be useful to obtain a scholarship for an exchange in a Spanish-speaking country or to go study abroad. This is a great opportunity to make new friends, become fluent in Spanish and learn a lot of things you couldn't learn at home. Plus, having it in your CV will undoubtedly give you more opportunities in the future to find a good job! But how exactly can you improve your Spanish? Find out in the following section!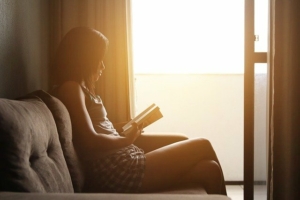 5 things you should do to improve your Spanish
To move from a beginner level of Spanish to an intermediate level, there are several things you can do to improve quickly. Here are our top 5 tips:
#1 Listening to podcasts, songs and audiobooks
A great way to improve your listening comprehension and to get used to different accents and pronunciation is by listening to podcasts, songs and audiobooks, some of the best resources you can find online to learn Spanish. You can vary the country of origin to listen to different Spanish accents and slang. While listening, write down the new words and create lists to enrich your vocabulary! There are many songs in Spanish that are very famous, from both Spain and Latin America. Some famous Spanish groups and singers from Spain are Julio Iglesias, Enrique Iglesias, Mala Rodríguez, Los del Río and Marea. Groups and singers from Latin America include Inti-Illimani, Luis Miguel and Gloria Estefan. You can find many audiobooks online, for example on Digital Book. Just type the title you are looking for and download it. Some good podcasts for intermediate and advanced learners you can listen to include: Radio Ambulante, Españolistos and Sangre Celestial.
Songs and audiobooks are also an effective way for children to learn Spanish.
#2 Reading novels or watching movies every evening
Before going to sleep, you could read a good book in Spanish, to practise your reading comprehension, learn new vocabulary and expressions and chill while improving your written Spanish skills. If you don't like reading, you can watch a movie: you will learn new words, slang and idioms, improve your listening comprehension and have fun while you do it, too. Finding Spanish books nowadays is really easy: in libraries there's always a section dedicated to foreign languages, but if you don't find what you are looking for, don't worry, you can order it online! Some classics you can start with are: La casa de los espíritus by Isabel Allende, El alquimista by Paulo Coelho, and El príncipe de la niebla by Carlos Ruiz Zafón. Watching movies is also very easy: you can find many movies and TV series on Netflix, Amazon Prime, or other dedicated websites. You will find original movies from Spain and Latin America, but also movies from other countries that have been dubbed in Spanish. You can also put subtitles in your native language to start out, then switch them to Spanish and finally just switch them off.
#3 Speaking with native speakers
To improve your conversation skills, there's nothing like speaking with a Spaniard or Latin American. Not only will you listen to the proper pronunciation and learn many new words and colloquial expressions, but you will also have the opportunity to be corrected by a native speaker. You will also learn a lot about his or her culture and many fun facts about the language that a textbook may not teach you. How to find a native Spanish speaker? There are many ways: pubs often organize events where people from different countries can meet and practice other languages. This is a great way to meet native speakers who live near you and eventually become friends with them! If you don't live in a big city, it might be a bit more difficult to find native speakers in the nearby area. So, you'll have to look for native speakers online. There are some websites like Conversation Exchange that give you the opportunity to find Spanish speakers who are learning your language: you can help each other! If you prefer a more professional approach, you can find a Spanish teacher. There are many websites like iTalki or SuperProf to do that.
#4 Deepening your knowledge of the Spanish grammar
Part of what makes the difference between an intermediate and an advanced learner is the knowledge of grammar. You can speak Spanish like a foreigner or you can speak Spanish like a native: it's up to you. In order to speak like a native, you need to know more complex grammar structures and how to use them correctly. Thanks to good grammar you will be able to use more nuances to communicate your exact thoughts. To improve your Spanish grammar you could use some manuals like: Intermediate Spanish Grammar, Practice Makes Perfect: Advanced Spanish Grammar, and Spanish Verb Workbook. Use them to study every structure of Spanish grammar and test your knowledge through the exercises. Once you feel ready, try to speak with a native speaker and see the difference!
#5 Travelling to a Spanish-speaking country
A great way to improve your Spanish is to travel to a Spanish-speaking country. There you'll have to use Spanish all the time: this will help you improve quickly! You'll be able to meet lots of new people, attend events, watch TV, listen to the radio in Spanish, and so on. It will be a full immersion in the language! You will also have the opportunity to learn slang and idioms you can't find in grammar books, directly through your own experience! Facing real-life situations allows you to learn vocabulary related to daily life. Native speakers will also help you by correcting your mistakes and teaching you new expressions and interesting facts about their country and culture. You'll get used to the Spanish accent and pronunciation, which will give you the opportunity to improve your speaking skills. Try to copy their accent and become fluent! You'll go from intermediate to advanced in a flash! Moreover, you will be able to create lifelong friendships (you can keep in touch once you're back home and keep talking to your Spanish friends online) or even find a job opportunity there! Having travelled abroad is always a plus for recruiters. There are many ways of travelling: you can simply go on holiday, do a road trip, stay at hotels, or even do a volunteering experience!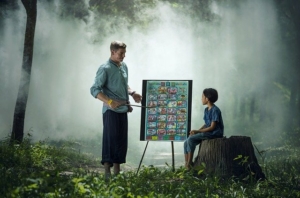 How to improve your Spanish with GlobalExam
If you are an intermediate student looking for a good method to improve your Spanish skills, you definitely need to try Global General. This e-learning method developed by GlobalExam is designed to help beginners and intermediate students learn Spanish online, in a fast and personalised way. It gives students complete autonomy and guarantees impressive results. Eager to know how Global General will help you learn Spanish? Here's what we offer to our students:
Flashcards: learn new vocabulary with an interactive approach that stimulates your memory
Simulations: practice your language skills in real context, through speaking, reading and listening exercises.
Exercises for grammar, vocabulary and listening comprehension
A "did you know" section: deepen your knowledge of the language through fun facts
5000 detailed corrections in your language
Personalised feedback from our language coaches to guarantee you a tailored learning method
Online conferences with our native coaches, with a practical part where you'll be required to complete some exercises and you'll be given personalized corrections
Validation of the acquired competencies every 5 simulations with relevant certificates issued
Scores for every exercise: be sure you understand your level and progress smoothly
150 hours of unique content and 500 audio tracks
Apart from Spanish, Global General offers 4 more languages: English, Italian, French and German. Every language goes from the A1 to the B2 level, according to the CEFR standards.
Why should you choose Global General?
Our method is tailored to beginner and intermediate learners to help you learn Spanish fast, completely online. It integrates active and passive approaches, grammar and exercises, online conferences, and much more, to guarantee you a comprehensive learning experience.
With Global General you can have personalised feedback from our coaches, from the comfort of your home: no need to go to a language school! You can study whenever you want, wherever you want: if you have even just one hour per day, you can use it to practice! Study on the bus, during your lunch break or at the park!
Sign up now and start learning Spanish with Global General by GlobalExam!