Taking the FCE/B2 First exam in Wales
The Cambridge First Certificate Examination has many names such as FCE or Cambridge: B2 First. It is a very popular test all around the world and in this case in the UK and in Wales. There are also several test centres in the UK which specialise in offering Cambridge Exams.
Start registering now for the FCE/Cambridge B2 First test!

Cardiff and Vale College
Currently, if you want to take the FCE exam in Cardiff; Cardiff and Vale College is the only option. This exam centre offers FCE three times a year, with a date each in March, April and December. All of the written tests will be on the same day but the speaking test may be on a different day, Cardiff and Vale College confirms this with candidates after registration.
Often the exam will take place on a Saturday, and there is even better news, they also sometimes offer the computer-based exam. This is advantageous as you will be able to do the listening paper while wearing earphones and you will be able to type your answer in the writing paper.
Be aware that the centre has a deadline for registering for the exam and this is a month before the exam will take place. Although there is also the option of registering by the late entry deadline, ten days before the exam, however there is an additional fee of ₤30 for this.
The City Centre Campus is located on Dumballs Road, which is only 5 minutes away from Cardiff Central Train Station.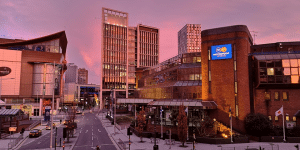 Taking the B2 First exam the north of Wales
If you are in Denbighshire, you can take B2 First at Ruthin School which offers the computer and paper-based exams
If you are in the north of Wales, another possible option might be to take the exam in Liverpool as B2 First exam dates are available at both Liverpool School of English (which also offers the computer-based exam) and LILA Liverpool. This is a journey of approximately one hour and 30 minutes from Wrexham.
Taking the B2 First exam in Bristol
If you are in the south of Wales, and the exam dates in Cardiff are not suitable for you, you might consider going to Bristol to sit the B2 First exam. Bristol Temple Meads is only one hour from Cardiff Central Station by train and the service is affordable and runs every 30 minutes.
There are three exam centres in Bristol; City of Bristol College, International House Bristol and EF International Language Campus, Bristol.
EF International Language Campus is the closest to the train station and is only a 15 minute walk away. International House Bristol offers exam dates in April, June, August and December. The speaking test and the written papers may be on different days. IH Bristol is only 20 minutes away from the train station by public transport. Both these centres also offer the computer-based exam.
City of Bristol College offers exams in June and December at its Ashley Down campus, which is about 30 to 40 minutes from the train station by public transport.
How can GlobalExam prepare me for B2 First?
GlobalExam can help you to prepare for all four papers of the exam. In Writing Part 2, you will need to write an article, email, letter, report or review of 140 to 190 words in response to a prompt. You need to be familiar with the formats of these different types of texts as well as practise your writing skills. With the questions and model essays provided by GlobalExam, you can study the writing techniques required and build your confidence so you can easily write a perfect Part 2 answer in under 40 minutes.