IELTS General Exam Reading Task 1 – Social Survival
The IELTS Reading section is made up of 3 tasks and 40 questions. The tasks become progressively harder, so Task 3 is the most challenging. You'll have 1 hour to complete the Reading paper so approximately 20 minutes on each exercise. Make sure you keep an eye on the time, as it's very easy to spend too long on Exercise 1 and find yourself with 10 minutes to finish the third task!
Exercise 1 has 2 or 3 short texts and it's usually related to typical everyday life in an English-speaking country.
Unlike the Listening section where you're given 10 minutes to transfer your answers to the answer sheet, for the Reading paper you must finish everything within the 60 minutes. If you want to take notes on the question paper you can, but remember you'll need to write the answers on the answer sheet! Pay special attention to the instructions! If the instructions say "no more than two words" and you write three words, your answer will automatically be marked wrong!
To get a good result in IELTS, preparation is fundamental! So, let's take a closer look at some sample questions.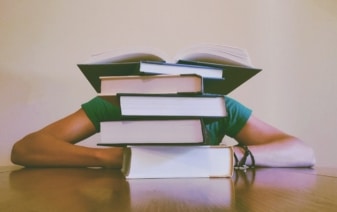 Social Survival: Sample Exercise #1
We're going to go into detail for two sample texts with some of their questions.
In this extract, you can see the subject is travel and tourism – one of IELTS' favourite topics!
Come to Samui Island
Whether you're looking to taste world-class cuisine, wanting to enjoy the nightlife or planning to improve your yoga technique, the island of Koh Samui has what you're looking for, but the island is best enjoyed by those who are looking to chill out and do nothing at all!
Hot sun, cool breezes, warm sand and the gentle lapping of waves on the shore are typical descriptions of the beaches in Samui. Each beach has its own personality.
Go to Fisherman's village for cocktails and to listen to live music. Chaweng Beach is for people-watching and a place to get ready for the nightlife. Mae Nam Beach is for peace and quiet and is the perfect place for dozing off.
Remember, when you're reading passages, you don't need to understand every word. You need to understand enough to answer the questions!
For this particular text, you have the following instructions:
Choose the best answer from four alternatives (A, B, C or D), or the best two answers from five alternatives (A, B, C, D or E), or the best three answers from seven alternatives (A, B, C, D, E, F or G).
Before you start answering, make sure that you're clear on the instructions – imagine you mistakenly write 1 answer for the questions related to this text! You'd lose 10 points immediately! That's a quarter of your potential score!
So for the following question, you'd need to choose 1 answer only, as we have four alternatives:
According to the article, what is the top reason to go to Samui island?
The food
Yoga classes
The nightlife
Relaxation
Another sample question is the following:
What activities does the article say can be done on the different beaches?
Drinking alcohol
Shopping
Dancing
Yoga classes
Sleeping
Here you need to find two answers as we have five options. Remember, when you're looking for the answers, you must think about synonyms and rephrasing.
For example, what phrasal verb means to sleep? Can you find a word related to alcohol? Once you've found your answers, move onto the next question!
Another popular IELTS subject is the weather
You will often find this subject in the Speaking section, but also in the Reading section of the test!
The best time to visit Samui Island to avoid clouds and get the best weather is in the dry season which starts in December and continues for about 2 months. It's a popular time as there shouldn't be much rain and although hot and sunny, it won't be unbearable. Whilst it's not likely to rain, if it does start to come down, it's best to dive for cover immediately as tropical rain comes down hard and fast!
What kind of weather should you expect at the start of the year?
Lots of rain
Clouds
Sunny
Unbearable heat
Before the test, you should be familiar with all the words related to weather – sunny, cloudy, foggy and so on. An easy way to make a mistake in IELTS is to see a word in a question, find the word in the text and rush to an answer. Here you have 'unbearable' and 'sunny' very close to each other in the text, but does it mean 'unbearable heat'?
Let's have a look at another sample exercise!
Social Survival: Sample Exercise #2
One of the most challenging question types in the Reading section is yes – no – not given, as you can see below:

People often find the difference between 'no' and 'not given' quite confusing. You must keep in mind that 'not given' means that the writer doesn't speak about this specific point. Make sure you understand exactly what the question is asking and then see if the writer agrees, disagrees, or doesn't say. Let's have a look at an example.
Nutter Addy will play her place in the quarter-finals in Master Chef
This Friday night, on ITV, Nutter Addy will be cooking to win her place in the quarter-finals of Master Chef.
Should we say "hello Addy" or "hello Nutter"?
Actually, I don't really like my first name so when I grew up, my parents started calling me Didi. Today, all my relatives call me that. Only my mummy still uses Nutter when she's angry with me!
As you can see, the extract is from an interview with Nutter Addy, a competitor on Master Chef. Here is the question:
Nutter Addy's mother always calls her Nutter.
Yes
No
Not given
To be able to answer this question, you need to know that 'mummy' means 'mother', but also pay close attention to the word 'always' in the question. 'Easy' IELTS questions are often more difficult than they seem and it's easy to make a mistake if you're not careful!
Let's have a look at another part of the text with a sample question.
Did you already have a particular dish you liked to cook back then?
I never really cooked, but I remember after the piano course at school, I came home with a friend and made some omelets. It was later that I started doing more elaborate things. My first real elaborate dish was a fish with puff pastry that I cooked at home.
Nutter Addy's first elaborate dish was cooked in her friend's kitchen.
Yes
No
Not given
Again, you need to identify the key words in the question! One way to do this is to rephrase the question – when did Nutter Addy first make an elaborate meal? Once you find the answer to this, the question is much easier.
Let's look at a final extract:
How did you handle the cameras and pressure?
One day, ITV came to the restaurant to shoot my working environment. When the crew left, I had been under so much pressure all day that I cried.
The entire staff had been working hard to make the restaurant look good. I knew that they did it all for me and it made me realize that my life was going to change. The first shoot didn't go very well because I was under a lot of stress. Luckily, the crews are very good at putting the candidates at ease.
Facing the cameras, Nutter Addy was very stressed at the beginning.
Yes
No
Not given
Again, in order to answer the question you need to think of rephrasing it – what's another way of saying "stressed"? Once you find this information, it's much easier to find the answer.
As you can see, although Exercise 1 is 'the easiest' part of the General IELTS Reading paper, you still need to prepare for it! On GlobalExam's e-learning platform you can find the complete texts for these two samples, as well as the answers and explanations.
GlobalExam: The Online Solution for Top Preparation
As you can see, the IELTS General Reading paper requires some preparation and that's where GlobalExam can help! Whether you're training for the Academic Reading test or General IELTS tests, we have everything you'll need to prepare you for the test. You can work with complete tests, so you can see what your global score would be. You can focus on individual parts of the test, or even particular sections – as we've done here!
We offer corrections to all of our exercises along with explanations in order to help you understand the correct answer. This is key skill to progressing.
In addition to this, GlobalExam has numerous grammar and vocabulary study units which specifically target the language you need for all IELTS test sections.
If you're training for another language test, we also have you covered! We have material for 27 tests in 5 different languages and 30,000 questions which are regularly updated by our language specialists.
Have a look at our platform and see what GlobalExam can do for you!