In this article we will be addressing the IELTS General Reading Task 2. You will discover the following things:
A general overview of Task 2 and its instructions;
Some sample exercises and example questions;
Some tips about researching the correct information for the exam;
Finally you'll see how GlobalExam can help you get the score you wish to reach.
You can prepare for the IELTS test online before your registration. We also have written articles about the IELTS General Reading Task 1 as well as the IELTS General Reading Task 3.
Let's get started!
IELTS General Reading Task 2 – Workplace Survival
The IELTS General Reading paper lasts 60 minutes and you need to spend around 20 minutes on each task. Each task is progressively more difficult so you must be certain to leave enough time for each task. The Reading paper is marked out of 40 questions, and Task 2 is worth a total of 10 points – each question is worth one point.
Whereas in the Listening paper you are given extra time to transfer your answers to the answer sheet, this isn't the case with the IELTS Reading Test. You can write directly onto the answer sheet, or on the question paper, but remember only the answer sheet will be corrected!
Task 2 focuses more on workplace survival, and the reading passages are usually short texts. It looks at career prospects, office life, interviews and so on.
As with other parts of the IELTS test, you need to pay special attention to the instructions. Misreading the instructions is a very fast way of losing points. If the instructions say "write the letters" and you write the 250 "words" or put "numbers", you'll be given zero, even if your answer is correct.
What Else Should You Keep in Mind?
Another important point to consider is your spelling. Your spelling and grammar should be correct. For example, for months and days of the week, you must use a capital letter.
Also remember that your answer must be grammatically correct with the context of the question. If you are given the dollar sign in the question and you write "$50", your answer is incorrect as in reality you've written "$$50."
Finally, there are many different types of questions which can appear on the Reading paper, and you need to be familiar with all of them. Sometimes you'll need to put information on a diagram. Other times, you'll have multiple choice and be required to label different paragraphs.
You can also have questions with 'yes, no, not given' where you need to see if the writer agrees, disagrees or doesn't say. In order To get the best score you can, you need to be well prepared.
So let's have a look at some sample exercises!
Workplace Survival: Sample Exercise #1
We're going to see some examples of Task 2 of the IELTS General Training Reading paper. The following instructions are given for this exercise:
This text has six sections, A-F.
Choose the correct heading for sections A-F from the list of headings below.
For each question, choose the correct number i-ix.
Although on the e-learning platform you need to click on the correct answer. In the actual test, you'll be writing your answers on paper therefore make sure you write 'ii' and not '2' for example.
Giving headings to the different sections in the text is a common exercise for IELTS Reading section, so you need to be comfortable doing it.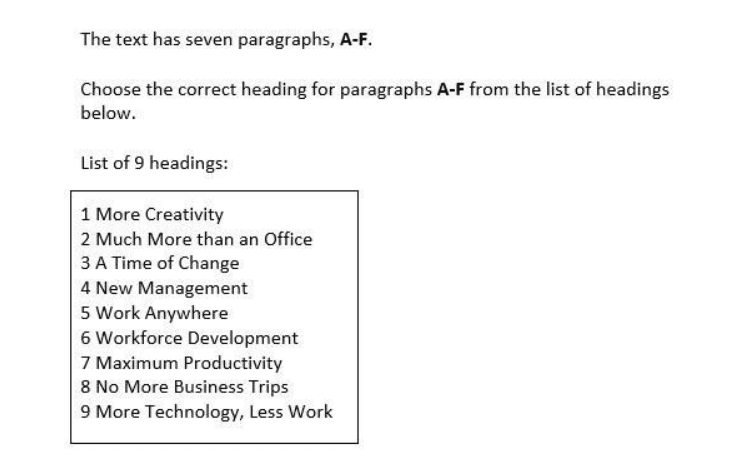 Once you've read each paragraph, you need to choose a heading for it. You do not need to understand all the information. You just need to find the answer.
The Workspace of the Future
A:
Over the last decade, globalisation and new technologies have brought a tremendous shift to where and how people work. People can now answer emails on their smartphones on the bus or hold a meeting with clients across the world from their office. This transformation has allowed employees to be more productive and responsive than ever before. Undoubtedly, how businesses communicate, collaborate and engage their workforce will continue to evolve as newer and more useful technology is implemented in future.
As you can see, the text is about how offices and workspaces will change in the future. Look at the questions first and then read the text. You will not have time if you proceed the other way around.
Once you think you've found the correct heading, quickly move onto the next question. If you're not sure, move onto the next paragraph and come back to the first one afterwards. You need to work efficiently to make the most of the time. If a question is difficult, move onto an easier question and come back to it later.
When reading the questions, try and find the key words. For example, n°8 would be 'travel'. As soon as you find a paragraph speaking about travel, you can label it.
Here's another paragraph from the same text:
E:
Technology is also transforming how people work in the office. From automatic temperature adjustments in the room to smart lighting that adapts to the weather and time of day, businesses are utilising technological innovations to create the ideal work environment for their employees. These measures may sound small but, over time, lead to large boosts in productivity through creating more optimal conditions for work.
What heading do you think could be matched with it?
Now let's look at another IELTS General Reading task 2 sample question!
Workplace Survival: Sample Exercise #2
This example looks at the advantages and disadvantages of working from home.
C:
It is no secret that regular work at the office is often interrupted by normal interaction with co-workers, phone calls, breaks, and meetings. Although most of these interruptions are involuntary, an employee cannot manage them. The responsible worker will deal with home-interruptions and distractions by scheduling or organizing them. Those who are willing to work hard can get more work done probably even in less time than at the office.
For this task, you have the following instructions:
The text has seven sections.
Which one contains the following information?
Choose the correct letter (A to G) to answer.
This time you're not labelling the sections, but you're trying to locate where information is discussed.
The most common distractions that get in the way of work continuity.
As you can see, regular interruptions are described, which means that it could be a potential answer to question 1. However you'd need to read the other paragraphs in order to be sure.
If there is a question where you are not sure, take a deep breath and start the next question. As we said before, answer the easy questions first and then come back to the more difficult ones. Worst case scenario, you could guess the answer. You don't lose points for an incorrect answer.
IELTS often uses rephrasing and synonyms in order to evaluate your range of vocabulary and you'll find examples of this in the Reading section.
For example, what's the main subject in the following extract?
E:
So self-discipline is of the utmost importance. Without it, a few negative things may occur that will endanger not only performance but life/work balance as a whole.
Boundaries must be set in various aspects: space limits in order to create a professional atmosphere and establish clear work environments as opposed to places for leisure and rest. Sticking to normal working hours is also essential. Being available 24/7 is detrimental to the much-needed life-work balance. Some people may over-work themselves to assure their superiors that they are being productive.
Self-discipline and boundaries are being discussed here. Let's imagine you come across the following question:
The importance of limits when working from home.
If you read the text only looking for the word "limits", you may waste a lot of time! Plus limits could be used within another context so you need to be careful.
As soon as you see the key words in the questions, try to think of potential synonyms. This will help you to understand the text better and locate the answer faster. As we previously discussed, once you've found the answer, start working on the next question
Hopefully these two sample questions have given you an idea of what to expect from Task 2 of the IELTS General Reading paper. We invite you to discover our website for more examples, as well as the answers to the questions and their explanations.
Prepare for the IELTS General and Academic Online With Globalexam
Whether you're preparing for the IELTS General test, or the IELTS Academic one, GlobalExam can help you! Our e-learning platform is available in 5 different languages – German, Mandarin, English, French and Spanish. We have 30,000 questions which are updated regularly by our language experts.
What can you find on our platform?
On our platform you can find complete IELTS practice tests, there you can test yourself in exam conditions on the whole paper. You can also focus on the different individual parts of the paper. For each question you'll be given corrections, as well as an explanation of why that answer is correct. We also have statistics so that you can track your progress and see where you need to focus your effort.
If you feel that you need to work on your grammar and vocabulary, we have you covered. We have many different subjects and grammar points you can practice. All study sheets have the goal of getting you the score you need.
Let us know your test date and your target score and we will create a study program for you.
If you're training for another test, still have a look at our platform! We have material for 27 tests for various languages including TOEIC, DELF, DELE and HSK.
Let GlobalExam help you achieve the test results you want!