Don't count on a single course, textbook, or study program to prepare to take your TOEFL Junior since the test doesn't fit any single curriculum. Instead, you should plan on working on your English skills overall and practice taking mock versions of the test.
This article will explain the steps you should take leading up to the test, what you should know about taking the test itself, and our best advice on preparing to get your best score with GlobalExam.
While no preparation applies to every test-taker universally, these are our best tips for testing success on the TOEFL Junior series of tests.
Before the test
Remember that the idea behind the TOEFL Junior tests is that you can't "pass" or "fail" it; the tests are designed simply to show your improvement in English over time. You'll simply get a score that reflects your current level of English.
Familiarize yourself with the test format and how you're expected to mark your answers during the test. This can be done by taking one or several mock tests before your actual test date. That way, you should be able to concentrate on the questions themselves rather than navigating through the format requirements.
Read the instructions carefully. Even if you're familiar with the format and know what to expect, the test directions follow a strict (standardized) procedure and you mustn't skip or forget every step.
Focus on English-language immersion as often as possible. Read, watch TV or listen to recordings in English, sign up for a preparatory course on GlobalExam, and even speak English with others to apply what you learn. Practice makes perfect!
ETS, which produces and distributes the TOEFL Junior test, has some free resources available to familiarize yourself with the current test such as practice questions and links to other materials.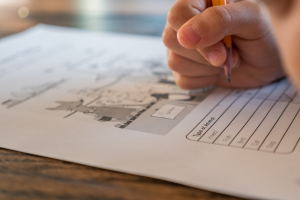 During the TOEFL Junior Standard test
On your test day, the center administrators will give you an answer sheet in the form of a "bubble grid." You must fill in all information completely and carefully.
Check out the clock
Each of the test sections is timed and the test administrators will let you know when you can start and when you must stop each section. If you go back to work on another section or skip ahead to the next section before you are told, this may be considered cheating and your results will be canceled.
Manage your time efficiently
Work quickly yet carefully, and don't linger too long on a single question. Remember that there is no penalty for wrong answers, so it's in your best interest to answer every question, even if you have to guess!
These skills can be practiced through sample exercises and mock tests available on GlobalExam. There's no better way to get a feel for the timing and pressures of the real test!
Answers are provided by making marks on the bubble grid on your answer sheet, which is read by an optical scanner. The machine scoring process is carefully inspected manually for accuracy and quality, but you're still responsible for marking your answers correctly.
Here are our tips on filling in your answers properly
Use a No. 2 or HB graphite pencil only (provided by the test center if you don't have one). Pens, markers, or other colors may lead to smudging and other mistakes.
Take the time to be sure that the answer number matches the question number. Once the section has finished, you may not go back to fix any mistakes!
Each question has one answer only, so be sure you don't have any double answers.
Fill in the circle completely so it blocks out the answer letter. This is the only way the machine can interpret your answer.
If you change your answer, make sure you erase it completely – another reason pens aren't allowed!
Here's a visual example of the right and wrong way to fill in your answer sheet:

During the TOEFL Junior Speaking test
The independent TOEFL Junior Speaking test is administered on a computer and each question is timed automatically. You cannot go back to correct previous answers, so try to answer each question as best you can.
Good preparation with GlobalExam will help you gain confidence in your Speaking abilities so you'll know how to give it your best shot!
Study online with GlobalExam
As you work toward getting the best target score you can on the TOEFL Junior tests, one of the best ways to prepare for the test is on GlobalExam, the online platform for test training. Try our practice exercises to focus on individual test-taking skills or try out one of several free full-length mock exams.
You'll get grammar and vocabulary revisions to boost your English level overall, plus a personalized progress tracker and study schedule so you'll stay motivated and watch your score climb! We also made a list of the best books and the best websites to prepare for the TOEFL Junior tests.
Sign up for a free trial and you'll see everything GlobalExam can offer you (or your child or student) for great results.