In this post, you'll find out all about the TOEIC and taking the test in Quebec.
This guide covers the following points:
The TOEIC and how to register for the test
Locating a TOEIC Quebec examination center
Preparing for the test on GlobalExam
If you're thinking about taking the TOEIC, you can find all the information you need in order to register and start preparing in this article.
Let's dive right in.
What is the TOEIC?
The TOEIC stands for the "Test of English for International Communication". The ETS devised the exam to test a person's proficiency in the English language specifically within the sphere of business and working environments. This means that the TOEIC test focuses on topics and questions related to working life, such as meetings, travel scenarios and telephone conversations.
The TOEIC exam is divided into two sections:
Listening and Reading
Speaking and Writing
The Speaking and Writing exam has been developed more recently and takes place online. The Listening and Reading exam is the more traditional TOEIC test and takes place with pen and paper in a testing center.
Who is the TOEIC designed for?
The TOEIC is different from other English language tests. Specifically designed to test your English skills within the world of work, organizations often ask for a potential employee's TOEIC score when assessing a job application.
If you're considering working in an international organization or moving abroad looking for new opportunities, the TOEIC is a very useful exam to add to your CV. It demonstrates not only your proficiency in English, but your ability to communicate and express yourself in professional contexts.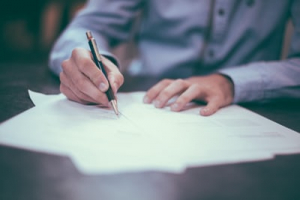 What does the Listening and Reading exam cover?
The Listening and Reading exam is the main TOEIC test. It lasts for two and a half hours and each component includes 100 questions.
The Listening component covers:
Questions based on photos (20 questions)
Questions and responses (30 questions)
Short conversations (30 questions)
Short talks (30 questions)
The Reading component covers:
Incomplete sentences (40 questions)
Error recognition (20 questions)
Reading comprehension of single passages (40 questions)
Short passages and multiple choice (eight passages)
How is the TOEIC test scored?
For the Reading and Listening section of the TOEIC, candidates are given a score between 10 and 990.
There is no pass or fail mark for the TOEIC. Each individual score falls into one of the following bands and corresponds to a general definition of your English proficiency:
| | |
| --- | --- |
| Score band | Proficiency |
| 905-990 | International proficiency |
| 785-900 | Working proficiency |
| 605-780 | Limited working proficiency |
| 405-600 | Elementary proficiency plus |
| 255-400 | Elementary proficiency |
| 185-250 | Memorized proficiency |
| 10-180 | No useful proficiency |
If your employer has asked you to take the test, they may specify the band they expect your score to fall within.
How to register
Anyone can register to take a TOEIC test. If you're taking the TOEIC independently, you'll need to register for a public test session.
The dates for the public TOEIC test sessions are the same across all the public examination centers in Canada and there is usually one testing session per month.
You can register for the TOEIC up to the week before the test, providing that there is still an available place at your examination center. The registration deadline for the TOEIC test in Canada always falls on the Thursday one week prior to the test session, at 17:00 Eastern Time.
Registration takes place online through the ETS website, rather than directly with the examination center. The online registration process requires the following steps:
Choosing a test center, test date and reserve your seat
Providing your name, address and personal information
Submitting a photograph to be used to verify your identity on the day
Paying the registration fee
TOEIC Quebec examination centers
There are two examination centers that hold public test sessions for the TOEIC Quebec. We've made life simple and included their addresses and contact information below:
| | | |
| --- | --- | --- |
| TOEIC Quebec examination center | Address | Contact |
| YMCA International Language School | 1440 Stanley Street, 5th Floor, Montreal QC H3A 1P7 | [email protected] |
| Centre d'évaluation de compétences linguistiques – CECL – UQAM | Pavillon J.-A.-DeSève, 320 rue Sainte-Catherine Est, local DS-1440, Montreal H2X 1L7 | [email protected] |
Once you've worked out which one is the most convenient location for your TOEIC test, all you need to do is register online with ETS, specifying your chosen examination center.
When you select your examination center on the ETS website, their platform will immediately indicate if they have an available spot for your chosen test time. You can also take the TOEIC test in other cities in Canada such as in Vancouver, in Toronto, in Montreal, Victoria and Calgary.
How much does the TOEIC test cost?
Fees for the TOEIC test can vary between examination centers. The Listening and Reading exam usually costs around $85 CAD, but you can check this on the ETS online registration platform.
The online registration fee is non-refundable, so once you have paid and committed to a test date, you can't reschedule or cancel without losing your money.
You can pay the one-off registration fee online by card or send a check by mail after completing the online form.
Preparing for the TOEIC test with GlobalExam
If you want to ace the TOEIC on your first try, you need to do some careful preparation. On GlobalExam, you can revise and polish your English skills with exercises specifically designed to prepare you for the Listening and Reading components of the TOEIC.
When you subscribe to our e-learning platform, you'll be able to:
Evaluate your level with an assessment test
Create three custom study plans
Learn with 390 study sheets
Practice using 200 corrected training exercises
Sit five graded mock exams
Track your progress using statistics and corrections
If you're new to online learning, you can try a smaller selection of our resources first with a free account.
With a good TOEIC score on your CV, you can enter the business world with confidence!