Whether you're applying for admission to a business school, aiming for a promotion or hire in an international company, or simply want to boost your résumé, certifying your English level through a test like the TOEIC is a great start!
If you're in South Korea and want to sit the TOEIC, this article is for you! We'll explain the basics of the TOEIC, how to register for and where to take the test in South Korea, and how best to prepare to get a winning score.
Get everything you need to know about taking the TOEIC in Korea and get your keys to success with GlobalExam.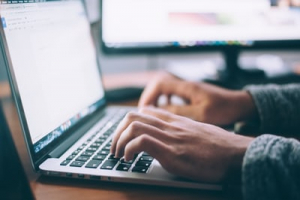 An overview of the TOEIC
The TOEIC is a test of English proficiency focusing on so-called "business English." As such, it tests candidates' ability to understand English in working scenarios likely to arise in a professional setting. You'll be evaluated on your ability to function through emails, during business travel, and in other forms of business communication.
Getting a high score on the TOEIC will confirm that you are ready to use your English skills in a business setting, so it's a great thing to include in your CV. The TOEIC is highly standardized and is produced in the form of multiple-choice questions. Since the format follows a strict pattern, it is highly recommended that you complete a thorough preparation program before taking the test.
The testing centers in Korea
The TOEIC is produced by ETS, which is headquartered in the United States. They design and dispatch the test all over the world. In South Korea, ETS has entrusted YBM, Inc. to distribute the test and accredit the various testing centers throughout the country.
Your first consideration should be the date of the test. Depending on whether you have a deadline to meet to provide your TOEIC score or if you have enough time to take the test when you want, or several times to get your best score, this will determine when and where you take the test.
Accredited TOEIC testing centers are located in the following areas:
Busan
Daegu/Gyeongsang/Jeju
Daejeon/Sejong/Chungcheong/Gangwon
Gwangju/Jeonra
Incheon/Gyeonggi
Seoul
Details about the specific location and available testing dates are available on the YBM search engine, where you can search by geographic area or by the center's name. You'll then see a schedule of available test dates.
Make sure you register well in advance since late admission is not allowed!
NB: We have also written an article on where to take the TOEIC in Canada, Germany, Ireland,UK, US such as Portland city and Korea or in America
How to register
On the YBM website, after you choose the date and location you want to take the TOEIC, you'll need to select the right test. You're looking for the TOEIC Listening & Reading, which is by far the most common version of the TOEIC – so common that it's almost always implicit.
Then, simply enter the required personal information (i-PIN or phone number) and pay the fee. The test fee is currently ₩45,000 but is subject to change. This is the final step to confirm that your seat is reserved.
Where to prepare for the TOEIC
You should no doubt prepare for the test before you take the TOEIC. Language tests such as the TOEIC rely on multiple-choice questions to rate your English proficiency on a scale between 0-990. These questions are designed to measure key skills in English (understanding gist, understanding details, etc.). Because the test is so standardized and identical no matter where you choose to take it, the TOEIC is a fair and reliable test of English ability.
Preparing for the test is crucial. Even if you speak English "perfectly" already, you should train for the test so you know what to expect. Proper preparation will also help you manage your stress better on the test day because you already know what questions to expect and what sorts of answers are expected from you.
There are countless ways to prepare for the TOEIC. You could enroll in special classes such as intensive training. These could be large groups or one-on-one tutoring sessions with expert instructors. Or you may prefer to buy preparation materials in print or online to go over past test material on your own time.
Train for the TOEIC exam with GlobalExam
GlobalExam can help you throughout your TOEIC preparation process. We'll help you first with our tips and suggestions. With proper preparation, your TOEIC will go smoothly. On your test day, show up early so you're sure to be counted present. The test is given to everyone at the same time but focuses only on your answer sheet. Don't forget to mark down all your answers on the grid, but watch out for shifting lines! If you get stuck on a question, just move on; you'll have time at the end to fix it.
Remember, you cannot "fail" a TOEIC since it simply gives a score to evaluate your English level. However, if you have a minimum score or level you need to reach, this will guide you in your preparation process. Whichever study method you choose, you need to pick the right one for you.
GlobalExam provides everything you need to get a top score on the TOEIC. The platform has dozens of exercises with examples and corrections that explain how the test works. You can practice these exercises as often as you want, all on your own time, and from anywhere using your mobile phone. Every time you get a score, you can track your progress and watch your results rise toward your target. You can even study up on specialized  English vocabulary word list and grammar.
Training for the TOEIC starts today with GlobalExam. You'll even get a free mock TOEIC test when you sign up so you can get an idea of your current level and your goals. Get your free trial today!
Read more articles about the TOEIC exam: