The TOEIC Reading section or Reading Comprehension is the second part of the TOEIC exam. Just like for any exam, it is crucial to stay focused. Indeed, the TOEIC test is very important is you want to study abroad, or even apply for a job, that is why you need to achieve a good score. Preparation is key.
Other articles about the TOEIC structure:
NB: For more information on the registration process, you can check our article "How to register for TOEIC?". We have also written an article on where to take the TOEIC in Canada, Ireland,UK, Germany,US, Japan and Korea.
TOEIC Reading Comprehension – Structure
The reading section is split into 3 parts and 100 questions overall. It lasts about 75 minutes.
| Part 5 | Incomplete Sentences |
| --- | --- |
| Part 6 | Error Recognition or Text Completion |
| Part 7 | Reading Comprehension |
TOEIC Reading – Preparation
Note: You do not have to complete the exercises of the TOEIC reading section in a specific order.Depending on your strengths and strategy, you can start with any exercise you want.
Make sure you also read the top strategies for a successful TOEIC preparation.
TOEIC Reading Comprehension – Tips
Get to know the reading section structure. Before taking the TOEIC, you must know what to expect. As you already know: there are 3 exercises, 100 questions you have to answer in 75 minutes, etc.
Practice reading exam skills. This is really important to skim and scan through the test and underline those key words in questions and answers. This is how you can narrow down the part of the text that holds the answer.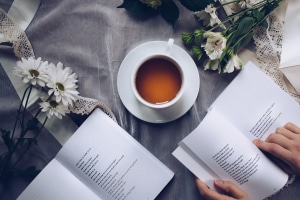 How should you manage your time?
Set yourself specific goals per exercise.
There is no perfect time management: it all depends on you and on how quickly you can read, etc. It is therefore extremely important to set targets according to your own reading speed and the time you need to answer questions.
Use the maximum time allowed: Handing in your copy before the end of the allotted 2 hours is pointless. Stay focused until the end of the exam, and proofread your answers if you still have time.
Transfer answers carefully. Remember to make your answers on the answer sheet and not the exam. They key here is to be careful. Use your finger or a ruler to follow the question number, so you make your answer to the right question.
« I only have 2 minutes left, which questions should I answer first? » There are no negative points in the TOEIC exam: if you only have a couple of seconds left, randomly select answers to the remaining questions. You have a one out of 4 chance to get the right answer. If you have enough time to read the answers then you can use a process of elimination and you will be even more likely to hit upon the right one!
Need more practice….
To be able to read quickly and for specific purposes takes time and practice. Having a good level of English is not enough to get a good score on a test. GlobalExam can help you with this. We provide online exam preparation practice with feedback. Our programme also has an area for you to make a study plan, track your progress through activities, and timed practice exams. Being online you can also access it one the go. GlobalExam have developed a good reputation in helping exam candidates achieve their goals. You will find  English vocabulary word list and grammar study sheets to complete your training, along with many other resources.
check the other reading exercices: