In this article, we discuss the TOEIC test and how to go about registering for it in Victoria.
This guide includes the following information:
The TOEIC test and registration
How to find a TOEIC Victoria examination center
Preparing for the exam with GlobalExam
If you want to take the TOEIC test, you're in the right place to find out how the test works and how to prepare for test day.
Let's dive right in.
What is the TOEIC?
If you're considering working in an international organization or moving abroad looking for new opportunities, the TOEIC is a very useful exam to add to your CV. It is designed to test your English skills within the world of work and organizations often ask for a potential employee's TOEIC score when assessing a job application.
The TOEIC test is internationally recognized and considered as a reliable measure of a person's proficiency in the English language within business and work environments.
There are two TOEIC tests: the Listening and Reading test and the Speaking and Writing test. The first exam takes place in examination centers, whereas the Speaking and Writing exam takes place online and is currently only available in some countries.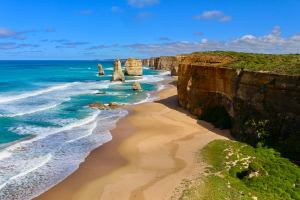 What does the TOEIC test include?
The Listening and Reading test lasts for two and a half hours and each component is made up of 100 questions.
The Listening component covers:
Questions based on photos (20 questions)
Questions and responses (30 questions)
Short conversations (30 questions)
Short talks (30 questions)
The Reading component covers:
Incomplete sentences (40 questions)
Error recognition (20 questions)
Reading comprehension (40 questions)
Short passages and multiple choice (eight passages)
The Speaking and Writing test lasts for around 90 minutes altogether, although the two components take place separately.
The Speaking component takes 20 minutes and includes:
Reading a paragraph aloud to test pronunciation
Describing a picture with correct vocabulary and grammar
Responding to recorded questions with fluent, extended answers
Proposing a solution to a problem
Expressing your opinion on a subject
The Writing component includes:
Writing sentences based on pictures
Writing an email response
Writing a short essay
How to register for the TOEIC
The TOEIC is open to anyone through a public test session. The dates for the public TOEIC test sessions are the same across all public examination centers in Canada. There is one testing session per month and you can find the exact dates by contacting the center directly or on the ETS website.
You can register for the test up until the registration deadline, which is always at 17:00 Eastern Time on the Thursday prior to the test session.
Registration for the TOEIC test takes place on the ETS website and involves filling in a simple form, submitting a photo, and paying the registration fee.
Finding a TOEIC Victoria examination center
If you're looking for a TOEIC Victoria center that holds public test sessions for the exam, you may run into difficulty. Currently there is only one TOEIC test center located in British Columbia, in Vancouver.
If a TOEIC Vancouver session could work for you, you can find the address and contact information here:
TOEIC examination center: SSLC Vancouver
Address: 549 Howe Street, 5th floor, Vancouver BC V62 2C2
Contact: [email protected]
The other possible TOEIC Victoria examination center is the GEOS Language Academy. This center is not currently holding public test sessions, but it's worth contacting them to check for yourself when the time comes. Once you've decided on the most convenient location for your TOEIC test, all you need to do is register online with ETS, specifying your chosen examination center. You can also take the TOEIC test in other cities in Canada such as in Vancouver, in Toronto, in Montreal, Québec and Calgary.
How much does the TOEIC test cost?
The Listening and Reading exam costs around $85 CAD, as does the online Speaking and Writing component. Registration fees can vary slightly between examination centers, but you can check the price between centers when you register.
Registration fees are non-refundable, so make sure that you're ready to take the exam before you complete payment.
What happens on test day?
As test day comes around, it's important to make sure that you're familiar with how the test will unfold and have everything you need to ensure a stress-free experience.
When you arrive at the examination center for your test, you should have the following things with you:
Two forms of valid identification showing your full name, photograph, and signature (for example, a passport, driving license or national ID)
Two pencils with erasers (please note that you must complete the test with pencil and not pen)
You cannot take any personal belongings with you into the exam room. That means no cell phone, no dictionary, or bag.
Preparing for the test with GlobalExam
If you're taking the TOEIC with professional goals in mind, you may well be in need of a flexible way to study that fits around your work and other commitments. Online learning with GlobalExam provides exactly that.
By creating an account and subscribing to our e-learning platform, you'll have access to:
An assessment test for evaluating your level
Three custom study plans
390 study sheets
200 corrected training exercises
Five graded mock exams
Statistics and corrections for tracking your progress
The resources and exercises on GlobalExam are structured in a way that mirrors the TOEIC test experience. In Training Mode, you will find a whole selection of exercises dedicated to preparing you specifically for the TOEIC Listening and Reading test. The exercises target the skills you'll need for each part of the exam, so that there are no surprises when test day comes around.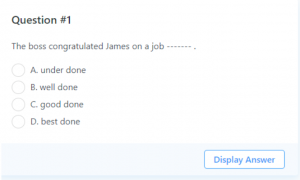 If online learning is new to you, GlobalExam offers a more limited selection of resources to users who sign up with a free account.
Once you have a good TOEIC score on your CV, you can step into the world of work with confidence!