Where to take the TOEFL test in Toronto
TOEFL is one of the world's most popular English language tests and it's one of the main English tests of choice for many educational organizations and employers across Canada too. Tests are available at many locations all over Canada. If you are in Toronto, Canada you can visit places of interest such as Niagara Falls, Ontario Lake, Ripley's Aquarium or the CN Tower. It's also a great place to do a language course or take the TOEFL test!
See here the other cities in Canada where can can pass the test!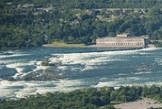 Where can I search for a center?
You can search for TOEFL test centers at; https://www.ets.org
Some examples of TOEFL test center locations in Toronto at the moment are;
Toronto – Bloor Street East
425 Bloor St. East, Suite 202,
Toronto, Ontario M4W 3R4 Canada
Queens Collegiate
5535 Eglinton Ave West #214,
Toronto, Ontario M9c5k5 Canada
Canadian Business College 2
2 Bloor St. West, 22nd Floor,
Toronto, Ontario M4w3e2 Canada
You can also pass the TOEFL to other places in Canada: Montreal, Vancouver, Calgary, Edmonton, Winnipeg, Ottawa.
What do I need to register for the test?
To register, you will need to provide valid personal identification documents such as a passport or driver's license. The type of identification can differ depending on where you're from. Your chosen center will let you know the requirements at their location.
What about the date of the test?
Some centers in the Toronto are able to deliver the test regularly whereas others only conduct the TOEFL test occasionally. If you want to take the test on a particular date then you'll need to check which center is more suitable for your requirements. Whichever date and location you choose, make sure you get plenty of sleep the night before!
How should I prepare for the test?
You should make sure you know the format of the TOEFL test really well before you take it. Some students take a TOEFL course with a language school or buy course books to study at home. Doing some practise tests will help you get to know what to expect and achieve the results you need. Read, write and practise listening regularly. Choose a good place to study and get started. If you are on a course or language program and you can find someone to practise speaking with then great but if not – practise speaking out loud whenever you can.
It's important to have clear and achievable goals for the exam. Students who don't know what they're aiming for often find they are disappointed with the outcome. A preparation course can help students achieve the TOEFL score they need.
How about online training with GlobalExam?
Preparing for your TEOFL test with GlobalExam would be a great way to prepare for the TOEFL test. You can track your progress online so you'll know when you are ready for the test. You can do a trial test for free and then when you're ready to start you can choose the Premium version and get access to all the available TOEFL practise tests! There are materials on the GlobalExam site to suit the requirements of most language students who want to test their skills.