HSK Test – Introduction
China has fascinated the Western world for decades. But during these past few years, the Chinese culture has increasingly spread beyond the Chinese borders. This cultural expansion has notably happened through the Chinese language, Mandarin. An estimated 40 million people were studying Mandarin as a second language around the world at the end of 2008. Another striking example is the boom of candidates to the HSK test, the official degree which certifies your Chinese level. In 2013, five million people took the HSK test worldwide, and the number of HSK students is tripled every year.
WHAT IS THE HSK CHINESE TEST?
The HSK (Hànyǔ Shuǐpíng Kǎoshì or Chinese Proficiency Test) is China's only standardised test of Standard Chinese language proficiency for non-native speakers such as foreign students, overseas Chinese, and members of ethnic minority groups in China.
The test is administered by Hanban (Office of Chinese Language Council International), a non-government organisation affiliated with the Ministry of Education of the People's Republic of China.
The HSK test was first created in 1984 and officially became a national standardised test in 1992. It developed rapidly in the years 2000: The state press agency Xinhua estimates that in 2010, 203 test centres in 69 countries allowed 750,000 candidates to take the HSK — of which 670,000 were non-Chinese.
The HSK test was slightly modified in November 2009 in order to take into account the increasing number of students learning Chinese. It now comprises 6 levels and measures your skills in reading, listening, and writing (from level 3).
Three other tests were created:
The HSKK (HSK Speaking Test) to evaluate the candidates' speaking skills;
The BCT (Business Chinese Test) to evaluate Chinese skills in business;
The YCT (Youth Chinese Test) to evaluate young candidates (less than 15 years old).
For more information on the HSK, check out Hanban's website: http://www.chinesetest.cn/index.do.
HSK LEVELS
General presentation
Since 2009, the HSK has been split into 6 levels. Level 1 is the easiest. For each level, certain linguistic skills and a specific number of Mandarin characters must be mastered: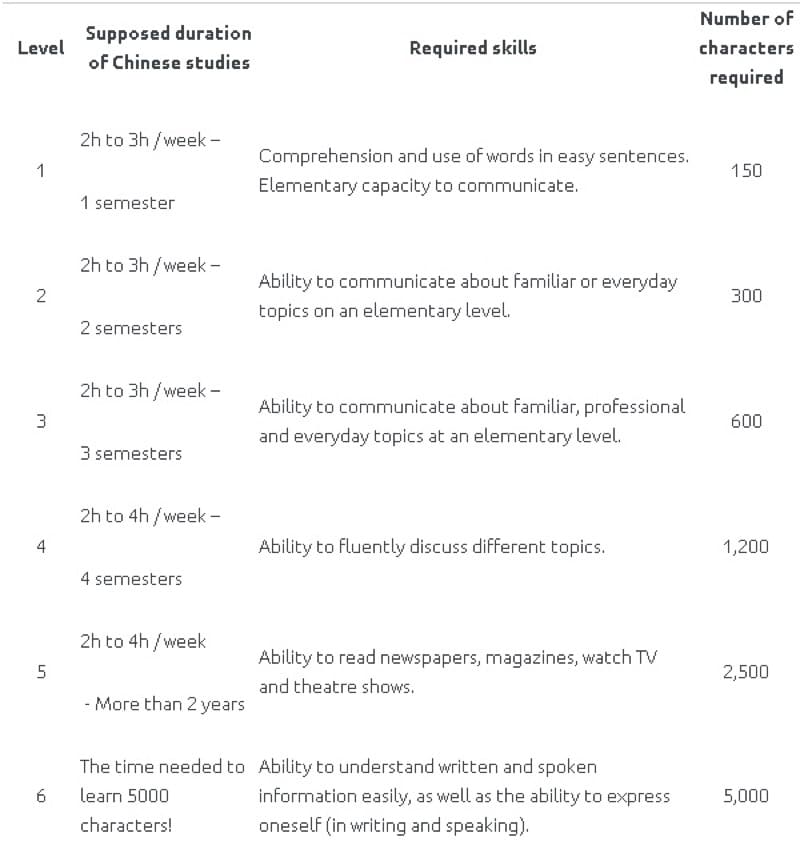 Comments :
Unlike many language tests such as the TOEFL, you do not "take" the HSK but you attempt to obtain a "HSK level". You need to choose the HSK level you want to take according to your language skills and your goals.
In order to pass, you "simply" need to achieve the average grade for the HSK level you registered for: 120/200 to obtain the HSK 1 and 2 certificates and 180/300 to obtain the HSK 3 to 6 certificates. Passing the exam requires good preparation: Global-Exam's teaching team is giving you its 3 strategies to optimise your exam preparation.
As you will see below in detail, the exam's structure depends on the level (number of exercises, questions…).
Watch out: Choose the right exam level! If you do not reach the minimum score of 120 points for HSK 1 and 2 and 180 for HSK 3 to 6, you will not get the certificate nor that of the level below. For example, if you reach 150 points at HSK 4, you will not get the certificate for HSK 4, nor will you get the one for HSK 3 which you may have otherwise easily achieved.
HSK test Tips: If you are hesitating between two levels, GlobalExam recommends you to first reach the lower level. This way, your training will be easier, you will get to know how the exam works and it will give you a positive outlook so that you can reach the next level a couple of months later.
To assess your level, test your HSK vocabulary knowledge: you need to master one list of characters per HSK level!
So come and get your online training on GlobalExam. We also get an article, of you want to learn more about the HSK Exam and his content.