Good news, Seattle! You can take the TOEFL in the greater Seattle and Puget Sound area. For this reason, we are going to go over :
The main TOEFL IBT test centers in the greater Seattle area;
The registration process from beginning to end;
And finally, we'll share our tips on how to best prepare for your TOEFL exam.
Let's get into it!
TOEFL Seattle: Full List of Test Centers in the City
TOEFL sessions are held weekly, generally on Saturdays. You can verify which dates and times are confirmed for each location when you register. These locations are in Seattle, Poulsbo, Des Moines, Everett, and then in Bellingham.
The test call time is usually at 10 a.m., but your registration confirmation will specify the time. Be sure to allow plenty of time to arrive at the test center. You will need to present your proof of registration and photo identification on the day of the test.
Here is a list that will help you find your TOEFL test center in the city: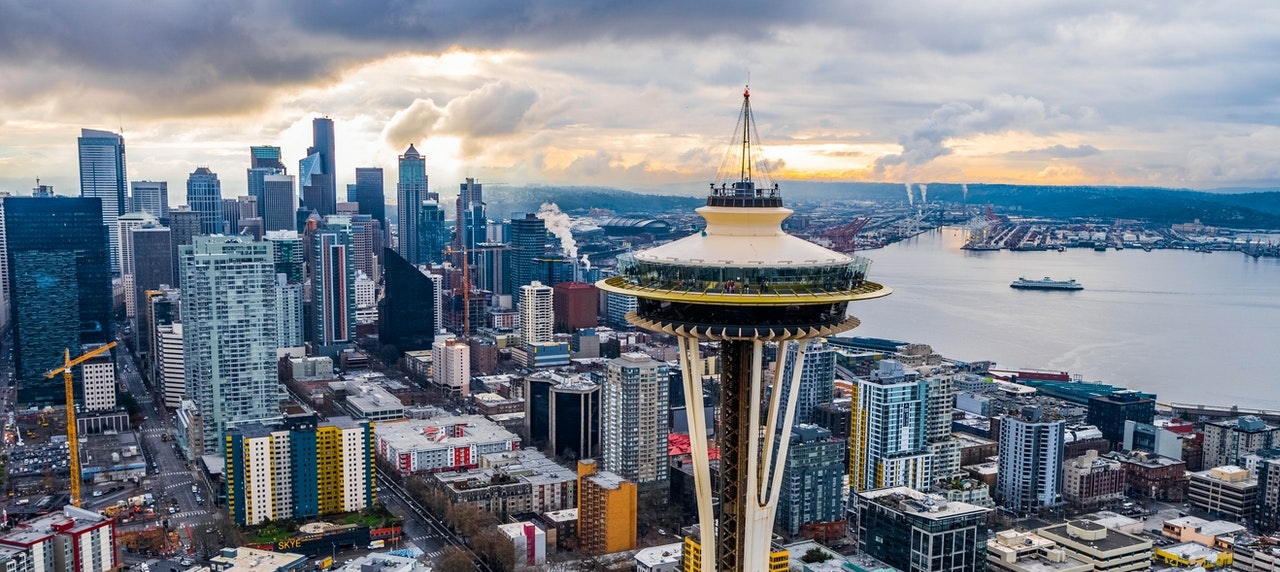 Pine Street
Seattle's main TOEFL test location is in the Pike/Pine neighborhood near Capitol Hill in central Seattle, so this is the Seattle area's main test location. As such, it's the easiest to reach if you're already in Seattle.
Test Center
Address
Contact
ELS Language Center
400 E. Pine Street, 1st Floor
Seattle, Washington 98122
Telephone: (206) 623-1481

Email address:
[email protected]
West Sound Academy
Across the Sound, you'll find the West Sound testing center, which serves the areas west of Seattle.
Test Center
Address
Contact
West Sound Academy
16571 Creative Drive NE
Poulsbo, Washington 98370
Telephone: 360-598-5954
Highline Community College
The Highline Community College test center serves the area between Seattle and Tacoma, just off Interstate 5 in Des Moines.
Test Center
Address
Contact
Highline Community College
2400 S. 240th St., Building 1
Des Moines, Washington 98198
Telephone: (206) 878-3710
There is a complete listing of current test locations and confirmed session dates for the TOEFL iBT in the greater Seattle area online on the ETS Global website. In addition to public sessions at these locations in and near Seattle, many private organizations hold sessions at their own facilities. Be sure to check with your organization where the best choice will be.
Once you decide where your TOEFL will be, and once you register and book your seat well in advance, the only thing left to do is prepare properly for the test!
Some Extra TOEFL IBT Test Centers Nearby Seattle, US
We suggest you take the TOEFL in San Diego if you cannot do it in Seattle.
San Diego
Test Center
Address
Contact
ELS Language Center, Downtown
125 Tremont Street
Boston, Massachusetts, 02108
Telephone: (617) 574-4820

Email address: [email protected]
Other TOEFL Test Centers in the United States
We compiled a list of TOEFL test centers in the USA, you can take discover them here:
What Are the Good Things About the TOEFL Test Centers in Seattle?
Choosing to take your TOEFL in one of the test centers in Seattle is a good idea for many reasons. First, the centers in Seattle are conveniently located and easily accessible by transport including bus lines and subways. The ETS Central University Washington center, for instance, is located in the heart of downtown Washington. Since the center administers various tests, it is very large and can accommodate a considerable number of test takers, including students of the faculty and visitors coming from other states.
The centers provide you with a quiet and comfortable environment that is free of all distractions so that you are able to take your test in the best conditions. They also contain storage lockers in which you can leave your things that are not allowed in the test room.
They also make sure that all test takers have equal access to the center, so there are disability services such as the use of specific technological devices for assistance and early registration.
TOEFL Seattle: In-Depth Guide for Registering for the Exam
Before you register, make sure you prepare the documents you need for your registration such as your identification card. Gather up all the information you need concerning the fees and payment policies before you book a test. If you have any disabilities, you should check the accommodations that ETS provides.
By Phone
If you want to register by phone, the number you will have to call depends on your location. If you live in the United States, U.S. Virgin Islands, Puerto Rico or Canada, the number you should dial is +1-443-751-4862 or +1-800-468-6335. For other locations, choose your location and call your Regional Registration Center (RRC).
You can register by phone until 5 pm on the business day preceding the test day. However, there is a $40 late fee to be paid if you register starting 7 days before the test day.
By Mail
If you prefer registering by mail, you will need to first fill out a TOEFL Registration Form using codes based on your situation. In other words, each code refers to a specific study department or location. Click on the following three list of codes for your location, language, and department:
You can send your form and payment to the address mentioned on the registration form if you live in the United States, U.S. Virgin Islands, Puerto Rico or Canada. Otherwise, choose your testing location to find your mailing address.
Make sure your completed form is received 4 weeks before the test date. An email of confirmation will be sent to you, so if you haven't received it, call the center where you have registered at least 3 business days before the deadline.
On Your ETS Account
Registering on your ETS account is very fast and easy. You must open an account on the ETS website by inputting all your information (name, surname, etc.) and choosing a username and password.
When you click on 'submit', you will be able to select a test center and a date. Choose a center which is closest to your home and a date that would suit you. After that, mention the institutions you would like your scores to be sent to and pay your registration fee.
Keep in mind that the name you register with should match the one on the identification document you will show on your test date. As far as payment methods are concerned, credit/debit cards, e-checks, and PayPal are all accepted forms of payment. You must register up to 2 days before the test date with a 7-day late fee of $40.

How Much Can You Expect to Pay For the TOEFL in Seattle?
Wherever you're taking the test in Seattle, the fee is $235 (US dollars). To be sure, check the ETS website for any updates on the price.
Accepted payment methods include credit/debit cards, e-checks (electronic checks), PayPal or checks and money orders. E-checks are only valid for people who have a bank account in the US, Puerto Rico, U.S. Virgin Islands or Canada. The following table sums up the accepted payment methods for each registration form:
Credit/Debit Card

E-check

PayPal

Paper Check/
Money Order

ETS Account

✓

✓

✓

Phone

✓

✓

Mail

✓

✓
GlobalExam's Tips on How to Prepare for the TOEFL IBT
The TOEFL iBT is one of the world's most recognized tests measuring English ability, so if you are planning to apply for a course of study in or near Seattle, you're certainly going to have to certify your English proficiency to be admitted into any of the Seattle area's top schools.
Remember that the TOEFL iBT is standardized and is dispatched and administered simultaneously over the internet all over the world at the same time. This means that it follows very specific timing and format, so it is highly recommended to prepare for the test ahead of time to get the best chance at achieving your target score.
In order to do so, you have the choice between taking classes with a tutor, online or in person, or study on your own. Many schools, including some of the testing centers mentioned above, provide classes for future test takers. So if you think that you need assistance with your revisions, you can take classes to prepare for the test.
You can also study for the exam on your own by using preparation books or online resources. Keep in mind that you're supposed to work on both your linguistic skills and techniques for the test.
Get Ready to Ace Your TOEFL IBT Test With GlobalExam
GlobalExam combines both exercises of linguistic skills and techniques aimed specifically for the TOEFL. There are also guided courses that will help you spot your mistakes and difficulties in order to improve your English. You can review your previously answered questions as well as the corrections afterwards.
GlobalExam has several full mock TOEFL iBT tests so you can experience the real test format and timing before you attempt the actual test. There are vocabulary and grammar revision files to improve your English skills overall, plus exercises specific to the TOEFL iBT. The best feature is the personalized statistics function, where you can set your target score and track your progress, focusing on your individual weaknesses to get the best score possible!