Taking TOEFL in Frankfurt
How can I take the TOEFL exam in Frankfurt?
Are you in Frankfurt am Main? Do you need a TOEFL certificate? If you're preparing to enroll at an English-medium university, or to send a job application to a prospective employer who needs proof of your English abilities, then the answer is probably "yes".
Read below to learn about registering at a certified TOEFL test center in Frankfurt.
See here where you can pass the TOEFL in Germany !

Which TOEFL should I do?
Before you go online to register, choose the version of TOEFL which is right for your needs.
Most candidates take the TOEFL IBT (internet-based test). Any institution which requires a TOEFL score will accept IBT as proof of English ability. There is, however, a paper-based alternative called the PBT. This is in the process of being phased out, but some institutions still accept PBT certificates and you can take the paper-based test at some exam centers.
How do I register and pay?
You can register directly through the ETS TOEFL website at https://www.ets.org/toefl. When you visit the site, first set up a TOEFL online account. Then follow the link which says Register / Find Test Centres to submit your application.
As part of the registration process, you need to provide proof of identity. For German citizens, a current passport, national ID, driver's license or military ID are all acceptable registration documents. Citizens of other countries must present a valid passport with their application.
You can pay for the test in a variety of ways: ETS accepts credit and debit card, e-check, paper check, Pay Pal and money order. (Seehttps://www.ets.org/toefl/ibt/about/fees/ for more details). Be sure to book your test well in advance – preferably at least two months before the date. Test rooms often fill up quickly!
You can register for the TOEFL exam as many times as you like.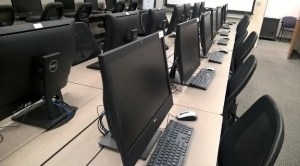 So, how and when do I get my results?
ETS posts exam scores on their TOEFL website around 10 days after the date of the exam. You will receive an email when your scores are published.
When you set up your TOEFL online account during registration, you will receive an ETS ID number. After the exam, you can log in to your account, enter this number and go to 'View Scores'.
What locations offer regular TOEFL testing in Frankfurt?
There are two official TOEFL testing centers in Frankfurt, as well as centers in nearby cities like Mannheim (84kms away). All of these centres run regular TOEFL exams.
What do I need to bring with me on test day?
You will need to bring proof of identity on the day of the test. Whatever document you used in your application, take the same document to the exam. Also bring a pen and a pencil, and some spares; you need these for the test.
How should I prepare for TOEFL?
A good way to start is by familiarising yourself with some basic details about the exam: the overall format, the question types, time limits and so on. A good knowledge of what's in the exam will help you achieve the results you need. Visit some TOEFL preparation websites online to get a more detailed picture of what tasks appear in TOEFL and what strategies you can use to approach them. It might also be useful to buy an official test book. Finally, to maximise your chances of success, consider taking a preparation course at a reputable language school. Personal tutors can be helpful too, though they tend to be fairly expensive.
While you're preparing for TOEFL, schedule specific time slots when you want to study each week. When it comes to getting the best results, preparation is everything!
You can also find others places to pass the toefl in Germany, the list of cities include Berlin, Munich, Hamburg, Stuttgart, Hannover, Leipzig, Cologne, Dusseldorf, Bremen, Osnabruck, Nurnberg, Bonn, Oldenburg, Mannheim, Kiel, Dortmund.
Can you tell me about Online Training with GlobalExam?
The GlobalExam online platform offers you the chance to practice your language and exam skills. It also helps you track your progress, so you can decide when you are ready to take the test. We have practice exercises available for lots of different exams, including TOEFL. You'll find a free trial version on the platform, incorporating practice materials and sample TOEFL test, so you can see if this type of learning works for you. If you're pleased with the results, you can then upgrade to Premium and get access to all the content available!