Taking TOEFL in Leipzig
How do I take the TOEFL exam in Leipzig?
Are you in Leipzig, Germany? Do you need to take the TOEFL test? Do you need proof of your English ability to accompany an application to a university or a potential employer?
Below is everything you need to know about registering at a certified TOEFL test center in the Leipzig area.
See here the center in Germany!
Taking TOEFL in Leipzig
There are 2 types of TOEFL so which should I take?
Before you register for TOEFL, you need to choose which version of the test will meet your requirements.
More than likely, you need the TOEFL IBT (internet-based test). This version is chosen by most candidates, and accepted by all institutions and employers which require a TOEFL certificate as proof of English ability. However, there is also a paper-based test called TOEFL PBT. This version is due to be phased out in the future, but for now, some institutions accept PBT certificates and a few exam centers still offer the paper-based test, albeit less frequently than the IBT.
How do I pay and where do I register?
For all test-takers in Germany, registration is an online process which you do through the ETS TOEFL website at https://www.ets.org/toefl. To start the process, visit the website and create a TOEFL Online account. Then follow the link which says Register / Find Test Centers. From here you can submit your documents and application.
You'll need to provide proof of identity to register. German citizens can use a valid passport, a national ID, a driver's license or military ID for this purpose. Citizens of other countries can register using a valid passport.
The easiest way to provide this document is to scan it in JPEG, GIF or PNG format, ensuring that the file size doesn't exceed 1.5 MB. You'll be prompted to upload the file during registration. To avoid problems, make sure your photograph, an ID number and your signature are all clearly visible on the scan.
You can pay for registration in a number of ways, including by credit or debit card, e-check, paper check, Pay Pal or money order. (See https://www.ets.org/toefl/ibt/about/fees/).
It is important that you choose your test date well in advance, as places are often limited. Most test centers advise candidates to book at least two months ahead. Remember that there is no upper limit on the number of times you can register and take the exam.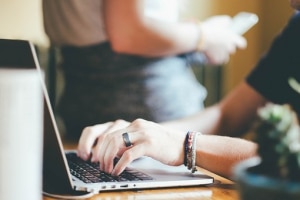 How and when do I get my results?
ETS, the company who administers TOEFL, posts exam results around 10 days after the exam takes place. They send out an email to test-takers when results become available.
When you create your TOEFL Online account, you will receive an ETS ID number. After the exam, you need to log in to your account and provide this number. This will give you access to the 'View Scores' area of the site.
What locations offer regular TOEFL testing in Leipzig?
There are currently two TOEFL testing centres in Leipzig. Below are the details of the Leipzig centers.
IITS / Z&B Schulung Leipzig
Email: [email protected]
Website: http://www.zp-schulung.de/kursangebote/fremdsprachen
LearnBiz.com Leipzig / WBS Training AG
Telephone: 0711 / 12 85 15 40
Website: https://www.sprachenmarkt.de/en/ets-toeic-toefl/toefl-leipzig.html
Is there anything that I need to bring with me on test day?
You will need to prove your identity when you arrive at the test center. To do this, you need to bring the same document which you scanned and uploaded when you registered. It's also necessary to provide your own pen and pencil for the test (the pencil is for the answer sheet). To be on the safe , bring at least two of each.
What should I do to prepare for the TOEFL test?
Learning about the format of the exam is a good place to start. Find out what sections there are, what question types you might encounter, time limits for each section and so on. Knowing this information will make it easier to achieve results you need. There are many TOEFL preparation websites online, where this information is available. These sites generally offer some exam practice as well, which will give you more of an idea about tasks and strategies. You might also consider buying an official test book. If you want to be more fully prepared, think about ding a preparation course at a reputable language school. A personal tutor is also an option, though they tend to be quite expensive.
You'll inevitably do a lot of self-study, and it's important to organise your time, scheduling specific time slots for study each week.
Finally, make sure your goals for the exam are clear and achievable. Candidates who don't know what they're aiming for often find they are disappointed with the outcome.
You can also find others places to pass the toefl in Germany, the list of cities include Berlin, Munich, Hamburg, Frankfurt, Stuttgart, Hannover, Cologne, Dusseldorf, Bremen, Osnabruck, Nurnberg, Bonn, Oldenburg, Mannheim, Kiel, Dortmund.
Can I do online Training with GlobalExam?
GlobalExam is an online platform aimed at helping students achieve their best in exams. The materials on the platform develop both general language abilities and specific exam skills for tests such as IELTS and TOEFL. GlobalExam also allows you to track your progress, so you will know when you are ready for the test. The content relates to a variety of exams, including TOEFL. There is a trial version to help you get started, including a free sample TOEFL test. If this style of learning works for you, just upgrade to Premium and you'll have access to all the content available!