Of all the tests of English language proficiency, the TOEIC is perhaps the world's most recognized assessment of English for professionals. It comes in the form of a multiple-choice test, resulting in a score from 0-990 used to certify your level of English.
The TOEIC is required for admission into thousands of academic institutions and companies by foreign candidates and can be a great way to boost your career. And the good news is that TOEIC testing is available all over the state of California!
In this article, get our tips on how to register for the TOEIC, where to take it in California, and how best to prepare to get a winning score. Let's jump right in!
What is the TOEIC?
The TOEIC is a fair and objective way to prove your proficiency in business English. The test material focuses on situations you would likely encounter in a professional setting. You can use your TOEIC score to prove to your employer or admissions recruiter that you have the level of English necessary for their requirements.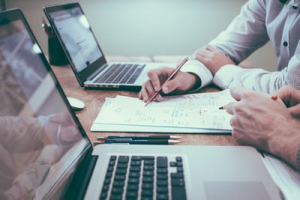 The TOEIC is produced exclusively and dispatched by ETS, which is headquartered in New Jersey. They are the ones responsible for accrediting the TOEIC test centers all over the world, including several in the Golden State.
First, let's look at where the test centers are located (non exhaustive list).
The TOEIC test centers in California
Berkeley:
Language Studies International
2015 Center St.
Berkeley, CA 9404
Irvine:
AOI College of Language
4040 Barrance Pkwy #290
Irvine, CA 92604
Long Beach Los Angeles:
Cal America Education Institut 
440 Shatto Pl
Los Angeles, CA 90020
Northridge:
California State University, Northridge
Juniper Hall, Room 1107
18111 Nordhoff Street
Northridge, CA 91330-8405
San Diego:
College of English Language
1010 2nd Ave. Suite 110A
San Diego, CA 92101
San Francisco :
Embassy CES
1 Beach Street, 2nd Floor, Location #4
San Francisco, CA 94133
San José,:
San Jose State University
Dudley Moorehead Hall
1 Washington Square
San Jose, CA 95192
As you can see, most of the test centers are in language schools or universities. Most are accessible via public transportation, but given California's vast road network, you should double-check the location and driving directions to your destination, allowing for plenty of time – test call times are generally at 10 a.m. so don't be late!
TOEIC tests are given once a month, generally on Saturdays. The test centers may offer several sessions on the same day depending on demand.
Speaking of the demand, note that seats are always limited, so we recommend that you register well in advance – at least a month ahead of time and up to 10 days before the test date.
There are plenty of test centers all around the US in cities like NYC, Boston, Portland or regions like Michigan and even in Hawaii or in the Americas
Now, let's look at the TOEIC registration process.
Register for the TOEIC
No matter where you decide to take the TOEIC, you'll have to sign up for the test on the ETS website. All of the test locations in the country are listed there. Under "Order," you can book your TOEIC test by first selecting the state (California), then your nearest testing center. Be sure you choose "TOEIC Listening & Reading, Public Session" since this is most likely the test you'll need.
Then, enter your personal information to open the account with ETS and the date you want to take the test. This is when you'll get all the information about the testing date: call time, location address, required documentation, etc. You'll need to bring valid identification with the name you use to sign up with ETS.
Secure your spot
Finally, to secure your spot to take the TOEIC, you'll have to pay the test fee. This can be done easily and instantly online. The fee is currently around $130 to take the TOEIC Listening & Reading, but discounts may apply for students or other categories of test-takers.
There are options available for your score report. The basic test fee includes a simple score report sent to you and up to four organizations. Additional score reports can be ordered for a fee. Scores will be processed and sent out approximately after one week. Three-day rush service is also available.
Prepare to take your TOEIC with GlobalExam
To succeed at the TOEIC, GlobalExam advises that you prepare seriously and with discipline. You can spread out this preparation throughout the entire time you have left before the test with short yet regular training sessions. Of course, you should also plan on break times to let your brain "take it all in"!
The best test preparation is varied, so in addition to simply improving your English overall, plan on taking one or several mock TOEIC tests that follow the standard format. This will give you an idea of your current level and where you should focus your preparation.
GlobalExam will help you throughout your preparation process. On the GlobalExam platform, you'll find TOEIC exercises with more than 60 hours of practice material, including grammar and vocabulary files and full-length TOEIC Listening & Reading mock tests. You can track your progress using your own statistics and watch your score rise as you train!
Take a full-length mock TOEIC free of charge when you sign up with a free trial with GlobalExam. Let us help you on your international adventure starting in California and help you reach your target score on the TOEIC!