"Do I need to go abroad to learn Spanish?" No, you don't! However, you do have to dedicate time to learning at home. And that includes not just reading, writing, or speaking, but also developing your listening skills. So, it is important to find meaningful audio content in Spanish to improve your comprehension. Podcasts are very useful not only for intermediate or advanced students, they can also be useful if you are just starting out with Spanish. In this article we will see:
Podcasts to learn Spanish for beginners;
Podcasts for students with an intermediate level;
Podcasts for advanced Spanish level;
Why it is important to learn Spanish through podcasts;
Learn Spanish and improve at your own pace online with the General Español program!
Grab something to take notes and let's start!
Podcasts to learn Spanish for beginners
There are so many methods you can use to learn Spanish. You can choose to read books in Spanish or you can choose resources such as e-learning websites, online programs, applications and games. Some people also try to learn Spanish while driving a car and others want to learn Spanish while sleeping.
Certainly all of these methods are effective, but if you're trying to learn Spanish on your own and from scratch, one of the most suitable resources for you are podcasts, especially those that are more technical and contain less dialogue or discussion-based shows.
Notes in Spanish
This podcast was created by a Spanish girl named Marina and an English guy named Ben. This multicultural power couple, engaged in simple and fun conversations that are followed by grammar and vocabulary commentary to give you a better grasp of the language. If you want to get the Premium version of the podcast, you receive worksheets that accompany each episode, plus a full transcript and translation of their conversations.
Coffee Break Spanish
Spanish teacher Mark and his student Cara, engage in this podcast, 40 episodes of basic Spanish lessons. Topics ranged from greetings and introductions to ordering food and travelling in Spanish-speaking countries. You will not only repeat phrases, but you will also learn how the language works.
Spanishpodcast.net
These guys know that the secret to learning Spanish is to balance grammar and exposure to native speakers. The podcast website offers Spanish one-on-one for beginners with detailed lessons on certain themes, 15 minute-sessions of native Spanish monologues coupled with a free transcript. Perfect for taking a shower or a short car ride!
Duolingo Podcast
As Duolingo puts it: "these are life lessons through language" and as such, their episodes are nor technical or grammar focused at all. They are instead targeted towards beginners and featuring the native Spanish coupled with English narration. It's hosted by Martina Castro, co-founder of another popular Spanish podcast "Radio Ambulante", which is a great option if you are more of the intermediate side of things. Duolingo Spanish podcasts and their accompanying transcripts are free. Just make sure you don't miss any lessons!
Unlimited Spanish
Native speaker and host Oscar, simulates Spanish dialogues with his listeners to give them a better feel for the language. As he states in his website: "Focusing solely on grammar leaves most students without the ability to engage in conversation". His podcast is designed to guide you and get the feel for native Spanish using the same method by which children learn their maternal language: exposure and imitation.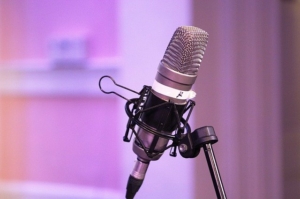 Podcasts for learning Spanish at intermediate level
To help you find the content you need, here are five podcasts which are perfect for intermediate level students.
Radio Ambulante
A great podcast for intermediate to advanced levels is 'Radio Ambulante'. This podcast is like a radio show. It has loads of stories in Spanish covering a wide range of topics, which makes it an interesting podcast. It is more of a challenge, but it will help intermediate learners gain confidence with their comprehension skills.
Spanish Obsessed
This is a podcast for students of all levels. For intermediate students there are 36 audio lessons all with transcripts and notes, which is six hours of listening practice. It is a very comprehensive podcast for language learning. The hosts are Rob and Liz and they talk about different topics in a very natural way and are easy to understand. Perfect for an intermediate student!
Audiria
This podcast is a great free resource for students of all levels. For intermediate students it is good because you can pick your level to make sure the content suits your needs. Every podcast also has related activities and exercises to check your understanding.
News in Slow Spanish
This podcast is perfect if you are keen on catching up on the news in Spanish, but you find the actual Spanish news website a bit hard to understand. You get podcasts with news that are read with a tone and speed that is considerably less than native level Spanish. You can also choose whether you want content in Spanish or Latin American accents. It is debatable whether it is a good idea for your listening skills to listen to Spanish that is spoken at a slower speed. Nevertheless, this podcast is very popular and if you like news and current affairs and you have an intermediate level, this is a great option!
Fluent Spanish Academy
This is not actually a podcast, but it is a similar concept. As part of the many resources inside the Academy, you have audio lessons that are released every week that you can take with you on the go just like all the other podcasts. The best part of the Fluent Spanish Academy is that they target specifically intermediate learners who are stuck.
Podcasts to learn advanced level Spanish
Españolitos
This podcast is a very good option if you can already speak in Spanish and have sort of an intermediate-advanced level. The hosts are a Colombian Spanish teacher and her partner from the US and they have fun and interesting conversations in Latin American Spanish. The conversation topics are educational and allow you to practice comprehension and vocabulary. Each episode in the podcast lasts around 30 minutes. It's a good way to have fun and learn without feeling like you are studying!
Cadena SER
On the Cadena SER podcast (Spanish Radio Station) you have a wide variety of podcasts to learn Spanish that you can use to improve your level if you already have an intermediate-advanced level of Spanish. There are podcasts of different categories, from sports or art to consumer rights.
Learn Spanish
This podcast has a list of 459 tracks of different lengths with courses that you can find on spotify. You can also find many of the tracks from the "Learn Spanish in Your Car" list. You can choose from a couple of courses for beginners as well as intermediate and advanced levels. If you don't like teachers, this podcast is waiting for you!
Radio Lingua
Radio Lingua Network has a series of podcasts in Spanish: "Show Time Spanish". They are designed more for students with intermediate and advanced levels, who want to improve their skills by increasing the richness of expression and mastering grammar.
15 minutes Spanish for you job
This Spanish podcast differs from others in a notorious way by focusing primarily on conversational and work Spanish. Instead of a typical class, you will hear dialogue on all kinds of topics such as music or traditions.  In addition, you will find many examples of dialogue. For example, between a customer service representative and a potential product buyer. These kinds of conversations will help you gain that extra vocabulary for your job.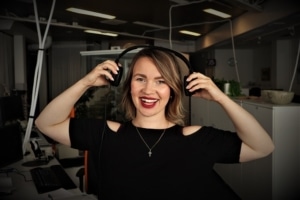 Why are podcasts good for your Spanish listening skills?
One of the main reasons is that you can take your phone or tablet with you anywhere nowadays which makes it very hard to find an excuse not to listen to Spanish. You can do it while you are commuting to work in the morning or while waiting for an important appointment. It is convenient and one of the easiest ways to learn Spanish.
Another great thing about podcasts is being able to listen to native speakers. You can improve your listening skills by hearing Spanish speaking at a natural speed. It is also helpful to get adjusted to different accents.
Also, interestingly, a lot of podcasts are geared towards Spanish language learning design for intermediate students. This is quite different from watching movies, TV series, telenovelas, YouTube videos or listening to music in Spanish, which are also great ways to get your ear-tuned with the language.
Improve you Spanish thanks to Global General
The best way to learn is by putting different areas of your brain to work. So, make sure to include reading, writing, speaking, and listening into your practice sessions. If what you want in the future is to continue improving your Spanish quickly and easily, we advise you to register for the Global General of GlobalExam, a perfect method to learn Spanish online without leaving home, at your own pace and without stress.
With the Global General you will have access to a multitude of check sheets and detailed corrections to all the questions that will allow you to test and improve your level. Aimed at students with a beginner or intermediate level, the Global General proposes academic itineraries and other more playful ones adapted to your level and your needs. Come and discover this fun and effective method, far from the frustrations and inconveniences of traditional learning.
In addition, with GlobalExam you can optimize your skills and prepare for the DELE A1, A2, B1, B2 and C1 language exams. For this you will have at your disposal a multitude of supports and exercises with their detailed corrections, personalized monitoring and a community of students where you can share experiences. Enjoy the best online platform to learn Spanish quickly and efficiently. With GlobalExam the future speaks Spanish!