One of the most entertaining ways to learn Spanish is by watching Telenovelas (Soap Operas) or series. The famous Telenovelas of the 80's and 90's have given way to much more modern and elaborated series that have reached homes, made for all audiences, and turned some of them into true social phenomena.
If you want to learn Spanish with Telenovelas but you don't know from where to start, in this article we will talk about:
Which are the best Telenovelas for learning Spanish according to each level (A1-B2)
How can a Telenovela help you expand your vocabulary?
Tips for watching Telenovelas and making them an effective medium
Read on and start learning Spanish online with General Español!
Which are the best Telenovelas for learning Spanish for beginners?
Some people want to learn Spanish while driving a car, others want to learn Spanish while sleeping. Still others want to find ways to study Spanish on their own or tips to make studying the language easy. So, whatever your purpose, you will find the most effective method to for you.
In this article we are going to talk about passive learning through telenovelas, one of the best ways to learn Spanish.
Cuéntame
It is the oldest television series in Spain, broadcast since 2001. It tells the life of the Alcántara family, one of the most beloved families by viewers. A great success with viewer numbers that in its prime exceeded 6 million viewers. Cuéntame is a good example of a series to learn Spanish because its dialogues are slow, while you learn the history of Spain and events that occur in this series.
Velvet

Velvet is a romantic comedy and its dialogues are slow to help you learn Spanish little by little and efficiently. The series has been one of the biggest successes of current television in Spain with more than 4,000,000 viewers per week. The action takes place in the Velvet Galleries of the 60s in Madrid. You will love its elegance and its music.
Extra
This series has been created specifically for teaching ​​and adapted to various languages. In the Spanish version, Sam, an American guy, shares a flat in Barcelona with Lola and Ana, who correct Sam's linguistic errors with a lot of humor. An easy-to-follow and easy-to-understand series with many phrases from everyday life. You can find it on YouTube.
El tiempo entre costuras
A short series based on a novel by María Dueñas. A story of love, spies and political intrigue in the middle of World War II. It is ideal if you want to learn vocabulary about the world of fashion. 
El ministerio del tiempo
With this production you can learn Spanish and learn about the history of Spain. In the series, Spain has hidden doors that lead to other times and special policemen who watch over history travel through them. Dalí, Lorca or Picasso have been some of the protagonists. The chapters are available on the TVE website.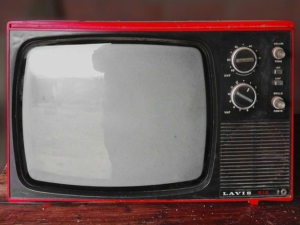 What are the best Telenovelas for intermediate level?
Allí abajo

It is the comedy of fashion. A fun series  to learn Spanish and that narrates the adventures of a Basque person in Andalusia. In 'Allí Abajo' there are the typical differences between the north and the south of Spain in terms of customs, characters … and also words typical of these places while you spend a while laughing with the entanglements and the most unlikely situations.
Narcos
Narcos is a series based on the history of the best-known Colombian cartels and it tells the story of the drug trafficking in Colombia in the 90s. It is a series that opens many debates, and it is very interesting to work on it when learning Spanish. In this series you learn vocabulary related to the topic to better understand it. It is also interesting to see the differences in vocabulary between the Spanish of Spain and of Colombia. To understand the series, we recommend having an intermediate or advanced level, as it contains a lot of colloquial vocabulary.

La reina del sur
Based on the novel by Arturo Pérez-Reverte, La Reina del Sur focuses on the story of Teresa, a woman who fights alone to make a place for herself in the world of drug trafficking and manages to survive. Teresa goes from being the illiterate girlfriend of a Mexican narco, to being a queen of large-scale trafficking. You can see it on Telemundo.
Aida
With a very Spanish humour, Aida narrates the experiences of a very peculiar lower-class family. Aida is a divorced mother who works as a cleaner and lives with her brother, Luisma, a very funny ex-drug addict. With this series you will learn the common vocabulary of the street.
Isabel
Historical series based on the character of Isabel la Católica. The series has received several awards and narrates with great realism the reign of this controversial character who changed the destiny of Spain. A very well-set series with an elaborated vocabulary.
What are the best Telenovelas for learning advanced Spanish?
Vis a vis
It is the Spanish version of the American series 'Orange is the New black', although in this case the protagonists wear yellow. One of the most critically acclaimed series and a huge success. 'Vis a Vi's tells the story of Macarena and her failed entry into prison where she will find good and bad fellow prisoners and many problems. A good series to learn Spanish but above all to learn slang and words of the colloquial language away from the formalities. It is a series for more advanced students.
Aquí no hay quien viva
If you want to learn Spanish with humor, we recommend this series . It is the story of a building of middle-class neighbors whose lives are continually mixed in hilarious situations. You will learn many colloquial expressions in Spanish. Its chapters are available on the web pages of Telecinco and Antena 3.
Patria
Television adaptation of the novel written by Fernando Aramburu. It deals with the impact that the Basque conflict has on the residents of a town who, despite appreciating themselves, see their lives drift away because of politics, to the point of being faced with death. The series can be seen on the HBO platform.
Servir y proteger
When it comes to pure Castilian Spanish, Servir y Proteger is powerful: it shows us spoken Spanish in all its forms. It is a very good series for students with a more advanced Spanish level.
El club de los cuervos
Two brothers, Chava and Isabel, have to decide who will be the new president of their soccer club, Cuervos FC. Although Isabel is better prepared, she finds herself in a male-dominated world that favors her brother. This series is a perfect option for those who want to combine soccer and comedy with learning Mexican Spanish.
How can a telenovela help you expand your vocabulary?
Being able to choose what interests us the most. As well as for movies, TV series and other kinds of videos you can find on YouTube, there are several gendres of telenovelas, from science fiction to comedy or investigation, so there are many options to choose from to learn Spanish.
Variety of accents. There are series that have a single Spanish accent like "La Casa de Papel", but there are others where they mix accents, like "La Casa de las Flores", which has a Mexican accent.
Enhance body language. Many people say that speaking Spanish only expresses a very small part of our communication. And it is no longer what you say but how you say it. Body language, expressions and tone of voice are super important in Spanish and it is something that this type of content teaches us.
Improve pronunciation. You will not only acquire vocabulary or learn their body language, but if you watch series and listen to Spanish speakers every day, you will also improve your pronunciation. Another way you should try to improve your pronunciation and your listening skills at the same time are podcasts and songs in Spanish.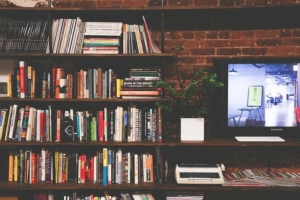 Tips for watching Telenovelas and making them an effective method
Passive study must always be supported by active study, i.e. using books, e-learning websites, applications, online programs or even games. However, passive study of a language can actually be useful to improve it, as long as it is done in a certain way. Here are our tips for making watching telenovelas an effective method.
Positive attitude
You must start with a positive attitude. The first thing to be clear about is that in many cases you will not understand all the words, it is impossible! This is a process, so the important thing is to understand the general meaning and little by little to get used to the Spanish accent of the characters to understand more and more.
Subtitles always in Spanish
If you put the subtitles in Spanish, the brain will be reading in Spanish, and you will not be listening to what they are saying. The Spanish subtitles help to practice reading and to learn many words that you may have recognized in writing, but did not understand, and everything will start to make sense. If you want to train our ears and understand Spanish when a native speaks, you must watch the series without subtitles. Now, if you do not have a good level of Spanish, it is advisable to watch the same series first in English and then in Spanish with subtitles and finally, in Spanish without subtitles.
Keep on going
When you are watching a series, you cannot stop every time you do not understand something and look for it on the Internet, unless the word appears repeatedly in the series, and you believe that it is necessary to know what it means. The important thing is to understand the general meaning and not stop the chapter.
Create a routine
It is important to create a routine to watch series in Spanish and that every day you take 20-25 minutes to dedicate some time to something that entertains you. It is not about doing a marathon one day and doing nothing for three, but about getting used to our hearing, learning how to have fun and be entertained in Spanish.
Take notes
This more than advice is a recommendation. When you finish a chapter, you can take notes in a notebook telling yourself what happened, so when the season ends, you will have a huge summary and little by little you will use that vocabulary that you are unconsciously learning while you watch the series.
Learn Spanish with the Global General of Global Exam
To learn Spanish online from home and in a flexible way, Globalexam has created the Global General, an easy and intuitive method that will allow you to improve Spanish in a very short time to be able to continue enjoying those series that you like so much in the original language.
Global General is a training platform for learning Spanish 100% online, aimed at people who have a beginner or intermediate level, proposing itineraries tailored to different academic levels. Global General will direct you to numerous tokens of review available at all times and detailed corrections for each issue.
In addition, if you are looking to get a language certificate, with GlobalExam you can prepare yourself for the official exam. We have available at your disposal numerous corrected exercises as well as mock tests, to help you obtain the Bright or the DELE without problems.
Enjoy fully learning Spanish when wherever you want, at your own pace and with the best teachers! At GlobalExam we help you bring your projects to life.