Spanish language games are a way to use your free time constructively without too much effort. You cannot achieve fluency with these types of games alone, but you can increase your vocabulary and practice grammar. The best apps to learn Spanish include games and challenges, because they get you more involved in your learning. You can have fun with free language learning games that you can easily play 10 minutes a day, to keep your learning on track. In this article we will show you:
The best games to learn Spanish online and for free;
The best physical games to learn Spanish;
The reasons why games are an effective solution the learn a foreign language;
How to choose a quality game;
Other fun ways to learn Spanish;
Improve your Spanish with General Español, the best online language learning course.
Here we go!
The best games to learn Spanish online and for free
Some people want to learn Spanish while driving a car, others want to learn Spanish while sleeping. Still others want to find ways to study Spanish on their own or tips to make studying the language easy. So, whatever your purpose, you will find the most effective method for you.
If you don't want to opt for a classic method like books, let's check out the best games to learn Spanish on the Internet and completely free!
Word Toss
This is the perfect game for anyone learning Spanish from scratch. Start by choosing one of the available categories and you will have to choose between playing from English to Spanish or from Spanish to English. It is fun but also educational. It's good for beginners who haven't studied Spanish before. Ten minutes a day playing will make a big difference!
Spanish-games.net
This online source is great if you want to concentrate on a specific topic. It begins by choosing your level and then you can follow the class. After the class, you can choose from 9 games focused on the topics you have learned. You can always go directly to the game section without seeing the class, but we recommend you do. The games are basic but are a fun way to practice your Spanish!
The Dialogue Game
This is an ideal game for intermediate and advanced learners who want to practice speaking Spanish. It is not a substitute for speaking with a native in a conversation but it's good to practice how the sentences are structured in a dialogue.
Memory
This one has dozens of memory games in many different categories, such as animals, clothes, food, and people. You must match like images with each other, which takes place while the Spanish words are spoken aloud to help with word association.
ISLA – Learning Spanish Games
This source is for intermediate students. It has tons of games covering everything from colours to Christmas vocabulary. It's perfect when you're short on time and want to use it productively.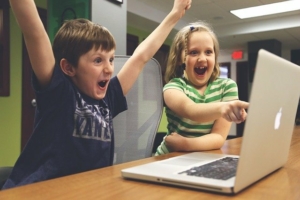 The best games for learning Spanish offline
This is our list of the best offline games to learn Spanish. All of them are very traditional in Spanish-speaking countries!
Juguemos en el bosque
The game is simple: One student is named the wolf. Other students form a circle and walk around the circle while singing (wolf stands outside the circle). The children ask the question "Is the wolf here?" The wolf can improvise the response. If the wolf says "I'm here now!" the students must run away, and the wolf must tag one. That person becomes the new wolf.
Basta
The game is a traditional word game that only needs a pencil and paper to play it. It consists of quickly looking for words by the same initial letter to complete a series of categories before the rest of the participants.
Piedra, papel o tijeras
Playing "Rock, Paper or Scissors" is not only entertainment, but strategy also plays an important role. There are those who even have a method to always win! In addition, playing "Rock, Paper or Scissors" involves physical and mental speed. That makes it a fun entertainment that children like a lot because they can confront their skills with their parents or with their friends.
Veo, Veo
The "I see, I see" is a fun observation game. Many parents play it when they want to entertain their children in the car. The game consists of one person selects an object that can be identified with the view. The rest of the members of the game will have to ask questions to try to recognize it. They may ask what letter their name begins with, what color it is, if it is on the ground or in the air, inside or outside the car. This will make it more fun!
¿Quién robó el pan?
Who stole the bread? is a traditional game played in many Spanish-speaking countries. It is a chant in the form of a dialog. Kids often play this game on a bus or when a group is waiting. Players clap as they recite this dialog. The game begins by naming any player and that player then names someone else. The game has the rhythm of a natural dialog and uses common structures that are easily transferred to other situations.
Why are games an effective solution to learning Spanish?
Games can be a wonderful tool to help children learn Spanish while developing those important developmental skills. And spending time playing with children can also be a great way to strengthen family ties and make connections to their Latino roots. These are some of the benefits:
#1 Improve memory
Children who are encouraged to use the English games must retain in their head a wide variety of words in the Anglo-Saxon language to win the game or go to the next level , which improves their memory and mental agility and helps them prevent such diseases like Alzheimer's.
#2 Spanish stops being complicated
Many children fail the Spanish subject at school because they consider it complex, difficult and even boring. The games to learn Spanish are capable of making this change radically, since they show the little ones that learning this language can be the most enjoyable .
#3 Get better grades in school
This point is directly related to the previous one, since children who begin to have fun learning Spanish can stop seeing the language as something complicated, to want to learn more and more every day and, therefore, to obtain better grades in the school.
They stimulate creativity
Another benefit of games to learn English is their power to stimulate children's creativity. How? Encouraging the little ones to find solutions to the various challenges and enigmas that arise, which causes them to put their most imaginative gifts to work in order to find the right path.
#4 They promote social relationships
Games encourage children to enjoy together and to challenge each other in duels that are often very exciting. It is for this reason that Spanish games are also concerned with improving social relationships and instilling values ​​of friendship and generosity in young children.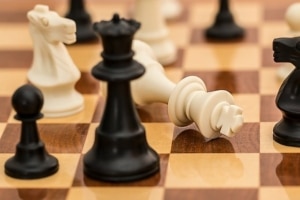 How to choose a quality game to learn Spanish?
It might not be easy to decide which games to play when you are learning a language. But the fact is that most games are fun, so to choose a quality game to learn Spanish we recommend that you try, try and try as many as you can! For sure you will learn something new by playing games and will help you somehow with learning the language.
Don't worry if some of the games aren't for you. You will see that some are for complete beginners, others for advanced students and some of them are for people who want to push themselves a little harder. Pick and choose the ones that seem to interest you and just enjoy!
Other fun ways to learn Spanish
A language cannot be learned in a day, so it is important to look for all the resources available to learn Spanish.
Spanish classes
A very useful resource when learning Spanish are the online courses or the ones offered by language schools and academies. It is an easy, practical, and fun way to learn Spanish. You will be able to practice it daily! You can also alternatively opt for e-leraning websites, applications or YouTube videos.
Memorize 30 new words a day
Create groups of 5-7 words and read them several times. When you have them memorized, take a little break, and start with the next group. Before going to sleep, repeat what you learned for 10-15 minutes. This procedure will help you to better memorize the words, since they say that at night the brain processes the last thing it has seen or heard much better.
Watch TV in Spanish
Television, including cartoons or films, TV series, telenovelas, and even radio, music, podcasts  are very useful when it comes to learning the language, as long as you understand something. Reading will also help you a lot to learn Spanish. It is not necessary to understand everything, listening and reading, you will feel more comfortable with the language. Put the Spanish subtitles on when you watch a movie on Netflix or HBO. They are more fun ways to learn and help your ear to better identify the sound of the language.
Set goals
In order to learn Spanish better, you must set yourself a clear objective, otherwise your passion for learning will vanish after a few days. It is not enough to say: "I want to learn Spanish", but you must have a reason, a motivation for wanting to learn Spanish. An example would be: "I want to learn Spanish because I want to go on Erasmus to Argentina" or "I want to learn Spanish because I want to take the exam soon and I want to pass the exam". There are a thousand reasons to learn Spanish, just set your goal and you will see that it will be easier and more enjoyable to learn.
Improve your Spanish with Global General
Do you want to continue improving your Spanish and do it at your own pace and without stress? We have the solution for you: Global General by GlobalExam, a perfect method for you to improve your Spanish without leaving home.
With the Global General will take you to many sheets of review available at any time fixes detailed descriptions of each issue, so you can improve your Spanish at your pace, away from the frustrations and drawbacks of classical education. Join us to discover more about it!
If you want to study Italian, German or Franch instead of Spanish, GlobalExam will still give you the opportunity to learn the language online. Select one of Global General's languages and start improving with 100% online training!
What are you waiting for? Sign up now and if you're still not convinced, take our free trial!