Who said that learning a language has to be boring? Actually, it can be really fun! Did you know that you can learn Spanish while watching some amazing TV series and TV shows? In this article we'll tell you how to do just that! Here's what you will learn:
The top 10 TV series and TV shows to learn Spanish
The advantages of learning Spanish through TV series and TV shows
Where you can watch the TV in Spanish
Other funny methods of learning Spanish
How to easily learn Spanish online by using our General Español course.
Are you ready to find out what TV series and TV show you should watch to learn Spanish? Read on and find out!
The top 10 TV series to learn Spanish
Some people want to learn Spanish while driving a car, others want to learn Spanish while sleeping. But let's be real: are you looking for one of the best ways to learn Spanish on your own or to learn Spanish in an easy way? Well, then make yourself comfortable and choose the TV series to watch.
If you don't know any TV series from Spain or Latin America, don't worry! We've prepared a list for you with the top 10 TV series to learn Spanish,  which are one of the best ways to study Spanish, on par with learning websites, applications and online programs.
La Casa de Papel
La Casa de Papel is a Spanish heist crime drama that traces two intricate bank robberies led by "the Professor", a very clever man who fights for his ideals. The story has a very strong Spanish identity, where emotional dynamics offset the perfect strategic crime.
This series is a great way to learn Spanish, because it's quite easy to understand from the context and the recaps. To start, you could watch it with the subtitles and when you feel ready you can try turning them off.
Destinos
Destinos is a short Spanish TV series (52 episodes) that was created with the purpose of teaching Spanish with a focus on everyday life's words and phrases. The story is about a lawyer, Raquel, who travels to Mexico, Spain, Argentina, and Puerto Rico in search of the secrets of a dying man. While following the story, you can become familiar with the dialect and accent of each of these 4 countries. We recommend this series for beginner and intermediate Spanish learners.
Extra
This series was also created specifically to teach Spanish. It copies the format of the popular American TV series "Friends." The story is about Sam, an English guy who went to live in Barcelona to learn Spanish. There he lives in an apartment with two girls. Being a series created for Spanish learners, the characters are always correcting each other's mistakes and they repeat many phrases from everyday life. What's more, they speak very slowly, so it is very easy to understand what they say.
Narcos TV Series
Narcos is a TV series that tells the real-life story of how drug cartels made cocaine famous worldwide and shows the violent fight between the police and drug dealers. The first two seasons are based on Pablo Escobar, while the third season continues after his death and DEA's fight against the Cali cartel and its leader Gilberto Rodríguez Orejuela. This TV series is a great way to learn Spanish while getting some information about historical and cultural facts.
Gran Hotel
This story takes place in the beginning of the 20th century. The main character is a young man named Julio who goes to the "Gran Hotel" to see his sister who used to work there. But when he arrives, she's nowhere to be found. So, during the series Julio tries to find out what happened to her and at the same time he discovers many secrets related to the hotel. The series uses the Spanish dialect.
Élite
Élite is a Spanish thriller teen drama TV series set in a fictional elite secondary school and is about the relationships between three working-class students enrolled at the school through a scholarship program and their rich classmates. One day something tragic happens…
A great series for young learners, especially teenagers who love drama TV series.
Isabel
Isabel is a historical fiction TV series that describes the life of Queen Isabella of Spain. It tells the story of how Isabel fought for her right to the throne at a time when women were considered only to be mothers and wives. The Spanish dialects used in the series make comprehension a bit challenging, but with English subtitles it shouldn't be too difficult for advanced learners. On the other hand, beginner and intermediate students should wait to reach a higher level before trying to watch this series in Spanish.
Mi corazón es tuyo
If you like telenovelas, you should definitely watch this one from Mexico. It tells the story of a woman who lives two different lives: she's a nanny during the day and an exotic dancer at night. The series is full of love and drama (typical for telenovelas).
If you are interested in learning the Mexican dialect, this series is for you!
Alguien tiene que morir
This short mystery TV series (only three episodes) is set in 1950s Spain, under Francisco Franco's dictatorship. Gabino returns home to Spain after ten years in Mexico and discovers that his parents have arranged his marriage to a girl named Cayetana. However, he brings a male ballet dancer with him, shocking his conservative town and family.
Vis a vis
Last but not least we have an intense drama which focuses on a young girl, Macarena, who ends up in prison after being manipulated by her married boyfriend and has to learn to survive among the other inmates. Dark humour, gritty drama and unexpected plot twists make this series extremely absorbing. You'll hear a lot of slang and informal language, which can be difficult to understand at first. But if you keep watching, your listening comprehension will quickly improve!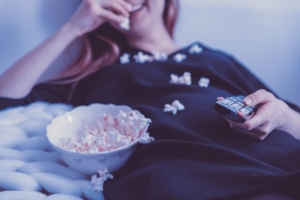 The advantages of learning Spanish through TV series and TV shows
Learning Spanish through TV series and shows can be really great for many reasons:
Vocabulary
Vocabulary is not learned just by reading books in Spanish. While watching TV shows you can enrich and consolidate your vocabulary. Write down the words or phrases that you don't understand. Look them up and study them. The next time you hear them, you will for sure recognize them: television language tends to be repetitive. This is a great thing for language learners!
Accents and pronunciation
Watching TV series from different countries can help you learn the spoken language and all of its dialects. The Spanish spoken in Spain is very different from the Spanish spoken in Latin America… in fact, it changes a lot from country to country! So, if you want to become familiar with every accent and to learn the proper pronunciation from your favourite country, you should try watching TV series!
It's fun!
If you love Spanish television and Latin America's telenovelas, you'll be happy to spend some time "studying" with a nice TV series. Learning while doing something you love keeps your motivation high. Plus, just admit it… you were going to watch TV anyway!
Slang!
When you study a new language through books, you don't find all the slang and colloquialisms you could hear going to the country. TV series are a good compromise: you can listen to some slang and informal language that you might not be exposed to otherwise.
Choose according to your level
As we saw in the previous section, some TV series are created for the sole purpose of teaching Spanish. If you are a beginner, you can start with this kind of TV series (or even with cartoons!). Otherwise, if you are an intermediate or advanced learner, you can choose a Spanish TV series and put yourself to the test.
The power of subtitles
To start, you can use English subtitles while watching your favourite TV series in Spanish. As you progress, switch them to Spanish and finally, just switch them off entirely! This is a perfect method to gradually get used to watching and understanding TV series in Spanish!
Where you can watch the TV in Spanish
There are many platforms where you can watch TV in Spanish.
RTVE. RTVE is the Spanish public television. The series are free, but they don't provide subtitles.
DIRECTV. Here you can watch hundreds of TV channels and on-demand titles, including kid's TV channels, news, sport, and much more.
BBC in Spanish. The BBC offers Mi Vida Loca, a free Spanish TV series for beginner learners. The series includes 22 episodes and accompanying exercises.
Netflix. You already know Netflix. It offers thousands of movies and TV shows that are accessible for a monthly membership fee. They come with subtitles in many languages.
Amazon Prime Video. Like on Netflix, here you have access to loads of movies, some with subtitles in other languages, for a membership fee.
Other funny methods to learn Spanish
Eager for more methods to learn Spanish in a fun and engaging way? We're here to help!
Movies
Just like TV series and for the same reasons, movies and cartoons are an amazing way to learn Spanish! Use subtitles at first and then switch them off, invite your family and friends to watch with you and learn while having fun! Alternatively, you can also watch telenovelas and YouTube videos.
Podcasts
Podcasts are a great way to learn Spanish, even in those moments where you can't dedicate your full attention to studying. You can put your earphones on and listen to a podcast or Spansh songs even while cooking, walking to the bus station, or sitting on the train. Choose a topic you are interested in (art, politics, sport, travel, religion, etc): learn the language and something more about culture at the same time!
Video games
Playing video games is fun. Do you want to make it even more fun, and instructive too? Try to play them in Spanish! With the multiplayer mode you will also have the opportunity to meet native speakers and make friends with them! If you don't want to play a video game, you'll be able to find plenty of other games to do alone or with friends in Spanish.
How to learn Spanish with Global General
Global General is an online language-learning program dedicated to beginner and intermediate-level students. This method developed by GlobalExam is the best way to learn Spanish online, giving you all the tools you need to learn Spanish, with complete flexibility. Aside from Spanish, we offer four other languages: English, French, Italian and German. Each course is developed according to the CEFR standards, going from A1 to B2 levels. Global General offers the full package:
Flashcards to help you train your memory and learn new vocabulary
Simulations to practice your language skills in real context, for all the competencies: spoken, written and oral.
Exercises for grammar, vocabulary and listening comprehension
A "did you know" section to deepen your knowledge of the language
5000 detailed corrections
Personalised feedback from our language tutors
Online conferences with our native coaches with a practical part
Validation of the acquired competencies every 5 simulations with certificates
Scores for every exercise to help you progress
150 hours of unique content and 500 audio tracks
Sign up here and start learning Spanish online with Global General!