In this article, we discuss taking the IELTS India.
We're here to guide you through:
How it can help with a Canadian immigration application
Practical information on taking the test in India
To know more about the description of the IELTS exam and where to take the test in India, you are at the right place!
Start now!
What is the IELTS?
The IELTS (International English Language Testing System) is an exam designed to test a person's proficiency in the English language. The exam aims to equip speakers seeking to live, work or study in English-speaking countries with an official certification of their language abilities.
There are two types of test: the IELTS Academic, aimed at prospective students, and the IELTS General Training. You should choose which version of the test you take depending on what you intend to use your test score for. Both versions have the same 4 levels such as Listening, Reading, Writing and Speaking sections composed by different and various tasks.
Should I take a paper-based or computer-based test?
As you research the IELTS, you'll notice that some examination centers offer a paper-based test, whereas others offer a computer-based service. The content of the test is the same across both services for each test session, it is only the format that changes.
If you take a paper-based test, you will have to write your answers into an answer booklet, whereas the computer-based test uses automatic input. The computer-based test is therefore slightly shorter, as you will require less time to transfer and check your answers.
How do I register?
The British Council oversees registration for most of the IELTS India test centers. On the British Council website, you can select the type of IELTS you would like to take (Academic or General Training, for example), before proceeding to the booking platform.
Registering for the test follows three steps:
Selecting a test center and session
Creating an account on the British Council website
Submitting your details and paying the registration fee
In order to complete your registration, you'll need to have an identification document to hand and a payment card. Please note that you will be asked to present the same ID in person on the day of the test.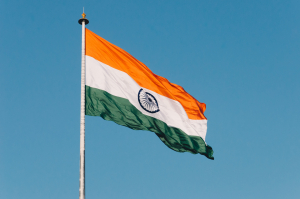 Why should I take the IELTS?
The IELTS is well established, being recognized by over 10,000 organizations all over the world as a reliable certification of a person's English language abilities. For those considering emigrating to an English-speaking country to live, study, or work, the IELTS can be an essential part of the application process.
If you're thinking about moving to Canada, for example, the IELTS could be the way in. All Canadian universities and colleges accept the IELTS test scores, and it is required for most immigration pathways in order to demonstrate your proficiency in English.
Immigrating to Canada through Express Entry
One of the main immigration pathways for economic migrants to Canada is Express Entry. It is a system whereby candidates are ranked according to criteria such as education, age, and language proficiency. Applicants with the highest overall score are invited to apply for Canadian permanent resident status.
To be considered for Express Entry or Canadian citizenship, you must be able to prove your proficiency in either English or French. For English-speaking applicants, the IELTS is the only international test score accepted. 
Where to take the IELTS India?
If you're planning a move to Canada, you'll likely need to take the IELTS test in India first. The IELTS is administered by the British Council India, who have IELTS examination centers in at least 55 locations across the country. You can also find several IDP Education test centers across India, too.
We've listed the details of just some of the British Council IELTS India centers below:
| | |
| --- | --- |
| IELTS India examination center | Address |
| British Council Hyderabad | Ratnadeep Building, 4th Floor, SL Jubilee, Plot No. 1202 & 1215/A, Road Number 36, Jubilee Hills, Hyderabad, Telangana 500033 |
| British Council Chandigarh | C515, 5th Floor, Elante Office Block, 178A, Industrial and Business Park, Phase 1, Chandigarh 160002 |
| British Council Mumbai | 901, 9th Floor, Tower 1 One Indiabulls Centre 841 Senapati Bapat Marg, Fitwala Road, Mumbai, Maharashtra 400013 |
| British Council Kolkata | British Council Division, British Deputy High Commission, L & T Chambers, First Floor, 16 Camac Street, Kolkata 700 017, West Bengal |
| British Council Delhi | British Council Division, British High Commission, 17 Kasturba Gandhi Marg, New Delhi 110 001 |
| British Council Lucknow | 2-A, Sushanpura, Nagar Nigam Market, Lalbagh, Lucknow, Uttar Pradesh 226001 |
The IELTS registration fee is set at INR 14,000 in India. The price is consistent across British Council test centers for the IELTS Academic and General Training exams.
Whether you take your test in UK, in Ireland, in the US, China, in Germany, Canada, Nigeria, in Belgium, in the Netherlands, Australia, HK or in Switzerland, your IELTS results can open up new opportunities for you all over the world.
What are the Canadian language requirements?
If you're taking the IELTS as part of your immigration to Canada, you first need to familiarize yourself with the official Canadian language requirements.
The IELTS does not offer a pass or fail but scores you on a scale from one to nine. This IELTS score corresponds to a band on the Canadian ranking system, called the Canadian Language Benchmarks (CLB).
The CLB measures your language ability across 12 benchmarks. The benchmark required for Canadian residency or citizenship differs according to the immigration pathway you're applying through. You can use the table below to work out what IELTS score you need  across each communication skill:
| CLB level | Reading | Writing | Listening | Speaking |
| --- | --- | --- | --- | --- |
| 7 | 6.0 | 6.0 | 6.0-7.0 | 6.0 |
Preparing with GlobalExam
If you're ready to go with your preparations, GlobalExam is here to help. Our e-learning platform offers learners tips for their training and three central learning tools: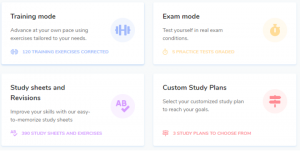 On GlobalExam, we have learning resources specifically designed to prepare you for the IELTS exam. Our exercises and mock exams mirror the format, style, and content of the official test so that there are no surprises on the big day.
If you subscribe to our Premium service, you'll even have the chance to review your progress using our Statistics and Corrections mode. This way you can understand exactly where you've gone wrong and correct it for next time.
The IELTS is essential for living and working in Canada. If you're thinking about taking the test, you can start studying today with GlobalExam!