In this article, we discuss taking the IELTS in Nigeria.
We're here to guide you through:
How it can help with a Canadian immigration application
Practical information on taking the test in Nigeria
We cannot wait to share with you all information about the IELTS exam, adresses of  test centers in Nigeria, and your training with us!
What is the IELTS?
The IELTS (International English Language Testing System) is an exam designed to test a person's proficiency in the English language. The exam aims to equip speakers seeking to live, work or study in English-speaking countries with an official certification of their language abilities.
There are two types of test: the IELTS Academic and the IELTS General Training. You should choose which version of the test you take depending on what you intend to use your test score for. Both versions have the same 4 levels such as Listening, Reading, Writing and Speaking sections composed by different and various tasks.
The IELTS Academic is designed to measure your English language proficiency for an academic environment. The exam includes more academic-level vocabulary and discussion topics and indicates your ability to apply English to university-level studies. If you're looking to study at undergraduate or postgraduate level at an English-speaking university, this is the test for you.
The IELTS General Training is designed to measure your English language proficiency more generally in everyday situations, including in the workplace. If you're considering immigrating to or working in an English-speaking country, this is the right place to start.
How do I register?
The British Council oversees registration for most of the IELTS Nigeria test centers. On the British Council website, you can select the type of IELTS you would like to take (Academic or General Training, for example), before proceeding to the booking platform.
Registering for the test follows three steps:
Selecting a test center and session
Creating an account on the British Council website
Submitting your details and paying the registration fee
In order to complete your registration, you'll need to have an identification document to hand and a payment card. Please note that you will be asked to present the same ID in person on the day of the test.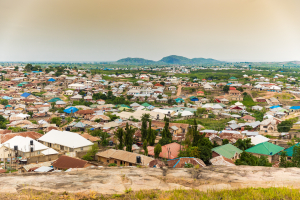 Why should I take the IELTS?
The IELTS is well established, being recognized by over 10,000 organizations all over the world as a reliable certification of a person's English language abilities. For those considering immigrating to an English-speaking country to live, study, or work, the IELTS can be an essential part of the application process.
If you're thinking about moving to Canada, for example, the IELTS could be the way in. All Canadian universities and colleges accept the IELTS test scores, and it is required for most immigration pathways in order to demonstrate your proficiency in English.
Immigrating to Canada through Express Entry
One of the main immigration pathways for economic migrants to Canada is Express Entry. It is a system whereby candidates are ranked according to criteria such as education, age, and language proficiency. Applicants with the highest overall score are invited to apply for Canadian permanent resident status.
To be considered for Express Entry, you must be able to prove your proficiency in either English or French. For English-speaking applicants, the IELTS is the only international test score accepted.
Even if you're already settled in Canada and considering citizenship, you will still need to demonstrate your language proficiency.
Where to take the IELTS Nigeria
If you're planning a move to Canada, you'll likely need to take the IELTS test in Nigeria first. The IELTS is administered by the British Council Nigeria, who have IELTS examination centers across the country with as many as five test sessions per month. You can also find some independent test centers, but the British Council website is a good place to start.
You can find the details for some of the British Council IELTS Nigeria centers below:
| | |
| --- | --- |
| IELTS Nigeria examination center | Address |
| British Council Abeokuta | Park Inn by Radisson, IBB, Kuto, 110252, Abeokuta |
| British Council Abuja | Plot 3645 IBB Way, Maitama, Abuja |
| British Council Lagos Mainland | Classique Event Place, 20 Thompson Avenue, Ikoyi |
| British Council Lagos Island | Lagos-Island, Lekki Coliseum, Lekki Phase 1, Lagos |
| British Council Port Harcourt | Hotel Presidential, 127 Olusegun Obasanjo Way, Elechi, Port Harcourt |
| British Council Illorin | Roemichs International School, Ilorin, Kwara State |
The IELTS test costs approximately ₦75.000 in Nigeria. The price is consistent across British Council test centers for the IELTS Academic and General Training exams.
Whether you take your test in UK, in Ireland, in the US, China, in Germany, Canada, India, in Belgium, in the Netherlands, Australia, HK or in Switzerland, your IELTS results can open up new opportunities for you all over the world.
What are the Canadian language requirements?
If you're taking the IELTS as part of your immigration to Canada, you first need to familiarize yourself with the official Canadian language requirements.
The IELTS does not offer a pass or fail, but rather offers a score on a scale from one to nine. This IELTS score corresponds to a band on the Canadian ranking system, called the Canadian Language Benchmarks (CLB).
The CLB measures your language ability across 12 benchmarks, from basic to advanced. The benchmark required for Canadian residency or citizenship differs according to the immigration pathway you're applying through. Once you've identified the CLB level required for your pathway, you can use the table below to work out what IELTS score you need across each communication skill.
| CLB level | Reading | Writing | Listening | Speaking |
| --- | --- | --- | --- | --- |
| 7 | 6.0 | 6.0 | 6.0-7.0 | 6.0 |
Preparing with GlobalExam
If you're ready to go with your preparations, GlobalExam is here to help. Our e-learning platform offers learners tips for their training and three central learning tools:
Study sheets and revision: work on specific vocabulary, grammar sheets, and discussion topics
Training mode: test your knowledge with corrected exercises
Exam mode: test yourself under real exam conditions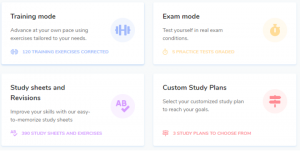 On GlobalExam, we have learning resources specifically designed to prepare you for the IELTS exam. Our exercises and mock exams mirror the format, style, and content of the official test so that there are no surprises on the big day.
The IELTS is essential for living and working in Canada. If the test is in your sights, it's time to start studying!