This article is all about taking the IELTS test in Toronto.
We're here to guide you through:
What the IELTS is
How it can help with a Canadian immigration application
Practical information on taking the test
Studying for the exam with GlobalExam
Learn all about the IELTS exam, the test center locations in Toronto, and how to prepare with GlobalExam, read on!
What is the IELTS?
The IELTS (International English Language Testing System) is an exam designed to test a person's proficiency in the English language. Jointly administered by Cambridge ESOL, the British Council and the IDP, the exam aims to equip speakers seeking to live, work or study in English-speaking countries with an official certification of their language abilities.
There are two versions of the test: the IELTS Academic, aimed at students; and the IELTS General Training, aimed more generally towards immigrants. Both tests assess a person's language skills across reading, writing, speaking, listening, however the IELTS Academic uses topics that are more suitable for university-level students.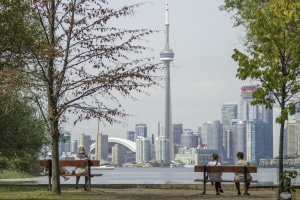 How do I register?
Registration for the IELTS in Canada takes place on the IDP ("International Development Program") website.
When you access the IDP registration platform, you will be asked to input your country, city, and test type. Based on this information, the platform will show you the available examination centers near you and their next test sessions.
Once you've chosen your session, you will be asked to create an IDP website account. Then, you will have to download an application form to print and complete before submitting it to your chosen examination center. You will be asked to pay the registration fee online, at which point your registration is complete.
Why should I take the IELTS?
The IELTS is the primary test used by Citizenship and Immigration Canada (CIC) and Immigration Quebec to verify a person's proficiency in English.  If you're considering immigrating to Canada as an economic migrant, there is the strong possibility that you will need to provide an IELTS test score as part of your application.
Canada has two official languages – English and French – and the immigration and citizenship processes require proficiency in at least one. For English speakers, the IELTS General Training is the only international test accepted by the Canadian government.
The Canadian government selects workers based on their skills and how they will be able to contribute to the Canadian government. There are several programs designed to process economic immigration applications, but the most well-known is called Express Entry.
Immigrating through Express Entry
Express Entry is a system used by Immigration, Refugees and Citizenship Canada (IRCC) for processing applications to Canada's immigration programs for skilled workers. It is a competitive pathway to immigration, whereby candidates are ranked according to criteria such as education, age, and language proficiency. The best candidates are invited to apply for Canadian permanent resident status.
To gain access to the Express Entry pool, all candidates (including native speakers) must demonstrate their proficiency in either French or English.
Where to take the IELTS Toronto
Here is a list of cities where you can sit for the IELTS exam in Canada:
There are many examination centers where you can sit the IELTS Toronto. We've listed just ten of them below to get you started:
IELTS Toronto examination center
Address
Contact
Eurocentres Toronto
Suite 220 - 111 Peter Street
Toronto, ON M5V 2H1

Suite 220 - 111 Peter Street
Toronto, ON M5V 2H1

CES Testing Toronto
Oxford College
5231 Yonge Street, Unit 203 Toronto, ON M2N 5P8

[email protected]
Canada College
University of Toronto
252 Bloor Street W, OISE Building Toronto, ON M5S 1V6

[email protected]
Lowell Academy
3601 Victoria Park Avenue
Suite 501
Scarborough, ON M1W 3Y3

[email protected]
Conestoga College
Amberson College
3470 Pharmacy Avenue Scarborough, ON M1W 2S7

[email protected]
CES Toronto
180 Bloor St W 2nd Floor, Toronto, ON M5S 2V6

[email protected]
Toronto Global Education
110-150 Consumers Road Toronto, ON M2J 1P9
[email protected]
EC Toronto English School

124 Eglinton Avenue W #400 Toronto, ON M4R 2G8
[email protected]
Centennial College
75 Ashtonbee Road
Scarborough, ON M1L 4C9

[email protected]

Humber College
3199 Lake Shore Blvd W
Toronto, ON M8V 1K8

https://humber.ca/
How much does the test cost?
The IELTS costs approximately $300 CAD in Canada. The registration fee can vary depending on the examination center, according to the province it is located in.
This is because different Canadian provinces charge a different amount of tax. Taxes in Ontario are higher than in Alberta, for example, so the IELTS Toronto is likely to cost around $339 CAD, whereas in Alberta, it's around $315 CAD.
The IELTS Exam Fee Scholarship
The IELTS recently launched a scholarship award to help students cover the cost of the registration fee. To be considered for the scholarship, applicants must meet certain criteria, including demonstrated academic ability and family income.
To check your eligibility and apply for the scholarship, head to the IELTS website.
What are the Canadian language requirements?
When it comes to proving your proficiency in English, your IELTS test score will be measured according to the Canadian Language Benchmarks (CLB). The CLB is a scale that measures your language ability across 12 benchmarks, from basic to advanced.
If you're applying through the Federal Skilled Worker Program of Express Entry, for example, you will need to achieve at least a CLB Level 7 across reading, writing, listening and speaking.
How does the IELTS scoring system correspond with the CLB?
Once you've identified the CLB level required for your immigration pathway, it's important to know exactly how the CLB equates to the IELTS scores across the four communication skills: listening, reading, writing and speaking.
You can use the table below to do exactly that:
| | | | | |
| --- | --- | --- | --- | --- |
| | Listening | Reading | Writing | Speaking |
| CLB 1 | 1.0 | 1.0 | 1.0 | 1.0 |
| CLB 2 | 2.0 | 1.5 | 2.0 | 2.0 |
| CLB 3 | 3.5 | 2.5 | 3.0 | 3.0 |
| CLB 4 | 4.5 | 3.5 | 4.0 | 4.0 |
| CLB 5 | 5.0 | 4.0 | 5.0 | 5.0 |
| CLB 6 | 5.5 | 5.0 | 5.5 | 5.5 |
| CLB 7 | 6.0 | 6.0 | 6.0 | 6.0 |
| CLB 8 | 7.5 | 6.5 | 6.5 | 6.5 |
| CLB 9 | 8.0 | 7.0 | 7.0 | 7.0 |
| CLB 10 | 8.5 | 8.0 | 7.5 | 7.5 |
| CLB 11 | 9.0 | 8.5 | 8.0 | 8.0 |
| CLB 12 | 9.0 | 9.0 | 9.0 | 9.0 |
Preparing for the test with GlobalExam
The IELTS is a high quality and rigorous testing system, so being well prepared is essential to ensuring a pass. Luckily for you, we've designed a sophisticated e-learning platform that helps you to do just that.
If you've got some learning to do before testing your knowledge, we've got the material to help you. On GlobalExam there is a huge variety of study sheets divided across all aspects of vocabulary, grammar, and discussion topics. Our revision materials have been designed to break down new information into manageable chunks, with paired exercises to help you apply your new knowledge directly to exam-style situations.

The IELTS is essential for living and working in Canada. If the test is in your sights, there's no time to waste!