Where to take the IELTS exam in Toronto?
Toronto is the largest city in Canada by population and the financial capital. IELTS is the preferred English proficiency test for over 350 Canadian organisations. Moreover, IELTS was the first English language exam to be approved by Citizenship and Immigration Canada (CIC).
IELTS Test Centres in Canada
There are three IELTS Canada test centres in Toronto, offering both the Academic and General Training, and they are all part of Conestoga College. You can register on the IELTS Canada website.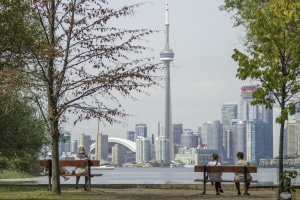 You will receive your results 13 days after the test and you will receive one copy of your Test Report Form, unless you are applying for citizenship, in which case you will receive two copies of the form.
Birmingham International Collegiate Canada (BICC)
BICC is a private high school and offers the Academic exam twice a month and General Training once a month. BICC is located in Midtown and is well served by both the bus and subway, with the nearest stations being Eglinton and Finch.
Toronto EC
Toronto EC is only one block to the west of BICC at 124 Eglinton Avenue West. It is a popular test venue as it is part of the international EC English Language Centres chain. As such, you will need to book your test in advance before all the places sell out.
Toronto Global Education
Global Education is situated on 150 Consumers Road and is served by the Ontario 401 Express way, which means the buses are best option for public transport as there is not a subway station nearby.
British Council Test Centres
The British Council also has a number of test centres in Toronto, including University of Toronto, York University and Humber College, among others. You can find full details of each centre, their test dates, and register, on the British Council IELTS website.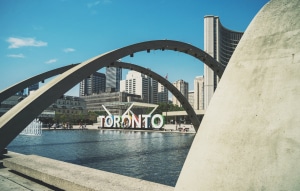 University of Toronto
The University of Toronto's test venue is at their Downtown Campus at 455 Spadina Ave, Unit 401. It is only 20 minutes from the Entertainment District by public transport and there are several options with street car, bus and metro stops nearby.
York University
English Testing Canada at York University's North York Campus is based at 4700 Keele St, close to the university's student centre. The campus has its own metro station served by the yellow number 1 line.
Humber College
This test venue is only 10 minutes from Toronto Pearson International Airport by car, to the west of the city. However if you are travelling from downtown Toronto you will need to take a combination of buses, arriving at Humber College Bus Terminal which is only a short distance from 205 Humber College Boulevard.
IELTS for UKVI at Nobel Academy
If you intend to take the IELTS exam for UKVI (UK Visa & Immigration), the approved venue for this is Nobel Academy, which is situated at 5635 Yonge St in the North York area, just a couple of minutes' walk from Finch Station. This is less than one hour north from Old Toronto by public transport.
Other cities where to take the IELTS
You may be interested in taking the IELTS in an other city, as it does not depend on where you live. Here is a list of cities where yo can take the IELTS in Canada:
Computer-based test
If you prefer to take the computer-based IELTS test, this is offered at three locations: Precise Solutions (20 Eglinton Avenue West), Centre of English Studies (180 Bloor Street West) and Centennial College (941 Progress Avenue).
The benefit of the computer-based test is that you will receive your results in 5-7 days, rather than 13 days for the paper-based test.
Registration and on the test day
You will need photo proof of ID (passport or national identity card) to register and you must bring the same form of ID with you on the day of the test. When registering, make sure to enter your name as you would like it to appear on your test result.
How can GlobalExam help me with exam preparation?
GlobalExam has a variety of resources to help you prepare for exam day. One of the most challenging parts of the exam for many candidates is the long essay for Task 2 of the Writing test. Improving your writing skills takes effort and dedication but GlobalExam can assist you with this process and give you the support you need to achieve your goals. You can try writing questions which progress from easy to difficult and use the model essays, plans and vocabulary tips to enhance your writing. You can also do an IELTS mock exam on GlobalExam to know your level at the start.
Try out our platform for free, simply by registering!