This article is all about taking the IELTS test in Edmonton.
We're here to guide you through:
What the IELTS is
How it can help with a Canadian immigration application
Practical information
Preparing with GlobalExam
Find out more about what is the IELTS test, where to take the test in Edmonton, and how to be prepared.
What is the IELTS?
The IELTS (International English Language Testing System) is an exam designed to test a person's proficiency in the English language. Jointly administered by Cambridge ESOL, the British Council and the IDP, the IELTS aims to equip speakers seeking to live, work or study in English-speaking countries with an official certification of their language abilities.

How do I register?
You can register for the IELTS on the IDP website. You will be asked to input your country, city, and test type, and the platform will show you the available examination centers near you and their next test sessions.
Once you've selected your session, you will be asked to create an IDP account with the following information:
Your personal details, including date of birth and passport or National Identity Card number
Your occupation and education information
Your postal address
Next, you must download an application form to print, complete and submit to your chosen examination center. The form asks for detailed information, including:
Your intended destination country
Number of years studying English
You will be asked to pay the registration fee online, at which point your registration is complete.
Why should I take the IELTS?
If you're considering moving to Canada, the IELTS could be your ticket. It's an essential part of the application process for:
Studying at an English-speaking Canadian university
Working for an English-speaking company
Applying for a permanent residency card with English proficiency
Applying for Canadian citizenship with English proficiency
If you're a prospective immigrant to Canada or considering applying for citizenship, the IELTS is the only international English exam recognized by the immigration and citizenship authorities.
The Express Entry program is one of the most popular immigration pathways for skilled workers. Candidates are assessed according to criteria such as education, age, and language proficiency, and the best are invited to apply for Canadian permanent resident status.
To gain access to the Express Entry pool, all candidates (including native speakers) must demonstrate their proficiency in either French or English.

Where to take the IELTS Edmonton
Here is a list of cities where you can sit for the IELTS test in Canada:
There are two examination centers where you can sit the IELTS Edmonton and you can find their addresses and contact information right here:
IELTS Edmonton examination center
Address
Contact
IDP IELTS Canada
IDP Education Canada
10050 112th Street, Suite 806
Edmonton, Alberta T5K 2J1

[email protected]
Global Village Calgary
NorQuest College
10215 108th Street, NW
Edmonton, Alberta T5J 1L6

[email protected]
Once you've worked out which one is the most convenient location for your IELTS test, all you need to do is register online on the IDP website, specifying your chosen examination center.
How much does the test cost?
The IELTS test costs approximately $300 CAD in Canada. This fee can vary depending on the examination center according to the province it is in, so it's best to check directly with your chosen center.
The IELTS recently launched a scholarship award to help students cover the costs of the registration fee. To be considered for the scholarship, applicants must meet the following criteria:
Less than 32 years old
High School grades of at least 75%
Undergraduate degree with a minimum of 3.0 GPA
Family incomes of less than $250 USD
First time sitting the IELTS
Teacher recommendation
If you're eligible for the scholarship, you can apply directly on the IELTS website. Please note that you will be asked to upload supporting documents that support your eligibility against the above criteria.
What are the Canadian language requirements?
When it comes to proving your proficiency in English, your IELTS test score will be measured against the Canadian Language Benchmarks (CLB). Your IELTS test certificate will include a specific score in each communication skill, which altogether corresponds to one of the 12 CLB levels.
If you're applying through the Federal Skilled Worker Program of Express Entry, for example, you will need to achieve at least a CLB Level 7 across reading, writing, listening and speaking.
How does the IELTS scoring system correspond with the CLB?
Once you've identified the CLB level required for your immigration pathway, it's important to know exactly how the CLB equates to the IELTS scores across the four communication skills: listening, reading, writing and speaking.
You can use the table below to do exactly that:
| | | | | |
| --- | --- | --- | --- | --- |
| CLB level | Reading | Writing | Listening | Speaking |
| 7 | 6.0 | 6.0 | 6.0-7.0 | 6.0 |
Preparing for the IELTS with GlobalExam
If you're still not sure whether the IELTS is for you, why not try out some of the test material yourself before you make a decision?
Simply tell GlobalExam which language you're revising and the test you're preparing for, and you'll have access to a limited selection of revision materials and exercises specifically adapted to preparing for the IELTS. If our e-learning platform works for you, you can take it to the next level with a Premium subscription.
If you're not sure what language level you currently have, you can begin with an Assessment test that will put you through your paces in English to give you an idea of where you're starting from.
Our tests ask you a range of questions across the four key communication skills, varying in difficulty in order to gauge your proficiency and give you an accurate indication of your strengths and weaknesses.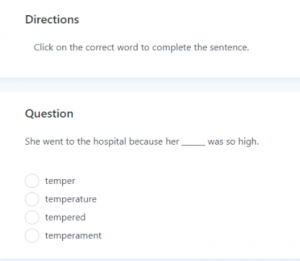 As the test gets closer, you can take mock IELTS tests to prepare for the real thing. Our tests are designed to be as close to the real deal as possible, from IELTS-style questions and content, to a ticking timer.
The IELTS is essential for living and working in Canada. If the test is in your sights, it's time to start studying!