Where to take the IELTS exam in Vancouver ?
Vancouver, on Canada's west coast, is ranked the third "most liveable place in the world", it is also home to a huge variety of culture and languages, making it a very cosmopolitan environment.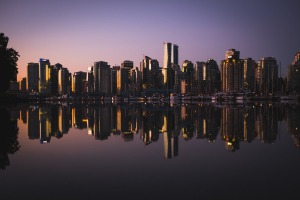 The subway or metro system is referred to as the "Skytrain" and most of the test centres are accessible by its subway lines.
The list of IELTS test Centers in Vancouver
1. LaSalle College
LaSalle College is an applied arts school offering a range of courses as well as being an IELTS test centre. It can be found next to the Renfrew Skytrain station at 2665 Renfrew Street.
Like many test centres, they offer exam sittings two to three times a month. One advantage of choosing this centre is that they provide earphones for the listening test, which could improve your score for this skill as you'll be able able to focus more on what is being said.
2. Eurocentres
Located near the Waterfront and served by the Waterfront metro station, you can find Eurocentres Vancouver at 815 West Hastings Street.
They offer two to three Academic exams a month and General Training twice a month. Eurocentres also gives you the option to add up to five Test Results Forms included in the registration fee and they will send these to the universities of your choice.
3. Kaplan
Kaplan International English has 42 schools in eight countries. Their school in Vancouver is located near the downtown at 755 Burrard Street, just a short walk from Burrard and Granville metro stations.
They offer the Academic exam three times as month and General Training twice a month.
4. ILSC Language School
ILSC opened its first school in Vancouver in 1991 and has since expanded into Montreal, Toronto, Australia and India. Their IELTS Test Centre is located in the Central area at 555 Richards Street, a short distance from the Granville metro station. They also have a test centre at Capilano University in North Vancouver (2055 Purcell Way), which is accessible via buses 130, 239 and 880.
5. Global Village
Global Village English has an IELTS exam centre in Burnaby, between Downtown and Yaletown, at 888 Cambie Street. The nearest subway station is Stadium-Chinatown. They have approximately two test dates a month.
6. Langara College
Operated by Canestoga College, which was Canada's first official IELTS testing centre in British Columbia, Langara College offers one sitting for both the Academic and General Training per month. It is located at 100 West 49th Avenue and is easily accessible via the Skytrain Canada line.
7. Sprottshaw College
Also run by Canestoga College, Sprottshaw is located in the suburb of Richmond and offers two Academic exam dates per month, and one date for General Training. It is conveniently located at 7920 Cambie Road, very close to the Aberdeen metro station.
Take the IELTS exam in another city
You can sit for the IELTS in whichever city you'd like, it does not depend on where you live. Here is a list of other cities with IELTS test centers in Canada:
How do I register for the IELTS exam?
The easiest way to register for the exam is on the IELTS Canada website, where you can search by location. Registration fees may vary slightly from centre to centre. You will also need to upload a copy of your passport or national ID card, and bring the same form of identification with you on the day of the exam.
How can GlobalExam help me with preparation?
GlobalExam allows you to practise all of the skills tested in the IELTS exam, including listening. The listening exam is the same for both the Academic and General Training and always follows the same format. Use the GlobalExam platform to familiarise yourself with the different parts of the test and get tips on how to improve as you do the tasks!
You can register for free and try the platform!