This article is all about taking the IELTS test in Vancouver.
We're here to guide you through:
What the IELTS is
How it can help with a Canadian immigration application
Practical information on taking the test
Studying for the exam with GlobalExam
So, if you want to know all about the IELTS exam, where to take the test in Vancouver, and how to prepare, read on!
What is the IELTS?
The IELTS (International English Language Testing System) is an exam designed to test a person's proficiency in the English language. Jointly administered by Cambridge ESOL, the British Council and the IDP, the IELTS aims to equip speakers seeking to live, work or study in English-speaking countries with an official certification of their language abilities.
The IELTS certification is one of the most highly regarded language exams in the world, with universities and employers often requiring an IELTS certification as part of their application procedure for non-native English speakers.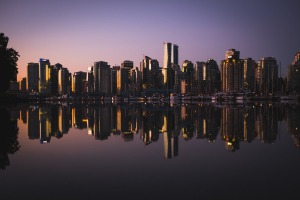 What does the IELTS test include?
The exam is designed to test a speaker's proficiency across reading, writing, listening, and speaking. The first three parts of the test take place together in one sitting, whereas the speaking section is typically held separately on the same day or a few days later, depending on the center.
There are two versions of the test: the IELTS Academic and the IELTS General Training. Both are graded in exactly the same way, but the IELTS Academic is designed around university-related content.
How do I register?
In Canada, registration for the IELTS goes through the IDP ("International Development Program"). You can register for the test online, on the IDP website.
The IDP registration platform is easy to use. You'll be asked to specify your country, city, and test type, then the platform will show you the available examination centers and their next test sessions.
Once you've chosen your test session, you will be prompted to create an account on the IDP website. At this point, you will have to download an application form to print, complete and submit to your chosen examination center. Your registration is complete once you have paid the online registration fee.
Why should I take the IELTS?
Achieving a certain IELTS score can also help you to fulfil your ambitions within the world of work, or in your studies. If you're a prospective immigrant to Canada or considering applying for citizenship, the IELTS is the only international English exam recognized by the immigration and citizenship authorities.
As well as opening doors to new opportunities and countries, taking an IELTS test could have the following benefits:
Booking a test and having a deadline will motivate you to work hard and study
You will improve your English language skills across reading, writing, listening and speaking
You will identify your weak points and have a better understanding of your abilities
Having an official certificate attesting to your English level is satisfying!
If you are considering the IELTS for immigration purposes, you may want to investigate Express Entry, Canada's immigration programs for skilled workers. Like most other programs, candidates must demonstrate their language proficiency with an official certification in order to qualify.
If you're already in Canada and considering acquiring citizenship, you'll also need to demonstrate proficiency in English (or French), though at a slightly lower level.
Where to take the IELTS Vancouver
There are many examination centers where you can sit the IELTS exam in Canada:
We've made life a little easier for you and listed addresses and contact information in Vancouver right here for you:
IELTS Vancouver examination center
Address
Contact
British Council
Eurocentres Vancouver 250, 815 W Hastings Street
Vancouver, BC V6C 1B4

[email protected]
Global Village
Yaletown, 888 Cambie Street
Vancouver, BC V6B 2P6

[email protected]
Canada College
University of British Columbia 800 Robson Street
Vancouver, BC V6Z 2E7

[email protected]
Conestoga College
Sprott Shaw College,
789 West Pender Street
Vancouver, BC V6H 1H2

[email protected]
Conestoga College
Langara College
100 West 49th Avenue
Vancouver, BC V5Y 2Z6

[email protected]
Conestoga College
Ascenda School of Management
9th Floor, 1090 West Pender Street
Vancouver, BC V6E 2N7

[email protected]
British Council
Kaplan Vancouver
755 Burrard Street
300 Office D
Vancouver, BC V6Z 1X6

[email protected]
LaSalle College

2665 Renfrew Street
Vancouver, BC V5M0A7

[email protected]
British Council

ILSC Vancouver
555 Richards Street
Vancouver, BC V6B 2Z5

[email protected]
Conestoga College

ILAC Vancouver
688 W Hastings Street
Vancouver, BC V6B

[email protected]

Vancouver Westside

5800 University Blvd
Vancouver, BC V6T 2E4

[email protected]
Global Village

806 Homer Street #201
Vancouver, BC V6B 2W5

[email protected]
The IELTS test costs approximately $300 CAD in Canada. This fee can vary depending on the examination center according to the province it is located in, so it's best to check with the center directly.
The IELTS Exam Fee Scholarship
The IELTS recently launched a scholarship award to help students cover the cost of the registration fee. To be considered for the scholarship, applicants must meet certain criteria, including demonstrated academic ability and family income.
To check your eligibility and apply for the scholarship, head to the IELTS website.
What are the Canadian language requirements?
Universities and employers across Canada will accept the IELTS as an accurate indication of your English proficiency, however each institution will have their own requirements as to the level.
Canada's immigration and citizenship services measure language proficiency according to the Canadian Language Benchmarks (CLB). The CLB is a scale that measures your language ability across 12 benchmarks, from basic to advanced. The language requirements differ according to the immigration pathway.
If you apply through the Federal Skilled Worker Program of Express Entry, for example, you will need to achieve at least a CLB Level 7 across reading, writing, listening and speaking. You can use the following chart as a guide to understand how the IELTS scores compared to CLB Level 7:
| | | | | |
| --- | --- | --- | --- | --- |
| CLB level | Reading | Writing | Listening | Speaking |
| 7 | 6.0 | 6.0 | 6.0-7.0 | 6.0 |
Preparing for the IELTS with GlobalExam
If you're ready to go with your IELTS preparations, let's take a minute to look at how GlobalExam could help you get the score you need.
Wherever your weaknesses lie with English, we've got the study sheets and revision exercises to help you progress. You can search through our learning materials easily to identify the lessons you need the most. Struggling with the present perfect, prepositions, or making requests? Right this way!
The IELTS is essential for living and working in Canada. If the test is in your sights, it's time to roll up your sleeves and get studying!