In this article, we're talking about taking the IELTS test in Victoria.
Here, you'll find out:
What the IELTS is
How it can help with a Canadian immigration application
Practical information on taking the test
Studying for the exam with GlobalExam
We are happy to share and explain what is IELTS exam, where to take the test in Victoria, and the preparation required to succed!
What is the IELTS?
The IELTS (International English Language Testing System) is an exam designed to test a person's proficiency in the English language. Jointly administered by Cambridge ESOL, the British Council and the IDP, the IELTS aims to equip speakers seeking to live, work or study in English-speaking countries with an official certification of their language abilities.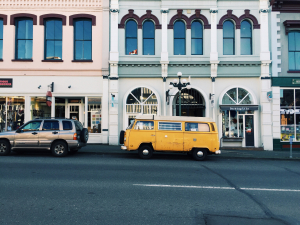 What does the IELTS test include?
The exam is designed to test a speaker's proficiency across reading, writing, listening, and speaking. The format of the IELTS is roughly as follows:
The listening test (30 minutes): you must answer 40 questions relating to four recordings, including two conversations and two monologues on both informal subjects and work-related or academic subjects.
The reading test (60 minutes): you will be asked to read three texts then answer comprehension questions. The passages will be descriptive, factual and analytical.
The writing test (60 minutes): for the first task you will be required to write a short text in a personal or informal manner (a letter, for example). In the second task, you must write an essay response to an argument or problem.
The speaking test (11-14 minutes): you will be expected to respond to basic questions about yourself and your background, before discussing with the examiner a topic as prompted by a task card. Towards the end of the test, there will be the opportunity to discuss the topic on a more conceptual level.
The first three parts of the test take place together in one sitting, whereas the speaking section is typically held separately on the same day or a few days later, depending on the center.
How do I register?
In Canada, registration for the IELTS goes through the IDP ("International Development Program"). You can register for the test online, on the IDP website.
The IDP registration platform is easy to use. You'll be asked to specify your country, city, and test type, then the platform will show you the available examination centers and their next test sessions.
Why should I take the IELTS?
Achieving a certain IELTS score can also help you to fulfil your ambitions within the world of work, or in your studies. If you're a prospective immigrant to Canada or considering applying for citizenship, the IELTS is the only international English exam recognized by the immigration and citizenship authorities.
As well as opening doors to new opportunities and countries, taking an IELTS test could have the following benefits:
Booking a test and having a deadline will motivate you to work hard and study
You will improve your English language skills across reading, writing, listening and speaking
You will identify your weak points and have a better understanding of your abilities
Having an official certificate attesting to your English level is satisfying!
If you are considering the IELTS for immigration purposes, you may want to investigate Express Entry, Canada's immigration programs for skilled workers. Like most other programs, candidates must demonstrate their language proficiency with an official certification in order to qualify.
If you're already in Canada and considering acquiring citizenship, you'll also need to demonstrate proficiency in English (or French), though at a slightly lower level.
Where to take the IELTS in Victoria
Here is a list of cities where you can sit for the IELTS test in Canada:
There are currently three examination centers where you can sit the IELTS Victoria. You can find the addresses and contact information here:
The IELTS test costs approximately $300 CAD in Canada. This fee can vary depending on the examination center according to the province it is located in, so it's best to check with the center directly.
The IELTS recently launched a scholarship award to help students cover the cost of the registration fee. To check your eligibility and apply for the scholarship, head to the IELTS website.
What are the Canadian language requirements?
Universities and employers across Canada will accept the IELTS as an accurate indication of your English proficiency, however each institution will have their own requirements as to the level.
Canada's immigration and citizenship services measure language proficiency according to the Canadian Language Benchmarks (CLB), a scale that measures your language ability across 12 benchmarks, from basic to advanced. The language requirements differ according to the immigration pathway.
If you apply through the Federal Skilled Worker Program of Express Entry, for example, you will need to achieve at least a CLB Level 7 across reading, writing, listening and speaking. You can use the following chart as a guide to understand how the IELTS scores compared to CLB Level 7:
| | | | | |
| --- | --- | --- | --- | --- |
| CLB level | Reading | Writing | Listening | Speaking |
| 7 | 6.0 | 6.0 | 6.0-7.0 | 6.0 |
The corresponding IELTS scores refer to the IELTS grading system, which works on a scale from one to nine. When you take the IELTS, you will receive a score that falls into one of the following bands:
| | |
| --- | --- |
| 9 | Expert |
| 8 | Very good |
| 7 | Good |
| 6 | Competent |
| 5 | Modest |
| 4 | Limited |
| 3 | Extremely limited |
| 2 | Intermittent |
| 1 | Non user |
| 0 | No attempt |
This means that a CLB 7, or an IELTS score of 6.0-7.0, refers to a Competent English speaker.
Preparing with GlobalExam
If you're ready to go with your IELTS preparations, let's take a minute to look at how GlobalExam could help you get the score you need.
On GlobalExam, we've organized our learning materials in a way that lets you prepare specifically for the IELTS exam. Head to Training Mode and choose the skill you wish to improve. Within each skill set, the exercises are targeted at preparing you for the tasks that you will face in the real exam.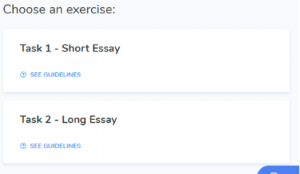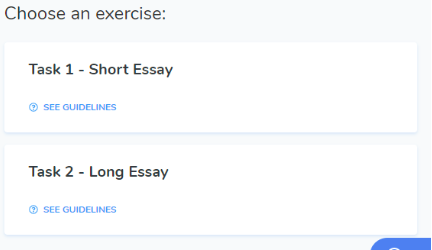 If you subscribe to our Premium service, you'll even have the chance to review your progress using our Statistics and Corrections mode. This way you can understand exactly where you've gone wrong and correct it for next time.
The IELTS is an essential part of moving to Canada for English speakers, so what are you waiting for?