IELTS (International English Language Testing System) is an exam designed to measure your English language proficiency. It's internationally recognized, well-regarded and widely accepted.
We're going to talk to you about IELTS in Liverpool as you probably don't want to spend all morning searching for authentic information. We'll tell you how to register and provide links. Also, we're going to let you know about fees, receiving your results, times and dates of IELTS exams in Liverpool. Finally, we're going to tell you how GlobalExam can help you prepare with our online platform.
Taking the IELTS exam in Liverpool
Below is the contact information for the officially recognized IELTS test center in Liverpool. There is one center that offers IELTS exams (paper-based or computer-based) in Liverpool.
Never use an unofficial exam center. Go to the IELTS website to find a list of official exam centers.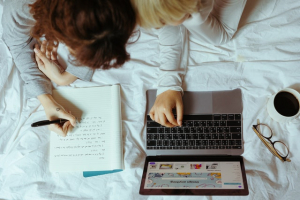 Registration, prices, times and dates
You can usually register online with your test center.
Note that you are free to choose any test centre you prefer. Here are others IELTS test centres in UK:
You must make sure that you select the correct test when you register and the format (computer-based or paper-based) that you want to sit for. Register for your IELTS test on the school's website.
If you prefer to register in person, contact the test center and ask them for the details.
You will need an official government ID; a passport works well. The same ID is needed for identification on your IELTS exam date. To pick up your results, you will to need show the same ID again.
You should receive some form of written notification of registration from the exam center. However, if you don't, contact them. The sections of the IELTS exam will take place on the same day. There are occasions when the speaking component is scheduled for a different day within the same week.
You should always check with the selected exam center for full details of IELTS test dates, times and ID requirements to see if there have been any changes. The current fee in Liverpool for an IELTS exam is 175£ fee; you should verify the current IELTS exam fee with the exam center's website.
Your results
You will receive a Test Report Form (TRF). The TRF will show your official overall score, plus your score for each of the sections of IELTS (listening, reading, writing and speaking). When you receive your results will depend on the version of IELTS that you take. Typical periods of time are shown below:
Paper-based test: Results will be available within 13 days of taking the IELTS exam.
Computer-delivered IELTS: Results will be available between 5 and 7 days of taking the IELTS exam.
IELTS for UKVI: Results will be available within 13 days of taking the IELTS exam.
IELTS for Life Skills: Results will be available within 7 days of taking the IELTS exam.
Viewing your exam results online is possible. The results are available online for 28 days. However, the online results do not officially confirm your score. Use the TRF as your official confirmation of your IELTS exam results.
Studying online with GlobalExam
With GlobalExam's online IELTS platform, you can begin preparation at any time that you need. Moreover, we are language exam preparation experts; it's what we do, and we're good at it. Our IELTS preparation materials are well- designed, authentic and relevant to getting ready for IELTS.
What do we provide for IELTS preparation?
We offer a great set of services such as practice exercises, mock exams, corrections, study path options and tracking statistics that keep you updated on your progress. All of this is on a terrific, easy to navigate website, backed by helpful staff.
GlobalExam's IELTS preparation is a premium service. We do have a free trial version for you. The free version gives you the opportunity to try our services, and there's never any pressure to sign up for the premium service.
GlobalExam is online and ready for you any time that you want to start. Check us out and see what we can do for you.