Where to take the IELTS test in Edinburgh?
The historic capital of Edinburgh in Scotland is easily accessible by plane and train. It is also a relatively small city with an efficient bus system, making it easy to get around. It is a popular tourist destination, full of museums, galleries and cultural activities, with a lot to offer despite its small size.
There are two locations in Edinburgh where you can take the IELTS exam, Basil Paterson and Edinburgh College.
Basil Paterson
This is the largest IELTS exam centre in Edinburgh and schedules exams every month, always on Saturdays. You can take the Academic and General Training tests here, and you can also take IELTS exams for UKVI (UK Visa and Immigration) here too, including IELTS Life Skills A1, A2 and B1.
Basil Paterson is located in the centre of Edinburgh on 66 Queen Street, meaning that it is only 10 minutes away from the central Waverley Train Station and served by several local buses, consult the Lothian Buses website to plan your journey.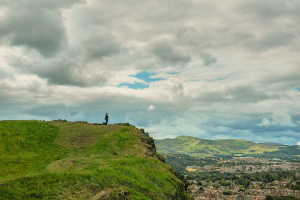 It is also easily accessible from Edinburgh Airport, the airport bus stops opposite Waverley Train Station and the city's tram system goes directly from the airport to York Place, which is only a minute's walk from Queen Street.
Edinburgh College
Mobile Testing Solutions also organises monthly IELTS exams at the Granton Campus of Edinburgh College. You can take both the Academic and General Training tests, and the written exams (testing your reading, listening and writing skills) are conveniently held on Thursdays and Sundays, with the speaking test usually on the same day.
Edinburgh College is situated in the north of Edinburgh at 350 West Granton Road. You can catch a number of buses from the city centre (Lothian Buses 8, 14, 16, 24, 27, X29, 47 and 113).
How do I apply?
You can apply for the IELTS test online using the British Council website (https://takeielts.britishcouncil.org/locations/united-kingdom). You will need to submit a scanned copy of an identity document, such as a passport or national ID card. You must bring the same identity document with you on the day of the test. The registration fee may vary slightly depending on the test centre.
Note that you are free to choose any test centre you prefer. Here are others IELTS test centres in UK:
When will I get my results?
You will receive your results 13 days after you take the test. You will receive a Test Result Form (TRF) detailing your band scores for each of the four components as well as your final band score.
Practice makes perfect and the GlobalExam offers you a range of exam questions and guided tasks to help you perfect your exam technique and achieve the best score you can on the day. Another innovative feature of the platform is that it also helps you plan your study time. Just select a plan – IELTS Initiation, Progress or Success, depending on the time you have available – and GlobalExam will guide you through the tasks and activities you need to practice to improve your results.