Many jobs involve arranging meetings with colleagues, bosses or clients and meetings can be essential for effective business communication. You'll probably have to present your company in English someday. Most meetings have an agenda or a list of items to be discussed during the meeting. It's quite common for topics to arise during a meeting so that the planned topics get side-tracked and the meetings can last much longer than necessary.  That's why meeting need a clearly defined agenda and a chairperson to oversee the meeting. The 'chairperson' is usually in charge of drafting the agenda and ensuring the meeting stays on track.
Meeting invitation emails
Before starting the meeting, it will be necessary to send out an email inviting all participants to attend and to inform them of the purpose and the suggested items on the agenda. There are some English phrases that will be useful to know to use in the email.
You will need phrases to state the reason for the meeting such as:
I'd like to arrange a meeting; 
…to discuss a possible solution to our current problem.
…to talk about some ways that our product can be of benefit to you.
…to present our new service to you.
…to discuss this month's sales targets.
…to introduce you to our new member of staff.
Please find attached a copy of the agenda.
You'll need to think about where the meeting will be held.  Will it be in a formal setting inside the office or will it be an informal one outside in a café? Once you 've decided you'll then need to inform people of the location:
The meeting will be held at …. (place) on …. (day) at …. (time).
It's a good idea to ask for responses too: 
Please confirm that you will be able to attend.
A standard phrase to finish the email would be: 
I look forward to seeing you all soon.
Opening the meeting
To get the meeting off to a start is usual for the chairperson to welcome everyone and remind them what the meeting is going to be about. This can be done with some standard phrases:
Welcome and thanks for coming everyone.
We're going to look at…. 
The purpose of today's meeting is to discuss..
Now that everyone's here, let's get started with today's agenda.
So, let's get down to business.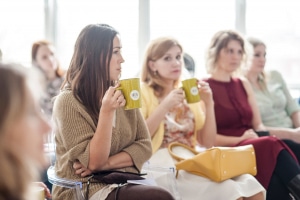 Controlling the meeting
There are some good ways you to ensure your meeting achieves its aims and does not go off track. As mentioned, most meetings have an agenda – a list of items that will be covered during the meeting. It's wise to make sure the discussion stays focussed on the agenda items and that there are defined time limits for each item and for the meeting itself.  This can be done using these phrases:
The first item on the agenda that we need to discuss today is..
Let's look at the next item on the agenda which is…
Let's move on to..
Moving on, let's take a look at item three on the agenda.
I think we've covered this point now..
I think we're going off topic here so let's get back to talking about..
Before we move on, I think we need to look at..
I'm sorry, but I don't believe we've talked about..
Just a moment, I think we've forgotten to discuss..
Getting clarification
It's important to interrupt and let people know if you haven't understood that they've said.
Sorry to interrupt but…
Could you please clarify…?
I'm not sure I understand what you mean by..
I'm sorry, I didn't quite catch that..
Sorry, I'm not following you. Did you mean…?
Could you be more specific?
Ending the meeting
Once everything on the agenda has been covered or time has run out, it's time to end the meeting with some natural phrases:
Now we've come to the final item on the agenda.
To recap, we're going to..
This is what we've agreed on..
So we've decided to..
Can we sum up what we've agreed?
OK everybody, thanks for coming.
That's all for today. 
It's a good idea to make sure the meetings are efficient and effective and are only as long as necessary. They'll be more productive and useful that way. Your employees will reap the benefits and they'll be happy to attend future meetings!
What is the Business English course and what does it offer? 
The GlobalExam Business English course is a training platform to help people learn the English language required in a business setting. As well as meetings, lots of other situations are covered too including:
Vocabulary and phrases related to business trips, recruitment, intercultural issues, sales and negotiations are also covered. Language specific to particular career paths such as marketing, communication, customer services, Human Resources, purchasing and sales are looked at and there are courses for those who want to follow careers paths in tourism, banking or logistics. Start with our online business English course for the Management sector.
The course includes videos with dialogues using our team of native English speakers. There is plenty of practical advice and the opportunity to create a professional CV in English too. 
Business English offers training courses at beginner, intermediate and advanced levels. Candidates can do a test so that they can find the most suitable level to start at. All participants receive a certificate of completion at the end of each course. Come and start your business English training today!