Emails can be a cause of confusion for many people. They can be both formally and informally written. It really depends on who the recipient is. The confusion is usually when formal emails contain language  – vocabulary and expressions – that are more informal. Many people write as they speak and this is an added distractor. 
The key thing to remember is that emails are written records. Don't write or phrase something in a way that can be misunderstood or cause confusion. 
What are the main points when writing a professional email?
Length – short or long emails. This depends on what the purpose of the email is – are you asking for something or giving information. Emails that are too long can go unread, so be careful. They need to be to the point!
Tone – this is your workplace and you are emailing colleagues, clients, and management. Remember they aren't your best friends from school. You need to be friendly but professional. Don't write in an over familiar manner unless you have a close relationship with her person, to avoid miscommunications.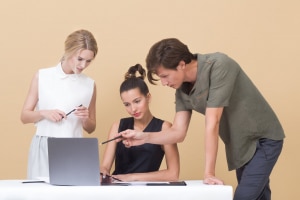 Vocabulary – as with any writing piece you shouldn't repeat the same words. You need to vary your expressions and how you say things. As with tone, think about the language you use. This is work after all. 
Throughout the email you need to be careful of your grammar, vocabulary, and punctuation so you present a professional image, of both you and the company. 
Structure – you can write a good email in five parts. They are a greeting, thanking the recipient, stating your purpose of the email, adding any closing remarks, and closing the email.
Structure
Formulas
Greeting
"Dear xxxxxxx" or "Dear Mr/Mrs Jones" - when your relationship is formal.

"To Whom it may concern" or "Dear Sirs/Madam"- If you don't know the person's name.

Using "hi" or "hello" is too informal.
Thanking the recipient
When you reply to an email you should say "thanks in some way". It makes you appear more polite and put the reader at ease.

"Thank you for contacting XXX company"
"Thank you for your prompt reply"
"Thank you for the email"
"Thanks for getting back to me" - here you can also add "so quickly"
Stating your purpose
(main text)
"I am writing to enquire about…….."
"I am writing in reference to………"
"On the subject of your previous email………."
Closing remarks
It is polite to thank the reader again.
"Thank you for your patience and consideration."
"Thank you for your consideration."
"If you have any questions or thoughts, don't hesitate to let me know."
"I look forward to hearing from you."
Closing the email
Adding a closing before you name.
Professional and formal options are -
"Best regards"
"Kind regards"
"Yours sincerely"
"Sincerely"
"Thank you"

Using "cheers" and "thanks" is too informal.
Using politeness formulas is very important when writing a professional email.
Main text – this is where you state the purpose of your email. It is best to keep this short and to the point. You can give all the information you need to/ or ask but be careful not to add additional information that isn't needed and add irrelevant sentences to the email. Keep the sentences short and clear. 
Example of a professional email in English
Dear Julia,
Thank you for the email following up about the change in contract. I have spoken with HR and the adjustments in job title, salary, and benefits have been completed. I have attached the new contract for your consideration. 
Could you please review it and get back to me by 5pm on Thursday 15th June?
Kind regards,
Boris
Where can I learn more about using English in a professional context?
GlobalExam has now expanded into the world of business and professional English. We can now support learners who wish to study to get ahead in the workplace, no matter what type of business area you work in. Being able to increase your ability to communicate in English, in a professional manner, is a huge advantage in the business world. Our courses cover skills and career pathways. Targeted language studying will definitely help you achieve your goals faster.
Each course is made up of different skill parts. These are short chunks of learning, about 15 minutes long, that you can fit into your busy schedule. It is scenario based learning with real-life work situations, so you can really relate and immerse yourself into the learning. The dashboard also gives you the freedom to change your career or skill area you are currently studying. You can also change your level if you need to. Take our business English course.
General Skills
You can choose to practise Business English on a specific topic, not related to any job in particular:
Job Skills
You can also choose a specific job to learn the vocabulary that will be mostly used:
Our platform is also web-based so you can access it from any device that has internet, anytime of day. How great is that! Take a look around our website for more information.