Have you ever been at a meeting with a native speaker as the presenter and you have no idea what all the jargon and abbreviations mean? Have you ever been the presenter and been unable to clarify a point the way you would like because the English phrase eluded you? These are common experiences for speakers of other languages who have to function in an English language business environment at a high level. We won't even go into the amount of time it may take you to write a good email or the terror of taking a long-distance call in English with someone who has a strong accent.
In your daily work, you need to be able to communicate well. It's obvious that to do your job well, you need to be able to fully understand departmental emails, telephone calls and the details of meetings, not to mention simple small talk around the office. It goes beyond those things and extends into areas such as soft skills as well. Soft skills such as teamwork, leadership, and conflict resolution require good communication, both written and spoken. A poorly worded email can lead to a missed deal or a misused expression during a meeting can lead to misunderstandings and potentially a tense situation. Having a good command of English for the workplace can help you to avoid pitfalls; more importantly, feeling comfortable writing and speaking English will give you a feeling of confidence on the job and enable to take charge of projects and teams.
How do I improve my English?
That's a good question. Let's be frank; it isn't magic and anyone trying to sell you a magical technique that has you being fluent as a native speaker in a month is being misleading at best and dishonest at worst. It takes time and effort, but it is achievable with the right courses and the right attitude.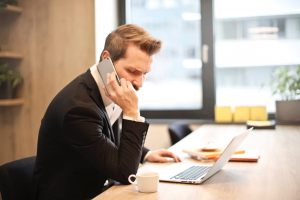 Better communication in English with GlobalExam
GlobalExam has the right stuff for you. We offer a wide range of courses with excellent customer support. Not only that, but we value your ability to choose and be flexible, so we have a number of different plans. Learning a language takes time and effort, but we make it easier by providing clear, well-organized materials, feedback and planning so that you can focus on the learning. You can use the device of your choice and study anyplace at any time.
Professional English Training and Business English at GlobalExam
To meet the ever evolving needs of our clients, we have created a set of courses tuned to the business environment. Our Business English courses are directed at people in an English language business environment or have need of using English at work regularly.
At GlobalExam, we know that business English is its own variety with different demands, so we have created a platform to acquire the essential professional skills in English. You can acquire these skills and kick-start your career with improved English fluency, a wider variety of English language at your command and a feeling of comfort and confidence when you use English.
GlobalExam's Business English
Our Business English has three different levels: the beginner, the intermediate and the expert level. To determine your level before you begin your studies, we offer a level test; this way you won't waste your valuable time on a level that is too easy or too difficult.
Business English provides you with a variety to choose from. There are courses, adapted to different pathways and objectives that you can follow, according to your personal and career needs.
Boost my Skills is the one for you if any of the following are aspects that you want to address: meetings, telephone, project management, emails and writings, reception and events, business trips, recruitment, intercultural, sales and negotiation, vocabulary, and grammar.
Boost my Career is the one to follow if any of the following are what you need. English for communication is one of 7 Business English online courses dedicated to job skills, however, you can also find our online courses on marketing, human resources, sales, purchasing, management, and even customer success management!
Boost my Level is the one for you to develop or hone your general business English. It doesn't matter if you are a beginner or an expert, we have options for you.
The choice is yours! Select what you need and what will boost your career. There's no need to sit through hours of irrelevant material.
Our Business English platform offers the following materials and services:
Scripted content with coaching
25 scripted paths allowing for better immersion
500 situations from real working life that deals with real situations
Video coaching with our instructors
Detailed corrections for each question, so you will know what you have done wrong and how to improve
Certification of each course after completion
Learn to craft a professional, succinct English CV
Having access to our attractive and easy to navigate website along with staff who care and want to provide the best service possible is all part of Business English, too.