In this post, you will learn more about conducting and organising projects in English and about our new online Business English programme.
The use of English is prevalent in today's business world, whether it be working or secondments abroad, seeking a promotion within one's own group or in international meetings and seminars.
In this latest article, you will learn some key vocabulary for firstly organising a project and secondly for assigning missions. Thirdly, and finally, you will find out more about how we at GlobalExam can help you improve your Business English.
Let's kick off with the question…
How can you organise a project?
Conducting a project in English can seem daunting at first, especially as it means managing in a foreign language. For the project to run smoothly, the scope of work should be clearly stated and defined, right from the very beginning. The project should therefore be well organised, whatever language you are working in.
There are some key words and phrases that can make life a little easier when the working language is English. Here are some examples:
Network diagram: a visual representation of the responsibilities, tasks and workflow of the project in question.
To meet the deadline: to finish something at or before the time (or date) it should be finished.
To miss the deadline: to finish late.
To schedule the kick-off meeting: to organise the first meeting between the project team and the client.
The project schedule: a calendar, a timetable of the different phases of the project.
WBS (Work Breakdown Structure): the architecture of the project detailing the larger and smaller tasks to reach the project's goals.
Let's move on now to think about…
Conducting a project, assigning missions in English
It is also crucial to delegate and get help for the project, there is often too much for one person to do! A project usually involves several people from several departments.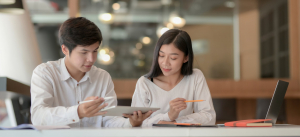 Here are some more example phrases:
Can you send me a status report?: A request for a report containing the progress of the project and where it is currently at.
Due date: the deadline.
The project manager: the person in charge of the project.
The task is due at the end of the month: the deadline for the task is the last day of this month.
To assign someone a task: to give somebody a specific job to do on the project.
To take over: to replace another person on a task.
Why choose GlobalExam?
English is more and more in demand, and used, as an international language in many areas of international business. 50% of companies look for foreign language skills in applicants. Since GlobalExam was first created, we have helped well over half a million people train for exams in, but not just, English, as well as allowing people to learn English online, whatever your English project.
At the cutting edge of online language-learning technology, we at GlobalExam are now proud to introduce our new Business English programme. You can now learn Business English online, at a rhythm and time that suits you!
Our GlobalExam Business English programme is ideal for anyone who uses English, however frequently, in the workplace to improve their English level, their skills and, therefore, their career. With GlobalExam, organising a project, and so much more, can now become so much easier!
So, what exactly is Business English?
GlobalExam Business English is an online learning platform that enables learners to acquire English language skills that are vital for today's world of work, and for tomorrow's.
The learning paths are adapted, relevant and can be personalised to all your professional needs and goals:
The Career Path (Customer Service, HR, Purchasing…)
The Industry Path (Banking, Logistics, Tourism…)
The Skills Path (Emails and Writing, Intercultural Communication, Project Management…)
General Skills
You can choose to practise Business English on a specific topic, not related to any job in particular:
Job Skills
You can also choose a specific job to learn the vocabulary that will be mostly used:
Each situation in each of the paths lasts 15 minutes so it can easily be fitted in to a hectic schedule.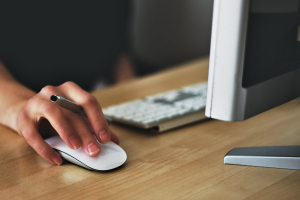 Our scripted material, with coaching, offers fascinating content:
25 scripted paths for perfect immersion in English
500 situations taken from real aspects of working life
Coaching by video with one of our highly trained teachers, follow your progress in real time
There are of course many other advantages to our Business English programme:
Detailed corrections for each question and Memory Anchoring
Certification at the end of each learning path
Writing your CV to an extremely high standard in English
Our Business English programme is available in 3 different levels
Beginner
Intermediate
Expert
It goes without saying that a level test is available before starting your course to make sure that your online course with us gets off on the right foot.
As you can see, we at GlobalExam have created this Business English programme with your needs in mind. It is relevant whatever your job, whatever your sector, whatever your needs.