Training, recruitment, planning and teaching are all important parts of every manager's job. Managing people isn't just about bossing people around and telling them what to do. A good manager helps employees develop and reach their full potential. The manager is responsible for overseeing and leading individuals and groups of people to achieve the aims of the company as well as their personal goals.
Being a manager often involves walking a fine line between maintaining authority and trying not to upset people. Language can play an important role in doing this. The right words of encouragement at the right time can pay dividends:
'John, I just wanted to thank you for the hard work you put in on this project. We really appreciate all the efforts you made.'
'This would never have been possible without your dedication and hard work.'
Often a manager will need to talk about an employee's or a team's performance and it's important to be constructive with any criticism and to be clear about what needs changing. A manager needs to get employees to be in agreement about what needs to be done:
'So, can we agree that everyone will put in a special effort with sales this month?'
This will help people to take personal responsibility for their contribution and help motivate people to work together too. Of course, that doesn't mean it's automatically going to happen though!
The Importance of English Language Proficiency in Management
If you work in an international office or have managerial responsibilities in an English-speaking company, you will need to be able to speak English to get your message across as a manager. This could be to conduct a meeting, do an interview, give an appraisal or do a presentation. Many non-native speaking managers experience a great deal of stress before giving a presentation in English.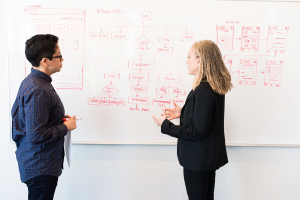 Some may avoid these situations altogether which can affect their efficiency of doing their managerial role. Knowing some useful phrases can give people that extra confidence:
'That concludes my presentation today. Thanks for coming everyone. Does anyone have any questions?'
Good business communication in English requires a good knowledge of vocabulary and common phrases specific to business and managing. To learn these skills will require taking part in practising common business situations that managers are likely to come across.  This could be practising interviews and conducting training sessions, organizing meetings, present your company, making telephone calls or taking part in video-conferencing conversations and writing professional emails that people can understand. Online business English courses need to consider these situations and GlobalExam has devised a course that will do just that.
Management sector: improve your English skills with GlobalExam
For people who don't have the time to study business English in a school, an online course gives added flexibility so that you can continue to work and study at the same time. If you are a manager then you'll need language more specific to management. Ideally, the most effective type of business English learning is to focus on the language that is directly connected with your job. Someone in the retail sales sector will need to learn phrases that suits their role:
'Sorry, I can't go lower than $140 for that item as it has already been reduced.'
If you are learning and working at the same time, you'll be especially motivated to learn and you'll be able to directly practise speaking with others in English and feel more confident whilst doing it. Even if you can't do this there are videos on the GlobalExam course that
will help prepare you for the situations that may arise in your job as a manager.
What is the Business English course and what does it offer?
GlobalExam's Business English course is online training to help participants learn the English language required for a workplace setting. Different areas of competence are covered on the course and this includes meetings, telephone calls, management issues, business correspondence and more.  You'll also find language specific to particular career paths.
English for Management is one of 7 Business English online courses dedicated to job skills, here is the list of the others you can find:
The GlobalExam business course deals with hundreds of different situations that reflect real life workplace situations, and these include videos using native speakers. There are activities related to business vocabulary and correct word order of sentences. You'll find lots of practical advice too including the opportunity to create a professional CV in English.
The GlobalExam Business English course offers courses at 3 different levels: beginner, intermediate and advanced and there are level tests in order to choose the most effective course for each person. All participants receive a certificate of completion at the end of the business course. If you want to improve your business English then sign up today!