Recruitment and job interviews can be stressful for interviewees and interviewers alike. In this latest post, you will learn a little more about:
a job interview in English,
good questions to ask, and
how GlobalExam can help you prepare to work in English
Interested? Let's dive straight in!
A job interview: what are the common steps?
OK, so you saw a job advertisement you liked. You applied and have been selected for interview, but the job ad says "recruitment in English"! What happens next?
The first interview could either be with someone from Human Resources or with a supervisor from the department that is recruiting. Supposing this job interview is with HR, the conversation will probably dwell more on general questions: your skills, your experience, why you want the job…
If the first interview is with HR, the second could well be with someone in whose department or team you will be working. Now is the time to talk more about the job itself: what it involves; the challenges; practical and down-to-earth aspects.
Will there be a third interview? A group assessment? A task to do? That depends on the job, and the company! One thing is for sure, there will be questions…
Questions that can be asked in English
In this section, you will discover some questions that the recruiter can ask and, secondly, some questions the applicant can ask the interviewer during a job interview in English.
Firstly, here are some common questions recruiters ask:
Can you introduce yourself for me, please?
Why should we hire you?
Why do you want to work here?
Why are you leaving your current job?
What are your strengths?
What is your biggest weakness?
Where do you see yourself in 5 to 10 years' time?
Do you prefer working by yourself or in a team?
In your opinion, what makes a good leader?
What motivates you at work?
Many of these questions give the applicant the chance to explain in a job interview what makes him or her the best person for the job in terms of skills, knowledge, character, and experience. Asking about the candidate's goals enables the recruiter to find out whether they are in line with the company's objective or whether the applicant will want to leave after a few months for a new challenge elsewhere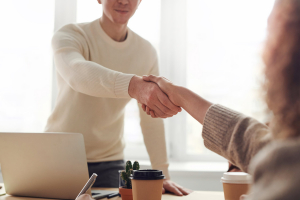 Here are some questions interviewees can ask :
What exactly do you expect from a person in this position in addition to what is in the advertisement?
Why are you looking to hire at the moment? Has the position just been created?
For you, what is the most challenging part of this job?
What are the biggest challenges that your department is currently facing?
How do you envisage the job changing over the coming three or four years?
How would you measure the success of someone in this position?
Could you tell me more about the company's values?
Why do people like working here, would you say?
Where do you see the company in 5 to 10 years' time?
What are the next steps in the recruitment process?
Questions like these show that you are interested in more than just the salary and the fringe benefits. They show an interest in why the company is recruiting, the challenges the company is facing, the firm's values and future. Of course, there will also be job-specific questions, about reporting and operational matters, for example. Such questions will help you as the candidate understand more about the job itself than was indicated in the job offer.
How can GlobalExam help?
English has become increasingly common when doing business internationally, whatever the sector. It is therefore crucial to be at the very least comfortable in English.
At GlobalExam, we have created a brand-new business programme: Business English.
So, what is it exactly?
To start off with, a level test at the start of the programme enables the course to be adapted to your own level as well as your needs. This online platform itself will provide you with the skills you need to work comfortably in English.
The learning paths cover hundreds of real aspects of professional life, including Human Resources and recruitment. These learning paths are personalised according to your own needs and so are relevant to your career, whatever your job, wherever you work.
Other elements include:
Help writing your CV
Scripted paths
Certifications
And much more besides
General Skills
Job Skills
You can also choose a specific job to learn the vocabulary that will be mostly used: