What does it take to be a CSM?
Are you naturally empathetic, that means, someone able to step into someone else's shoes? Can you easily identify key problems and prioritize them? Have you ever been told you are a natural-born advocate because you are ready to fight to improve things people are reluctant to change? Do you speak and write clearly with solid grammar skills and adapting your tone to the situation? Are you organized enough to manage a sea of unanswered emails, weekly meetings, and training requests without drowning in? Are you willing to learn about a new subject matter area and quickly gain domain expertise?
If your answer to all these questions is yes, then maybe you are an innate Customer Success Manager. The CSM is a relatively new role that has emerged in the business world, at present becoming one of the most in-demand jobs because SaaS (Software as a Service) E-commerce business, and companies in general have realized they need to place their customers at the heart of their operations to succeed.
What does a Customer Success Manager do and why is this role vital in a company nowadays?
CSMs, also called customer advocates or customer relationship managers, have a post-sales role: they build solid relationships with clients; they are their mentors. For example, whenever a client has questions or complaints about the sales process, the CSM must be ready to work out any pressing issues, find big problems that customers are having, communicate with the marketing and product teams, find solutions and guarantee that everything runs without any difficulty after a purchase. They ensure the clients' satisfaction and improve on dissatisfaction areas. This is why it is important to know how to confront a dissatisfied customer in English.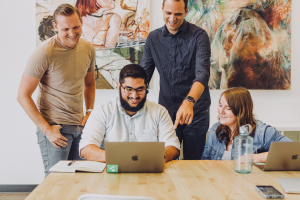 This role has become vital since the secret of success is growing a solid customer base, that is to say, retaining happy customers who become the company's biggest ambassadors. Knowing how to greet a client in English makes a good impression on them. CSMs are the heroes who avoid customer churn, the arch-enemy of growth, which occurs when customers or subscribers do not want to continue doing business with a company or service. As companies are aware of the difficulty of acquiring new customers, they have decided to invest in retaining existing customers, those whose trust and loyalty they have already earned. CSMs are there to create product stickiness, monitor churn rate and identify strategies to avoid it.
So, what has English got to do with CSM?
So far, it is clear that CSMs are a bridge between clients, customer support and salespeople because they manage cross-sells, upsells and renewals. When you check most of the world's leading brands' CSMs job requirements, you notice that the ideal candidate must have excellent English written and verbal communication skills at all levels in order to manage clients from all over the world.
Being able to build strategic relationships with clients requires outstanding oral, written and presentation skills. In order to become the customers' voice a CSM must speak their lingua franca, which is English. Besides, tasks like resolving aftersales queries will imply writing emails and talking on the phone to ensure the customers understand all the aftersales procedures.
If you know you are a CSM innate, don't let language be a barrier! Improve your English skills with GlobalExam! Imagine being able to live a typical day in a CSM's life by doing different tasks such as explaining launch process to new customers, running product training sessions, creating and distributing educational materials and videos to help customers get more value from the product, identify superfans for customer success stories or troubleshooting different issues… all that in fluent English!
Boost your Professional English with our new product: GlobalExam Business English!
Do you consider your English level is insufficient to use it in a daily working environment?
We have designed our Business English program based on five essential principles to succeed in e-learning:
Clear objectives
Courses adapted to the learners' needs
Real-life situations that correspond to real corporate life
Video coaching and, last but not least:
Certified competences that prove your language level.
What do we offer to our users?
Skill boost: these are the competences shared by different professions: meetings, answering the telephone, or project management.
Industry boost: these skills are focused on the language and challenges of diverse types of industry: tourism, banking, energy.
Job boost: these are career-oriented skills, each profession has its specific language, so it is essential to learn the right vocabulary.
English for CSM is one of 7 Business English online courses dedicated to job skills, here is the list of the others you can find:
And, how about creating your CV in English? We're also going to give you a hand with that!
Don't hesitate, register now to our program. There are three levels: elementary, intermediate and advanced. Find out which your level is with our test and start developing all the necessary skills to open up new career opportunities and become an excellent bilingual CSM!