Focusing your learning on workplace English
Mastering English as a language is a journey, and the same for any language you decide to learn. How far your progress and what level of language skills you develop are dependent on you. However, you also need good teachers and learning materials to help you to do this. In the workplace – office, shop, freelancer – you need to be able to communicate with your boss, co-workers, and clients. You can't walk into a meeting and shout "hiya" to everyone like you might do when meeting friends. Just like having a professional manner, using professional English or business English is also very important. For example, it is essential to know the politeness formulas in English to be able to communicate well.
Why is having a good level of English important in the workplace?
The language you use, how you use it, when speaking to anyone in a professional environment is very important for many reasons. It plays a key role into people's first impressions, it becomes part of people's perception of you and your abilities, and it also makes open conversation easier. The last one is important – having to go through a third or fourth person just to clarify something or make sure the same thing is understood by all is a frustrating and off-putting prospect. Being able to communicate directly with someone in a professional context is key to success in the business world. You still don't know how to write a professional email in English? Then it's time to learn.
It also adds "a feather to your cap", so to speak. Having sufficient language skills looks great on your resume and can really put you ahead of others when advancement opportunities open up. Using language in this context is different, and you'll learn this on business English courses
What are my options for business English or professional English training? Where can I find them?
Business English comes under the umbrella of ESP, that's English for a Specific Purpose. These are generally courses for people working in a business environment, those wanting to enter the industry, or people who are aiming higher. However, people study business English for many different reasons. This isn't like general English. These courses are designed to enable you to perform better in a business environment – from sending formal emails to using advertising language on a flyer selling your next big event. 
Here are some options – 
Attending a business English course at a language school is one option. The content of the course will focus on language in a professional environment and you will study with other business professionals. Just make sure when you sign up that you are able to attend all the classes, and that it covers what you need. It can be an expensive mistake if not!
If attending classes with a strict schedule isn't possible for you, you can also go with the option of self-study. This can be as simple as buying some business English course books and working through them at your own pace. The drawbacks are the lack of feedback on mistakes and not being able to clarify anything you don't understand. However, some people like the flexibility of this option. Just make sure you have the self-discipline for it!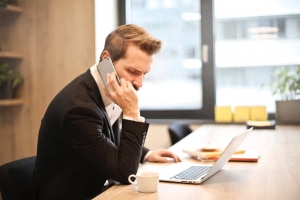 Another self-study option, though not one I would completely recommend, is using the internet. However, as many 'resources' online are made by people as blogs and not formal resources etc, I wouldn't use them as the only resources. Using blogs etc is fine for checking other people's ideas on a topic and getting hints and tips. Blogs accompanying a course, for example, is a good path. Many ELT publishing companies also have free samples of business English materials you can look at to help support your learning. Check them out – Oxford ELT Publishing, Cambridge ELT or Cambridge English, and National Geographic ELT Publishing. 
Organising private one-to-one classes where your tutor will focus your learning on business English and professional skills is another positive and viable option. This situation just requires you to check the tutor has vast experience in teaching business English. You can find tutors from some online companies such as Tutoroo or on message boards in cafes and university areas. This is a great way to develop your skills and allows you to have a flexible schedule. You arrange with the tutor in advance and let them know if next week is possible or not.
One final option is a self-guided course with professionally made resources, which focuses on different areas of business. Thus allowing you to pick the content areas you are interested in or need, such as emailing, HR, recruitment, vocabulary etc. Luckily for you, one does exist and it's excellent : Business English.
Improve your professional English with GlobalExam
Here at GlobalExam we support language learners to improve their English abilities and study for official exams. Now we have branched out to support people using and learning English for the workplace.
We have created a Business English course online that will allow you to focus your learning on what you need most in your work environment. We have three learning pathways – competency, career, and industrial – depending on your needs. You can take a free level test with us so we can place you in the right one. Our levels are beginner, intermediate, and advanced. This course is real-life scenarios based with videos and tasks to help make the learning as authentic as possible.
English for Sales is one of 7 Business English online courses dedicated to job skills, here is the list of the others you can find:
Take a look at what we can offer you!